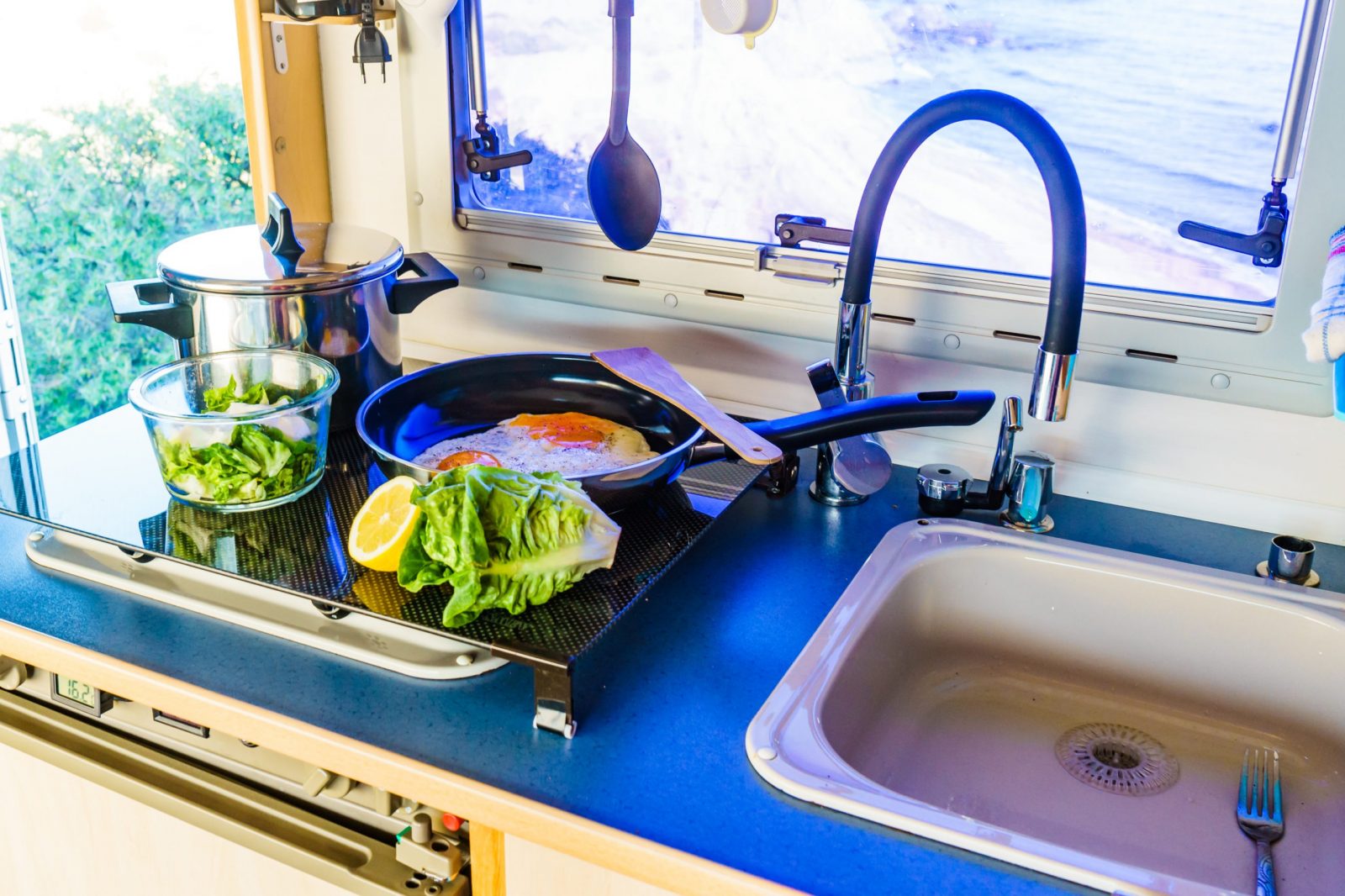 January 21st, 2022
Navigating a tiny RV kitchen can be a challenge at times, but a lack of storage and counter space doesn't mean sacrificing your favorite meals. Here are some simple kitchen hacks to make cooking in your RV kitchen easier and more efficient.
Magnetize your storage
Save precious counter space by buying a magnetic knife set and securing it to the inside of a cabinet door. Magnetic spice holders that can attach to your fridge are also super handy, especially for preventing items from shifting while you drive.
Hang items under cabinets
Have items that take up too much room in your cabinets? Not to worry. Use Command hooks or metal racks to safely mount everything from pots and pans to wine glasses underneath cupboards. Secure items with bungee cords when the vehicle is in motion.
Use a French Press
Minimize counter clutter and save electricity by switching from a traditional coffee maker to a French Press. They're easy to operate, make a great, full-flavored brew, and can be utilized while boondocking, which is always a huge plus.
Switch to collapsible kitchen tools
Collapsible kitchen tools are a must for a tiny kitchen. Invest in a collapsible colander, drying rack, and measuring cups to free up tons of drawer and counter space. If you're more of a tea drinker than a java lover, a foldable kettle is also a good idea.
Swap glass for stainless steel
Worried about glassware breaking while you're on the road? Buy stainless steel tumblers and wine glasses for a stress-free drinking experience. In a pinch, mason jars will also hold up well to movement.
Use break-proof dishware
Plates and bowls are also likely to break while your vehicle is in motion. Switch to a melamine dishware set to save yourself from chips and cracks. The plates are also an eco-friendly alternative to disposable when dining outdoors.
Add a removable countertop
Need a bigger area for chopping and dicing? A removable wooden countertop surface can be placed over the sink or stove when they're not in use. Even better, many of the toppers prevent clunking noises from the stove while your vehicle is on the move.
Organize the fridge
Let's face it, fridge organization in an RV can be tricky. A rig refrigerator just can't compete with a standard side fridge. You can, however, make things easier on yourself by investing in clear refrigerator bins. Heavy-duty containers will keep produce from rolling around and bruising, plus you'll be able to store food in a more efficient way.
Cook with non-perishables
It's important to eat plenty of fruits and vegetables while camping, but with limited cold storage, non-perishable protein sources are also great for creating hearty dishes. Canned tuna, salmon, chicken, black beans, lentils, peanut butter, and jarred vegetables are all healthy shelf-stable options.
Use an Instant Pot or slow cooker
If there's electricity available in your vehicle, using a one-pot cooking device will save you time, effort, and, perhaps most importantly, time spent washing dishes. The Instant Pot is handy for whipping up everything from mac and cheese to homemade yogurt, while a slow cooker is perfect for days when you want a no-fuss warm meal at the end of a long day. These kitchen hacks make meal prep a breeze.
Keep the kitchen cool
Looking for a 'cool' kitchen hack? The last thing you want to deal with while cooking in a tiny space is added heat from the outside. ShadePro Legacy Roller Shades feature 95 percent solar sunscreen, meaning your RV's interior will remain cool even on the brightest of days.
Take it outside
It may sound obvious, but on days when the RV feels too crowded, move your "kitchen" outside. Set up a folding table for food prep and utilize a fire pit or grill in lieu of the stove. Food tastes just as good (and sometimes even better!) cooked over an open flame.
In need of some delicious RV meal and drink ideas? Check out more suggestions here.