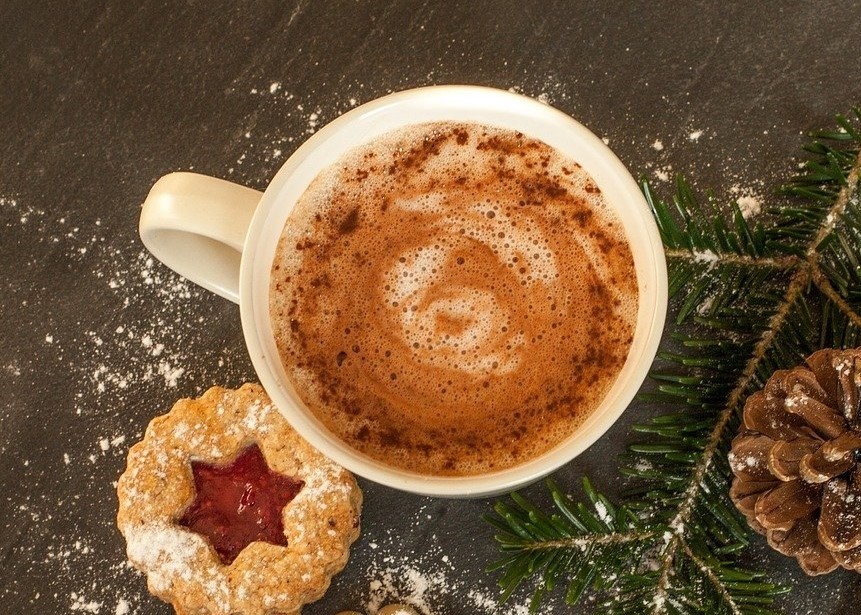 December 16th, 2021
Before you head out to camp this winter, you'll need to put in some prep work. Once you've gotten all of the practical tasks out of the way, it's time to think about food and drink options while on the road. Temps may get chilly at the campsite, so why not treat yourself to something warm and soothing by making one of these delicious drink recipes?
Whether you're in the mood for a seasonal beverage or something a little stronger, here are a few drink recipes that will keep you cozy as you enjoy the campfire this winter.
Easy Mocha Latte (via TBSP)
You may not be able to hit up Starbucks while camping, but this ultra-simple latte is the next best thing to the drive-thru. Most RV-ers have a preferred method for making coffee, whether it's by utilizing the pour-over method, a percolator, or French press. Add a couple of ingredients to your brew and you've got a perfect drink for starting a busy day.
Ingredients:
8 ounces hot brewed strong coffee
2 tablespoons hot chocolate mix
¼ cup whole milk
Optional: whipped cream, candy cane, additional hot chocolate mix for dusting
Directions:
Stir together coffee and hot chocolate mix in a large mug. Heat the milk on the stove to warm — it should be around 100 degrees or just hot enough that you can only keep a finger in it comfortably for a couple of seconds. Remove from the stove and froth the milk using an aerator. Alternatively, whisk vigorously by hand until the milk foams, about 1 minute.
Pour the frothed milk into the coffee. If desired, garnish with whipped cream and a dusting of hot chocolate mix. For a peppermint mocha, stir the coffee with a candy cane.
If you're more of a tea drinker than a java lover, indulge in this hearty chai after a day of hiking. Note: This recipe does contain a large amount of ingredients, so we highly suggest prepping the chai in advance.
Ingredients:
4 Cinnamon Sticks
3 Star Anise
1 Tbsp Cardamon Pods, scored
1 Tsp Fennel Seeds
1 Tbsp Raw Sugar (or more to taste)
1 Tsp Whole Black Peppercorns
1 Black Teabag
1 Bay Leaf
About 1/2c Almond milk
2 1/2c water
Directions:
Before Camping: Place all ingredients into a small Ziploc EXCEPT Teabag, Almond Milk, and Water.
At the campsite: Heat water over campfire in saucepan and bring to boil. Add spices from the Ziploc bag and almond milk and simmer for 45 mins to an hour. Right before serving add the teabag, stir and pour.
 This recipe is ultra-easy, especially if you pre-mix the ingredients prior to camping. Use your RV stove, camping stove, or the campfire itself to warm the milk slowly until it boils. And speaking of milk, resist the urge to substitute with water- the milk adds the perfect amount of creaminess to the cocoa. Add whiskey to turn the drink into a tasty adult beverage.
 Ingredients:
 1 cup Cocoa powder
¼ teaspoon cinnamon
1 cup sugar
⅛ teaspoon salt
Directions:
Add 2 tablespoons of the campfire hot cocoa mix to the bottom of your favorite camp coffee mug then top with 1 cup of warmed milk and stir until combined.
 Nothing says "cozy" like warm apple cider. It's easy to whip up this drink recipe at home (or in your RV home) and store it in a fridge or cooler until you're ready to indulge.  Use a dutch oven if you want to warm the cider over a campfire. Omit the bourbon and it's still just as tasty as a non-alcoholic drink.
 Ingredients:
 2 cups unfiltered apple juice
2 cinnamon sticks
2 tablespoons mulling spices, (or blend of cloves, nutmeg, star anise, allspice)
¼ cup orange juice
3 oz bourbon
Directions:
Pour apple juice, cinnamon sticks, mulling spices, and orange juice into a pot. Bring to a boil, then reduce to a simmer. Simmer the cider for at least 10 minutes to allow the flavors to mingle. Add the bourbon, then stir to combine. Pour through a strainer into two glasses and enjoy immediately.
Need something to help you relax before bed? This comforting, non-alcoholic bevy fits the bill. Plus, it's kid-friendly!
Ingredients:
4 cups milk
1/4 cup sugar
1 1/2 teaspoons pure vanilla extract
Optional: Ground cinnamon, for serving
Directions:
Stir all ingredients in a saucepan and serve.