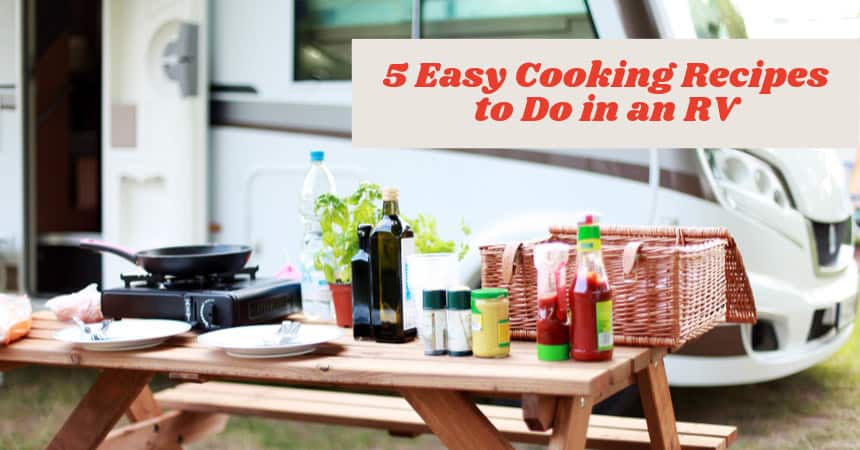 October 10th, 2019
When you're traveling in your RV, meals can be a hassle. You have limited access to ingredients and tools, and doing too many dishes can make your water run out fast. The trick is simple ingredients, one-dish meals, and utilizing any extra food. If you do this, you can create a variety of feasts to enjoy on your vacation—without stressing about your limited kitchen. Get started with these easy cooking recipes to do in an RV.
Sandwiches
Deli meat, cheese, and bread are all you need for this simple yet tasty meal, but you can also get creative with it. Sandwiches are perfect for incorporating leftovers—extra bacon, chicken, or vegetables can make an extravagant meal. You can also ditch the bread and turn your ingredients into a tortilla or lettuce wrap. If you want to get fancy, fire up the grill and press your sandwiches for toasted paninis.
Grilled Fish
Everyone knows hot dogs and hamburgers are a camping classic, but have you tried cooking fish on the grill? This is a great meal for your outdoor vacation, especially if you're staying somewhere with good fishing nearby. Add your favorite herbs and spices and just pop them on the grill. For extra flavor, you can add lemon slices or wrap them in bacon.
Chili
If you're camping in cooler weather, a warm bowl of chili is the perfect cozy meal. Since it's made from all dry and canned ingredients, it's easy to make. Just combine all your ingredients in a pot or, if you have a slow cooker on hand, set it to cook throughout the day. It's less work for you, and by the time you're ready to eat, your entire RV will smell amazing.
Stir-Fry
The key to easy cooking recipes to do in an RV is simple prep and few dishes. This makes stir-fry a wonderful, healthy option for your vacation dinner. In one stove pan, you can throw in meat, vegetables, and any sauces or seasonings you want. This is also a great dish for those leftover ingredients you want to keep from going bad. When everything is done, you have a delicious meal and minimal clean up to do.
Egg Casserole
Another one-pan meal, egg casseroles are a great way to get your day started right. You can add vegetables, potatoes, bacon, or sausage—whatever you like to customize this meal. This is a great way to get your protein in before a day of exploring the area, or have some fun with breakfast for dinner.
There's nothing like enjoying a good meal in the great outdoors. Make your RV meals even more enjoyable with an RV awning screen room to stay in the shade and keep out bugs.