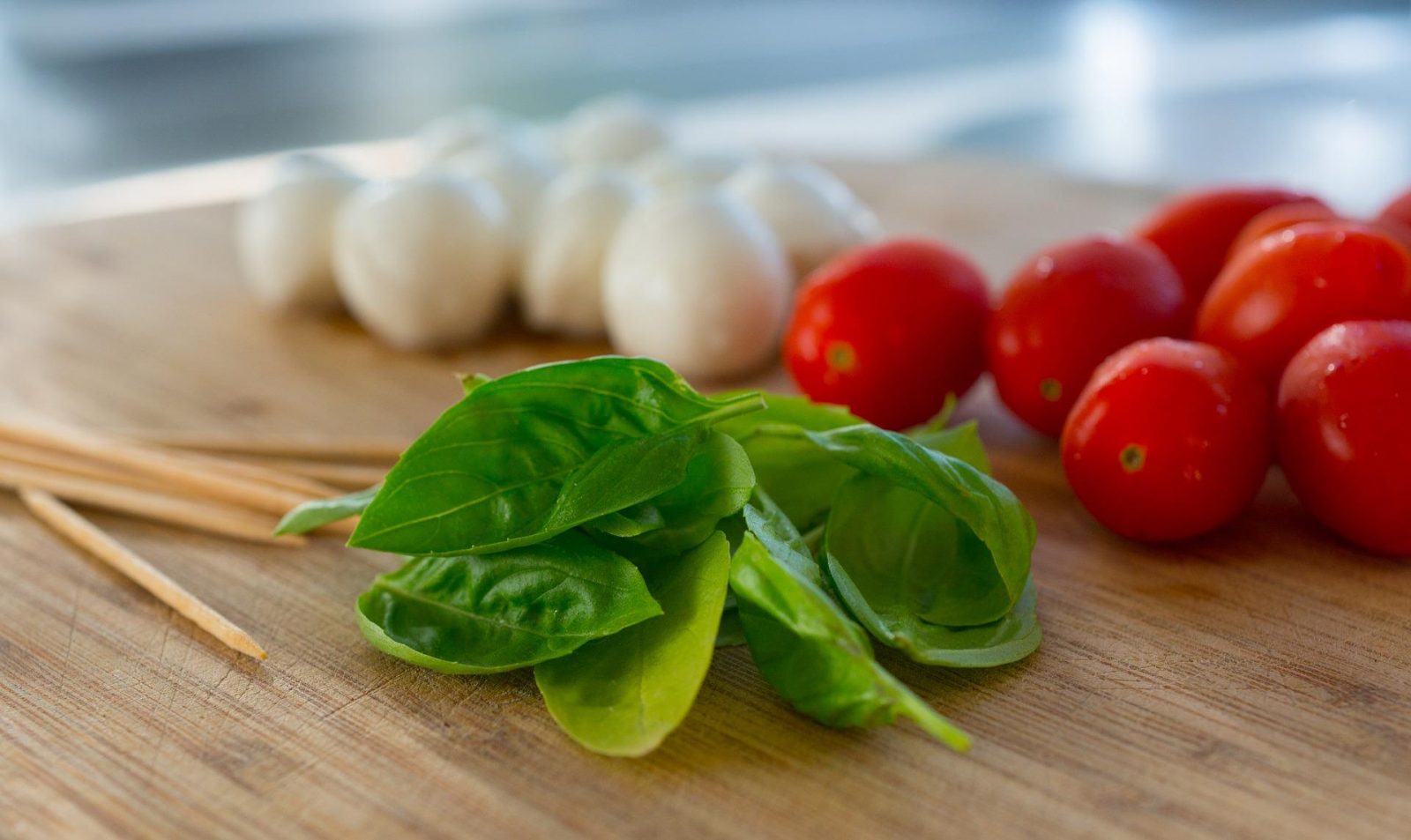 April 29th, 2022
As a new RV season kicks off, summer get-togethers with friends are on your mind. The star of any fun party is, of course, the food. And while RV kitchens may be small, it's still possible to cook plenty of flavorful eats and treats for a crowd. Whether you're hosting a big Memorial Day bash or a low-key barbecue, here are six easy and tasty recipes for entertaining.
Need a last-minute, no-cook app? Caprese salad skewers are the perfect BBQ snack for hot weather days. Add olive oil and balsamic vinegar on the side.
Ingredients:
1 (8 ounce) container small fresh mozzarella balls
1 (4 ounce) package fresh basil leaves
1 (10.5 ounce) container cherry tomatoes, halved
24 small skewers, or as needed
salt and ground black pepper to taste
Directions:
Wrap each mozzarella ball with a basil leaf. Thread a tomato half, a basil-wrapped mozzarella ball, and another tomato half onto a skewer. Repeat until all tomatoes are on skewers. Sprinkle with salt and pepper.
Potato salad is a summer favorite, and this recipe could not be simpler to whip up. Use a microwave, pressure cooker, or pot to boil the potatoes.
Ingredients:
2 -3 medium potatoes (try to pick ones around the same size for even cooking)
1⁄ 2 cup mayonnaise
1 -2 tablespoon mild paprika
2 teaspoons garlic powder
1 teaspoon ground black pepper
1⁄2 bunch green onion, chopped
1 baby dill pickle, diced (optional)
1 tablespoon pickle juice (optional)
2 hard-boiled eggs, sliced (optional)
Directions:
Cut the eyes and blemishes off the potatoes. Skin them if you prefer but I think they're delicious and they're definitely more nutritional! Rinse the potatoes and place them in the microwave undried. Microwave the potatoes (three at a time if you're making a double or triple recipe for the whole family or a potluck) spaced evenly apart on HIGH for THREE MINUTES. Chop your green onions. Chop your pickle and eggs if desired. Flip the potatoes over (careful, they're hot!) and microwave on HIGH for THREE MINUTES more. Mix the mayo, spices, onions, and optional pickle and eggs in a medium-sized bowl. Let the potatoes rest in the microwave for a few minutes (they will continue to cook). Test the doneness of the potatoes with a knife or fork by piercing into the center of each one. If the knife does not go in smoothly or there is resistance, repeat the microwaving process above in increments of ONE MINUTE. Place the cooked potatoes immediately into a bowl of cold water. Let cool for a few minutes. Remove the potatoes and cut into bite-sized pieces (usually halves and then eights will do) – careful, they may still be hot inside. Mix potatoes with sauce mixture, and enjoy!
Who doesn't love an ooey-gooey cheese dip? This appetizer is cooked over a campfire with just a few ingredients, but will still manage to wow your guests. Serve with veggies, crackers, or bread, and make sure to wash the food down with another lager!
Ingredients:
3 c. shredded cheddar
1 (8-oz. block) cream cheese, softened
2 cloves garlic, minced
1 tbsp. freshly chopped chives, plus more for garnish
1 c. lager beer
Kosher salt
Pinch of cayenne pepper
Toasted baguette slices, for serving
Directions:
Place a grate over a campfire. In a large cast-iron skillet, add cheddar, cream cheese, garlic, chives, and beer and season with salt and cayenne. Cover with foil. Cook over campfire until melty, about 15 minutes. Serve with baguette slices.
If you have access to a fridge and crockpot, meatballs are a yummy and filling app for any shindig. Grape jelly may seem like an unusual ingredient, but the condiment adds sweetness to the dish. Sub grape for other fruit jellies or add sriracha for extra spice.
Ingredients:
1 (18 oz) jar grape jelly
1 (12 oz) jar chili sauce
1 cup BBQ sauce
1 (32 oz) bag frozen fully cooked meatballs (I used Cooked Perfect Homestyle)
Sesame seeds and sliced green onions optional for presentation
Directions:
Grease a 6-quart crockpot with cooking spray. Pour in grape jelly, chili sauce, and BBQ sauce.
Stir to combine. Add in frozen meatballs and stir until they are fully coated with the sauce.
Cover and cook on high for 3 hours. Serve as an appetizer with toothpicks or serve over rice for a meal!
Here's a fresh and fast meal that happens to be low carb. Foil packets can be cooked in your oven, on the grill, or over a campfire.
Ingredients:
2 boneless skinless chicken breasts thinly sliced
3 large bell pepper deseeded and sliced
1 large onion peeled and sliced
1 tablespoon olive oil
1 ½ tablespoons fajita seasoning or to taste
Salt optional
Directions:
Light up the campfire or grill to medium-high or preheat the oven to 400F / 200C / gas 6.
Mix all the ingredients together in a bowl until everything is coated. Split the chicken fajitas mix across 2 sheets of aluminum foil and fold edges of foil up around the food to form a closed foiled packet.
Grilling or Campfire:
If grilling on a campfire or grill, then cook the chicken foil packets for 20-25 minutes until the chicken is cooked through.
Oven:
If cooking in the oven, then cook for 20-25 minutes until the chicken is cooked through.
A party isn't complete without pie! This no-bake Key Lime confection is sure to be a crowd-pleaser.
Ingredients:
1 14-ounce can sweetened condensed milk
1 6-ounce can frozen limeade concentrate (not thawed)
1 cup heavy cream
1 6-ounce graham cracker pie crust
zest of 1 lime
Directions:
Place the condensed milk, limeade concentrate, and cream in the bowl of an electric mixer fitted with the whisk attachment. Beat until fluffy and soft peaks form. Pour the filling into the pie crust and smooth the top. Refrigerate until chilled and loosely set, at least 4 hours (and up to overnight). Sprinkle the pie with the zest before serving.