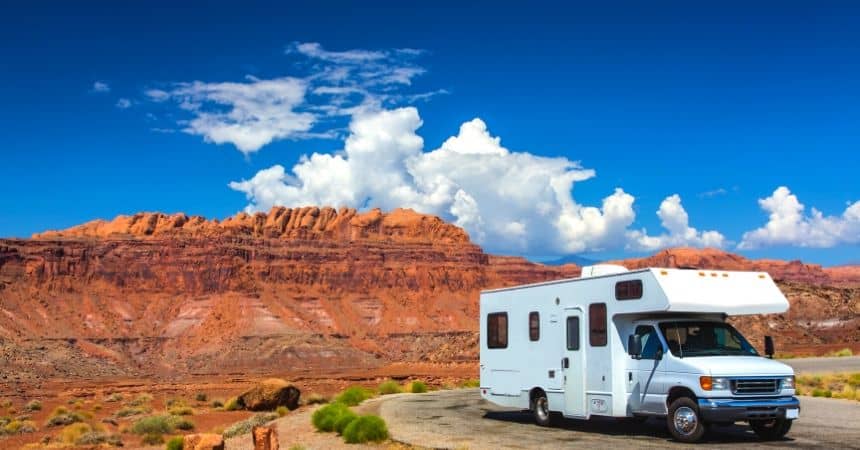 March 2nd, 2020
When you hit the road in your RV, the world is your oyster. No matter where you go or how long you stay there, you'll find endless opportunities to explore, experience, and make memories. However, road trips are long, and your initial plans might fall victim to unforeseen complications or poor weather. Even if everything goes according to plan, there are times when the endless options are too overwhelming for you to choose. If you ever find yourself searching for fun ideas during your vacation, consider this list of activities to do on an RV trip.
Experience the Great Outdoors
Of course, one of the best parts of RVing is the time you spend in the great outdoors. From wildlife to wild views, a good portion of your road trip will probably take place outside. Campgrounds, national parks, and other locations host various outdoor activities for everyone who visits. Take a step back and enjoy the gorgeous landscapes, or dive straight in with all the hiking, biking, and other activities available. No matter your reason for traveling, there's plenty to do when you stop to appreciate the natural world around you.
Meet the Local Wildlife
Every part of the country has its own unique ecosystem and inhabitants. A trip down to the Everglades might bring you face-to-face with a grinning American alligator, while a journey through the mountains might introduce you to a wandering black bear. Anyone with a love of—and respect for—wildlife can get their kicks on an RV trip. Explore the trails at your park or campground and see who you can find along the way; just make sure you keep a safe distance. You can also grab a pair of binoculars and stake out a spot for birdwatching. Depending on where you are, there might be a nature center or wildlife reservation you can visit in or near your campground.
Check Out the View
Wild animals aren't the only fantastic sight to see on an RV trip. While you're traveling, take the time to appreciate the landscapes you pass through. There's nothing quite like the view from a mountainside or the sun hanging low over the ocean. Even as you're traveling, there are bound to be some phenomenal sights along the road. Don't be afraid to stop and pull over if you see something particularly good.
Once you arrive at your campground, be sure to ask around for the best postcard-worthy landscapes. While you can get a lot of information online or in brochures, locals and frequent visitors are the best source of information when it comes to finding the optimal hidden spots. Of course, not every great view will fall into your lap. Get up early to catch the sunrise or stay up late to watch the stars. While you're hunting for unforgettable sights, don't forget to bring along your camera. While it's sometimes better to just sit back and appreciate the view, there's no harm in capturing a moment and sharing it with others when you get back home.
Get Active
Of course, sometimes a photograph isn't enough. If that's the case, there are plenty of livelier activities to do while you're spending time outside. Learn your way around as you hike or bike through the park. Many parks have lakes set aside for visitors to swim or fish in as they pass the time. Maybe you can hit the water in a canoe or kayak. Are you traveling to the mountains? Spend a day on the slopes with skis, sleds, or snowboards. Even if there's a sport or hobby you've never done before, most parks offer lessons and rentable equipment so visitors can try something new.
Explore the City
While the great outdoors are a major part of most RV trips, you can find plenty of fun in urban areas as well. Hit up bucket-list tourist attractions, fascinating museums, or the locals' favorite restaurants. You can take a day trip into the big city or just wander around the local mountain town. There's sure to be plenty of culture to experience anywhere you go on your trip.
Tourist Attractions
Tourists get a bad rap for sticking out from the crowd, but that shouldn't stop you from visiting those iconic landmarks. Many tourist attractions offer ample culture, art, and history. Plus, museums are a great way to spend a rainy day. Don't be afraid to hit up the most famous parts of your destination. If you want, embrace your inner tourist by taking a selfie or buying that keychain from the gift shop. After all, it's your vacation.
Shops and Eateries
Of course, if you're spending considerable time in a city or town, you should also delve deeper into the local culture. Keep an eye out for those small, family-owned businesses you can't find anywhere else. From the largest cities in the country to a charming village nestled between the mountains, every town has local shops, cafes, and restaurants for you to discover. This is another time to ask for recommendations from local residents. Often, the best places simply aren't listed on your favorite review site.
At Your RV
Despite the excitement of a vacation, one of the best parts of an RV trip is simply kicking back and relaxing. Schedule time to take a break and spend some quality time just chilling out at your home away from home. Even a nap is a good way to pass the time when you're on vacation. Here are some ideas for those calm days spent at your RV.
Play Games
Looking for family bonding activities to do on an RV trip? Look no further than an old-fashioned game night. Board games and cards are easy to pack and great for any point of the trip. If you keep a foldable table up at your campsite, you can just pick up a game whenever you have a few minutes of boredom. You can even play through a rainy day beneath your RV awning enclosure. Board games and card games are a great way to keep everyone in your group entertained during all the downtime you might have during your trip.
Sit Around the Campfire
What's a camping trip without a crackling fire? It's as simple and wonderful as it sounds. Spend an evening gathered around eating, talking, and just hanging out together around the fire. You can keep up camping traditions by roasting marshmallows and telling ghost stories. Alternatively, turn on the radio and simply enjoy the company around you. Even if you have a fire going almost every evening when you're doing other things, there's nothing wrong with taking one night to relax around it.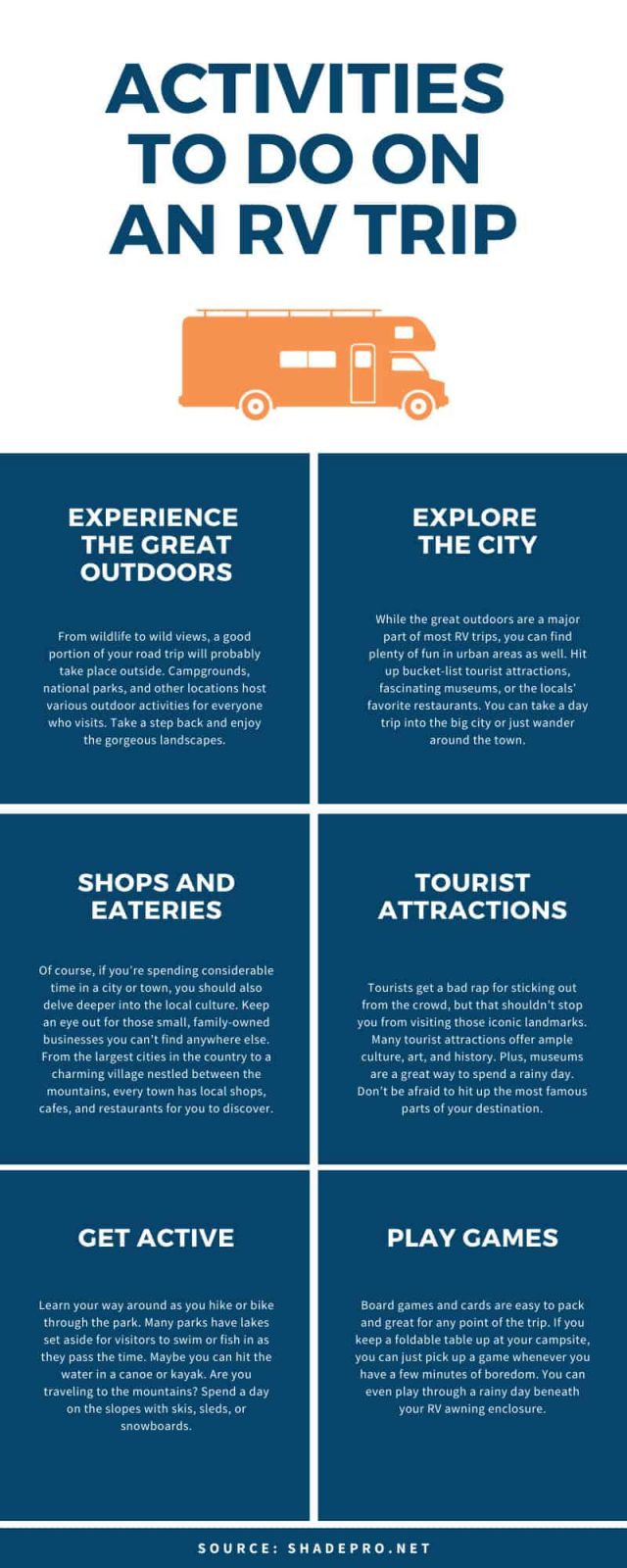 About ShadePro
After 35 years in the recreational vehicle sun and shade control business, ShadePro has become a trusted leader in helping RV enthusiasts optimize their rigs for travel and adventures. ShadePro manufactures only the highest quality RV awnings, RV awning replacement fabrics, RV dash covers, RV windshield Covers, screen rooms, Vista Shades for RV's and much more. All products are built to last for long-term enjoyment backed by a warranty.