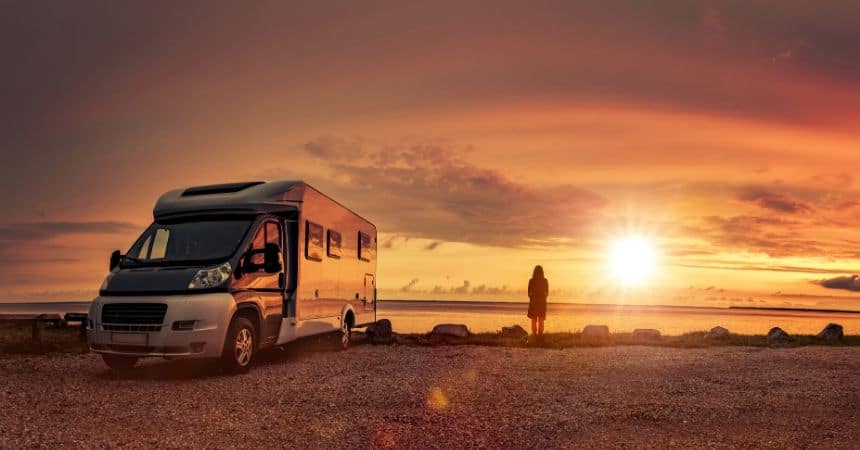 April 10th, 2020
Roaming the country like modern-day nomads, full-time RVers lead unique, enriching lives. While the idea of trading your house for a small camper doesn't immediately appeal to everyone, more and more people are considering—and pursuing—a life on the road. From couples spending their retirement traveling to young families starting a new life together, full-time RVing is a growing trend across many different demographics. Every RVer has their own reason for hitting the road, but there are a few common perks that everyone experiences. Here are seven incredible benefits of becoming a full-time RVer.
The Cost
As far as alternative housing goes, an RV is one of your best options. An RV lets you live without a mortgage or monthly rent. You will likely pay a fee at your campground in order to stay there and use the facilities. These rates will vary depending on where you travel, what time of year you're there, and how long you're staying. If you plan it right, you can easily stay under the average cost of housing or rent. Your utility bills will also be much cheaper—if they're not already included in your campground fees. You also have to think about gas and other regular expenses like groceries. However, it's just as easy to make a budget for your RV as it would be in any other home. With the proper planning and financially responsible habits, you can turn your RV into a much more affordable housing alternative.
No More Living in a Rut
Some people find comfort in permanence, while others feel restless or uneasy with it. If you're part of the latter group, a full-time life on the road might be perfect for you. In an RV, you never feel tied down to one place. When you feel bored or start itching for a change, you can simply pack your things and drive to a new place. You can change your home and neighborhood as often as you want or need. Does the snow and cold of winter get you down? Drive south and spend the season in warmer weather. Have you had your fill of the beach? Head on over to the mountains for a few weeks. On the other hand, if you ever crave more permanency, you can park your RV and set up camp for as long as you want. Every day of the year, you get to decide where you live and how long you stay there.
Jobs on the Go
Once upon a time, you would need a retirement fund or a massive amount of savings to leave your old life behind and live comfortably on the road. These days, with the rise of the internet and more remote job opportunities, anyone can find an enjoyable way to earn an income while traveling. Of course, there are plenty of side jobs in the campgrounds and towns you wander through. However, many people are finding remote work as bloggers, photographers, online tutors, and more. You can run an online store, produce a travel YouTube channel, or work as a freelance artist for pretty much any company imaginable. There's no end to the unique jobs that can satisfy your passion and your budget as you lead your adventurous RV life.
The Great Outdoors
This might be an obvious perk, but nonetheless it's one of the greatest benefits of becoming a full-time RVer. As with any RV trip, life on the road gives you plenty of opportunity to enjoy the breathtaking natural world around you. Every day is full of glorious views and fascinating wildlife. You eat every meal around a crackling fire. Every night, you can fall asleep under the stars to the sounds of tree frogs. In the morning, you can wake up to crisp, fresh air and birds singing in the trees. Spend lazy mornings in the comfortable shade of your RV awning or exciting afternoons hiking through woods and mountains. If you get tired of the environment you're in, you can simply leave and pursue the next great landscape. Full-time RVing allows you to escape the noise and pollution that comes with life in a city or suburb and trade it for a new adventure every day.
The Friendly RV Community
If you think the lack of neighbors can get a little lonely, think again. There is a warm RV community spread across the entire country, waiting to welcome you with open arms. No matter where you wander, you're sure to run into other couples and families living their best lives on the road. You'll meet kindhearted neighbors, entertaining pen pals, and even lifelong friends. Swap stories, share advice and recommendations, and lend or receive a helping hand. The sense of community between RVers—especially full-time RVers—can enhance your travels everywhere you go.
The Excuse to Simplify
Many of us long for the chance to declutter and unplug from a lot of the hectic routines of our daily lives. Switching to the full-time RV life might mean downsizing, but it's also a chance to simplify your life. If you feel like you're suffering from unnecessary modern worries like too much screen time or the routine of an office job you don't enjoy, RVing is an excuse to let some things go. Whether that means spending less time online or simply learning to live in the moment, becoming a full-time RVer might just be the drastic life change you're looking for.
You Never Stop Traveling
Do you have a map hanging on your wall, marked with all the places you want to visit? Have you written a bucket list full of incredible destinations you want to see some day? Full-time RVing is the perfect way to relieve your wanderlust. With the road as your home, adventure is always available to you. This is a great way to see what the world has to offer, all from the comfort and familiarity of your own home. While living in an RV full-time certainly isn't for everyone, it was definitely made for those of us who love to travel. If the open road calls you, this might just be the perfect way to answer.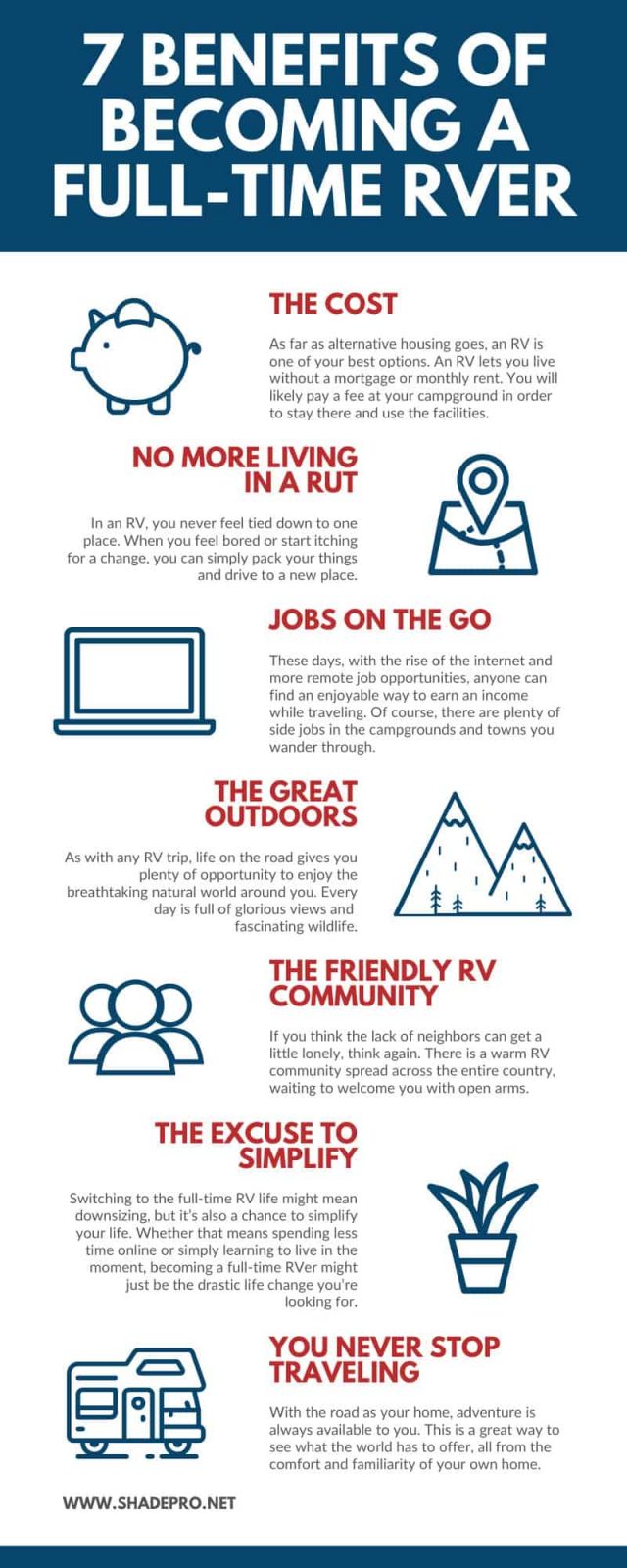 About ShadePro
After 35 years in the recreational vehicle sun and shade control business, ShadePro has become a trusted leader in helping RV enthusiasts optimize their rigs for travel and adventures. ShadePro manufactures only the highest quality RV awnings, RV awning replacement fabrics, RV dash covers, RV windshield Covers, screen rooms, Vista Shades for RV's and much more. All products are built to last for long-term enjoyment backed by a warranty.