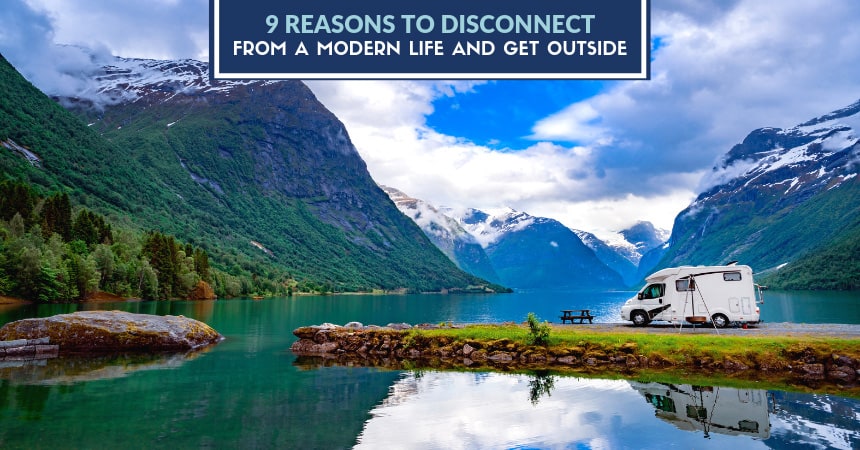 August 12th, 2019
The modern comfort of our lives keeps us connected to friends, family, old high school friends, and even celebrities. The answer to any question is just a few clicks away, and your job can email you 24-hours a day. While staying constantly connected has tremendous benefits, there are many reasons why we should disconnect from the modern world and get outside. Disconnecting has unseen benefits that many people don't know, but those benefits can be quite impactful once achieved.
Hitting the road has become a very popular way to get away. According to Statista, "In 2017, 41.8 million people participated in car, backyard, or RV camping in the United States." Millions of people are now enjoying the great outdoors! Read on to explore all the reasons to disconnect from technology and spend time outside under your camper awning when you take an RV or car on a camping trip.
Benefits of Disconnecting from the Modern World
Get outside and exercise
Many of us spend too much time indoors on our phones and tablets. They may be an integral part of our lives, but every now and then, we need to disconnect from the Internet. For some, the only time they spend outside is to go from the car to the next building. Taking a camping trip gets you outdoors for an extended amount of time and has health benefits such as providing necessary exercise. Hit the road and spend time outdoors to get your body moving—you won't regret it.
Reduce stress from modern world
Our ever-connected world comes at a cost of increased stress throughout our daily lives. Unfortunately, the more we're connected to our phones, the more we need to be connected interpersonally. Before your stress reaches a boiling point, unplug from all your devices and explore the wonders our amazing world has to offer. With the sun as your alarm clock, and the moon as your lullaby, remember what is was like before the constant blaring horns and buzzing of communication. RV camping lets you take a step back and enjoy the moment—all you need is a lawn chair, a cold drink, and a seat under your camper awning. Nature will take care of the rest.
Reset your circadian rhythm
Almost everyone is jolted awake by blaring alarms each morning. We crawl out of bed, get dressed, and hurry out of the house just to wait in traffic. Our modern lives work against the body's natural waking and sleeping cycle. Getting out into nature and disconnecting from devices can help your body reset its nature cycles. The sun tells when you it's time to wake up and when it's time to go to sleep—just the way nature intended.
Get more vitamin D
Getting outdoors has multiple health benefits; one of them is spending time in the sun increases your body's production of vitamin D. This powerful vitamin helps with multiple areas in the body which includes bone health, the immune system, and other vital body systems. When you take your journey, make sure to get some time in the sun, and your body will take care of the rest.
Reconnect with yourself
One of the main benefits of disconnecting from our modern lives is the immense connection it can foster in our relationships with ourselves. Our lives are now based on sharing every moment, and with our lives so "shared", it can be difficult to tell if you're enjoying the moment or enjoying others enjoying your moments. Getting out into nature allows you to stop doing things for likes and to truly experience life. If you take a few moments to stop getting "likes", you can you give yourself the space and opportunity to discover what you enjoy. Reconnect to yourself on a nature walk, or be alone with your thoughts while you watch a breath-taking sunrise. The most important point is that you spend some time by yourself without the inference of technology. While camping, commit to staying disconnected and finding personal inspiration. Feel free to take pictures and even share a few, but make sure to keep some special moments for yourself.
See the amazing beauty of the natural world
While spending time with yourself, make sure to experience all the natural beauty the world provides. There is so much to see and experience in forests and mountains that you don't get in a city. RV or car camping is the perfect opportunity to try something new, as well. You never know, you may find a new hobby or passion, so let nature inspire you.
Ways to Spend Time Outdoors While Camping
Animal Watching
Grab a magnifying glass, a pair of binoculars, or a microscope to experience nature in a brand new way. Take your magnifying glass and discover a whole different world on the ground beneath your feet. Spend a little time bug watching and see that insects aren't so creepy after all. With your binoculars, try bird watching to find as many species as possible. Since camping helps you get up close and personal with nature, take your experience to an even deeper level by using a microscope to examine water samples or other parts of nature.
Bring a telescope and star map
Camping means you get a better view of the sky—take advantage of that! After spending time looking down, grab your telescope to look up. When you're out in nature, away from the light pollution of most modern cities, you can enjoy the spectacular light show that nature puts on. Challenge yourself to find all the popular constellations. You might even get lucky and find an undiscovered star!
Nature Walks
Taking a nature walk combines several of our tips into one amazing action. A nature walk provides exercise, gets you outside in the sun, and you can observe nature. Make sure to take short breaks every once in a while to observe the natural beauty of the world. Your nature walk is also a great time to spend time alone to reconnect with yourself. Exploring nature has so many benefits, and many are only discovered when you hit the path yourself.