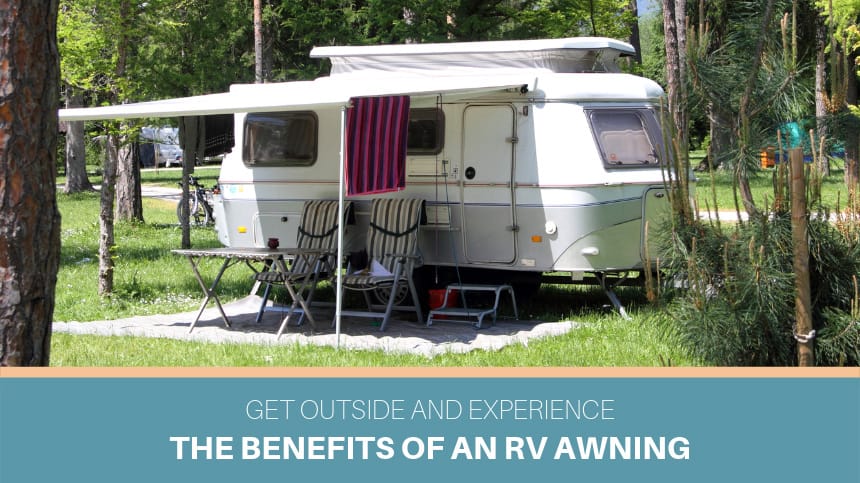 August 7th, 2019
An RV is perhaps the most versatile vehicle you will encounter on the road. It serves as a hotel room, kitchen, bedroom, and family room—just to name a few of the features. Additionally, RVs are incredibly spacious; according to Camper Grid, "Most of the class A motorhome have lengths that range from 21 feet up to 45 feet." While this makes for a lavish indoor space, there is one area that many camper enthusiasts ignore—the expansive front yard. However, thanks to the many benefits of an RV awning, more RV owners are utilizing their RV's outdoor space.
Choose Your Ideal Materials
Before you consider the mechanics, you'll need to choose an awning material. Awning materials vary, but acrylic and vinyl are the most common. Acrylic is the more breathable of the two materials and can handle the harsh elements. However, acrylic is water-resistant, not waterproof. Acrylic will repel water and dry quickly, but during heavier rains, your RV awning may leak.
Vinyl, on the other hand, has similar durability and is waterproof. However, vinyl does not handle air circulation as well as acrylic. These awnings are versatile and come in an array of colors and designs—your new vinyl awning will look amazing; however, be sure to keep an eye out for minor fading. No matter which material you go with, if you find your awning needs some TLC, it is easy to replace the fabric.
Find the Perfect Type of Awning
It's important to consider your personal needs when deciding on the type of RV awning you need. No matter which option you go with, each awning will allow you to enjoy all the space around your RV. For a permanent solution, a fixed awning is a perfect choice. Fixed awnings, once installed, provide constant shade whenever you want to spend time outside. You'll just have to be extra careful while on the road.
For those who want something a little more high-tech, try a retractable awning. With one push of a button, you'll be able to extend or retract your awning. This way, you can establish shade when you want and tuck it away once you're ready to hit the road. Similarly, a sliding awning works the same as a retractable awning, it just requires some manual effort.
Take Your Awning to a New Level
To truly reap the benefits of an RV awning, you'll want to create an outside room. An awning forms a partially enclosed space that attaches to your RV. As such, you can immerse yourself in the outdoors while still using modern luxuries, including patio furniture, a grill, and protective netting to keep out bugs and dust. Your RV awning will be perfect for late-night hangouts with friends and family.
Shade Pro can help you decide on the perfect material, style, and accessories for your RV awning—you are sure to enjoy your new space every time you step outside. Contact us to learn more about our offerings.