CHOOSE YOUR ELECTRIC PATIO AWNING
Electric RV Awnings – Patios
Choose from these trusted manufacturers of electric RV awnings. 
Next Select Model
Model Selection
75%
Eclipse 12V Electric RV Awnings
Push and hold the button to extend the Eclipse RV awning to partial or a full extension in just seconds. As the billow-proof worm-gear motor unrolls the canopy, the rafter arms glide up the vertical track on the side of the coach to deploy a stable, truss-like, overhead support. The Eclipse RV awning provides maximum shade and versatile rain release…no other 12V awning matches the Eclipse!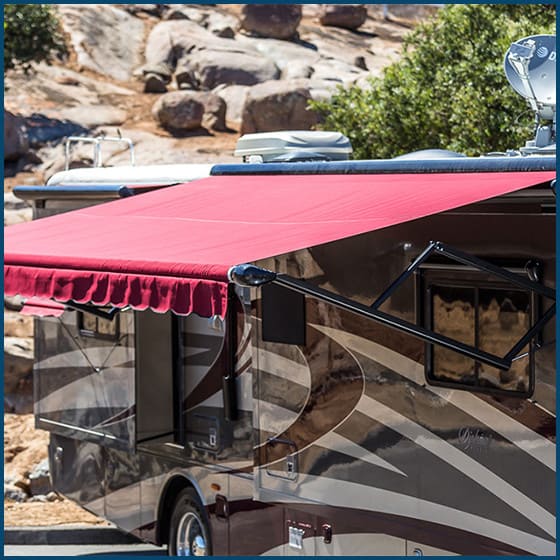 CAREFREE ECLIPSE 12V – ACRYLIC PATIO AWNING
Carefree pioneered 12V patio awnings and now they have re-written the book. The Eclipse electric patio awning has more features than any other 12V awning. Simply push and hold the button inside the RV to extend or retract the awning. No more fighting an awning in the middle of the night when it's windy. Comes equipped with our Shade Pro marine grade acrylic awning fabric.
starting at $1,809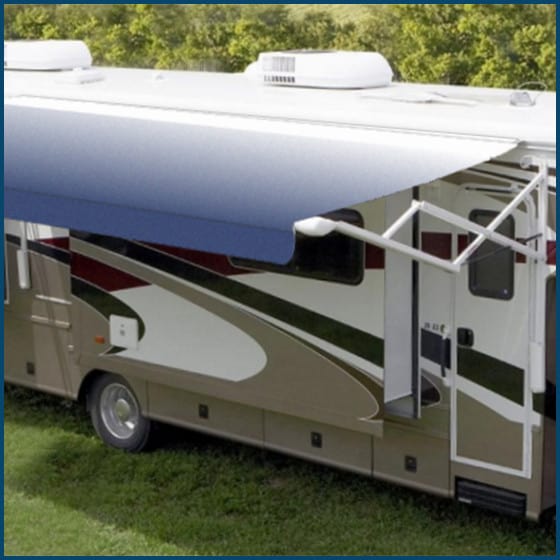 CAREFREE ECLIPSE 12V – VINYL PATIO AWNING
This Eclipse electric patio awning has the same features as our eclipse acrylic patio awning. The Eclipse stays secure no matter the pitch or extension. It will not buckle or flop in light winds. Add the proven reliability of the Direct Response system and the awning will roll up automatically in windy conditions. This one comes equipped with a 13.5 oz 3-ply vinyl fabric.
starting at $1,439
Travel'r RV Awnings
The Travel'r awning offers an easy, push-button operation. This awning is ideal for travel trailers and 5th wheels Now you can have the same convenience and ease of use of an electric RV awning as you've seen on those big, luxurious motorhomes at a fraction of the cost. Carefree uses worm-gear motors, so you can rest assured that the awning won't billow while traveling. Buy the Travel'r as a complete new RV awning, or upgrade your current Carefree or A&E patio awning!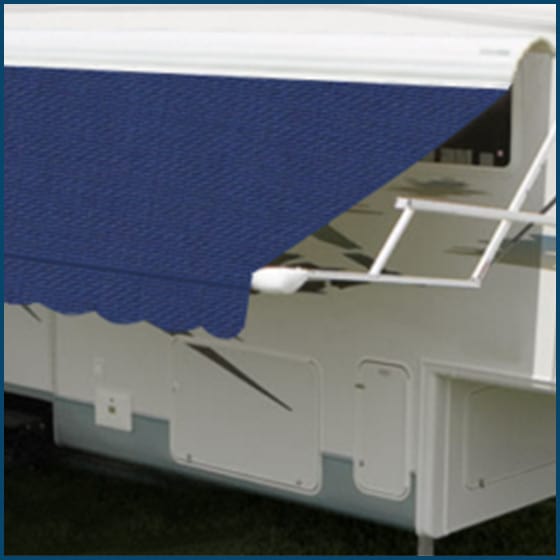 CAREFREE TRAVEL'R 12V – ACRYLIC PATIO AWNING
The Travel'r Electric Patio Awning incorporates some of the proven design features used on Carefree's popular 12V Eclipse. It features integrated styling and mounts flush to the RV to help the arms blend into the sidewall for great looks. The unique truss-support design provides superior strength and maximum head clearance for easy access to your patio area. Comes equipped with a Shade Pro Acrylic marine-grade awning fabric.
starting at $1,509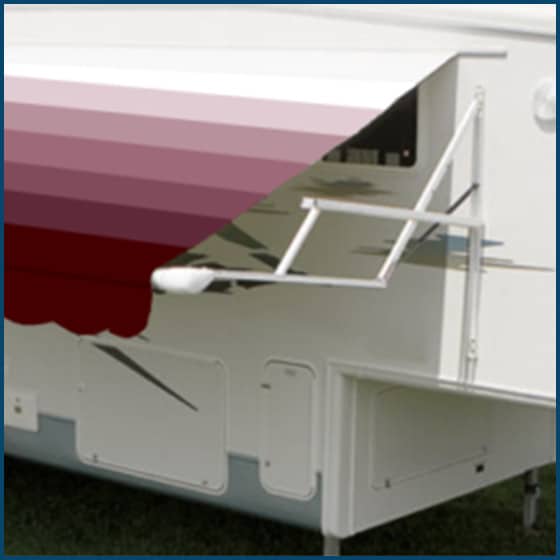 CAREFREE TRAVEL'R 12V – VINYL PATIO AWNING
Same great Travel'r Electric 12V Patio Awning. The Travel'r is easy to use and extend and retract in seconds with just the push of a button. If a big storm comes, just push a button and the awning is fully retracted and safe – you don't have to wrestle the awning in the wind and rain to put it away! Comes equipped with a Shade Pro Premium 13.5 oz 3-ply vinyl fabric.

Shop Travel'r Vinyl

starting at $1,139
 5/5
I Love My New Awning
I love my new awning, very well built. As luck would have it, we had a strong gust of wind come up and the awning went in right before our eyes. THANK YOU.  
Don L. (verified buyer)
Carefree Eclipse 12V Electric Awning Vinyl