CHOOSE YOUR FABRIC
Patio Awning Fabric Replacements
Fits Carefree, Dometic, Lippert, Carter, and Faulkner awnings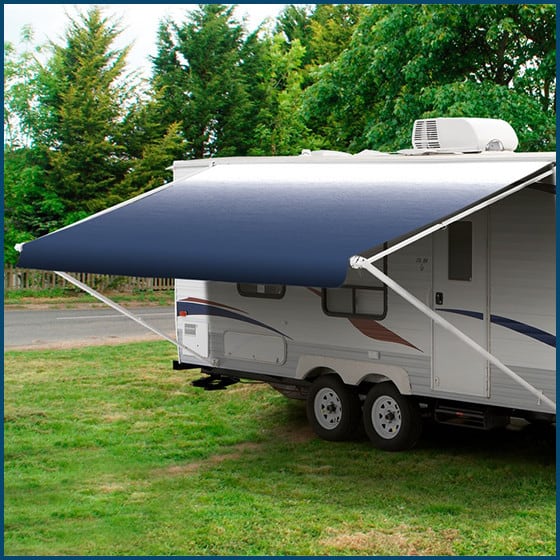 VINYL
Choose between our premium fades 13.5 oz 3-ply vinyl and our heavy-duty stripes 15 oz 3-ply vinyl options. Both premium grade and heavy-duty vinyl fabrics are cold crack and mildew tested. 
starting at $154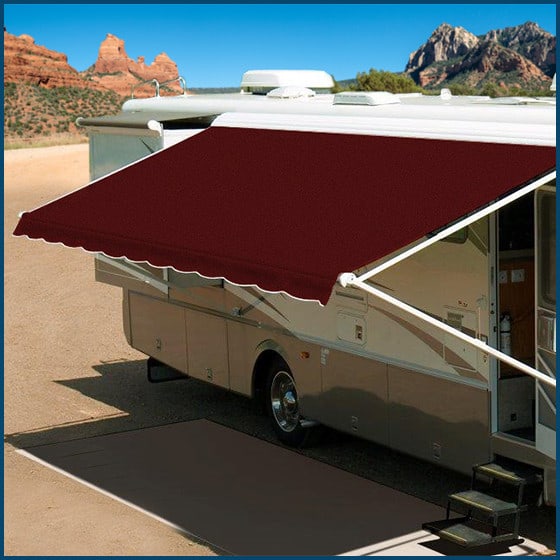 ACRYLIC
Our marine grade acrylic awning replacement fabrics will last for many years and never mildew. Choose from our 9 standard colors or over 140 custom colors. Fabrics with metal covers or existing metal covers available. 
starting at $379
FIND OUT WHICH FABRIC IS RIGHT FOR YOU
The case for acrylic fabrics
Acrylic fabric is a woven cloth that allows air to circulate through the fabric. They can handle burning sun, drenching rain, freezing ice and snow, wicked winds, irritating dust and dirt, you name it. The woven acrylic cloth can quickly dry and although not encouraged, it is able to be rolled up when wet. Since woven acrylic is very breathable, the air constantly moving through the fabric means that the temperature under the canopy will stay cooler than under vinyl awning fabric. Since the patterns and colors are woven in – not painted – on acrylic fabrics, you can trust that your canopy will stay full and bright over the years.
Replace your Carefree Acrylic Awning with a genuine replacement fabric. Fits Carefree and Dometic Awnings with Alumiguard or Uniguard only. Our 1-piece replacement fabric slides into both the aluminum cover and the roller tube. Choose from 9 Standard or over 140 Custom Colors. Contact us if you are unable to locate the pattern or color you're looking for. Available in sizes 10-feet to 21-feet.
It's also important to remember that acrylic fabrics are water repellent, but they're not waterproof. 
Is a vinyl awning right for me?
For over 40 years, Shade Pro has been known for our high quality RV awning fabrics. Shade Pro's vinyl RV awnings have a 3-ply fabric and 1000 denier scrim to reduce tears. They are cold-crack tested to -25 degrees and mildew resistant. Rugged vinyl Weatherguard option is available on the heavy duty stripes. Our 3-ply vinyl canopies have four important features:
Both polyrods are sewn in at the roller tube making this the easiest fabric to install. No special tools needed.
Reinforced with webbing at stress points to reduce tearing.
Universal fit will work with most major awning manufacturers like Carefree, Dometic and Lippert.
Sizes 8-feet to 25-feet, every fabric includes easy do-it-yourself instructions and a replacement pull strap.
Our double-sided printing provides a better-looking replacement fabric. Since vinyl fabrics are a laminated fabric, water will not soak through making them water-resistant.
All of Shade Pro's replacement awning fabrics come with a Shade Pro warranty on parts and freight. Click through to the fabric type to read more about the warranty for that product.