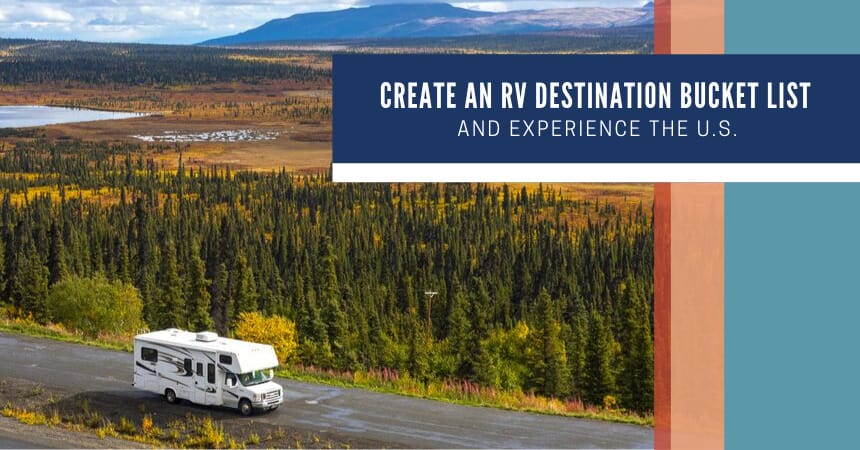 September 20th, 2019
Creating an RV destination bucket list is a great way to start planning a trip. Our nation has so many amazing areas you have to experience before you kick the bucket.
Let Your Sense of Wonder Explode at Yellowstone National Park
Any RV destination bucket list must include the world's most famous national park. Yellowstone is known for it's bubbling pools of naturally heated waters and geysers. Many people are unfamiliar with the other 3,000 square miles the park has to offer, though. Explore as much of this amazing park as humanly possible.
Get a Good Scare in Savannah, Georgia
Make sure to check your pulse when you travel through America's most-haunted city. Take an RV tour of one of the oldest cemeteries in Georgia. If this spot is on your list, then you better keep your bucket close to you.
Get Your Kicks on Route 66
Like Yellowstone, Route 66 is a quintessential stop on any road trip. This monumental route goes across a large portion of the continental U.S. Jump on this road, and travel from Chicago to California to experience the best scenery America has to offer.
Explore the Expansive Alaskan Frontier
The Denali highway covers 135 miles from Paxson to Cantwell, and it's the perfect terrain for an RV. Most roads are gravel, so it forces you to slow down and experience the natural beauty of the Alaskan frontier.
Have a Grand Time at the Grand Canyon
We're talking about RV trips, but the Grand Canyon also offers bike routes, donkey riding trails, and whitewater rafting excursions. Whether you ride through on four wheels or four legs, you must experience the amazing splendor of this natural wonder in Arizona.
Your RV destinations bucket list is a great way to see the most beautiful parts of our country. We hope we added a destination or two to your list. Before you head out on your next adventure, pick up all the RV awning accessories you need to get the most out of your ride.
About ShadePro
After 35 years in the recreational vehicle sun and shade control business, ShadePro has become a trusted leader in helping RV enthusiasts optimize their rigs for travel and adventures. ShadePro manufactures only the highest quality RV awnings, RV awning replacement fabrics, RV dash covers, RV windshield Covers, screen rooms, Vista Shades for RV's and much more. All products are built to last for long-term enjoyment backed by a warranty.