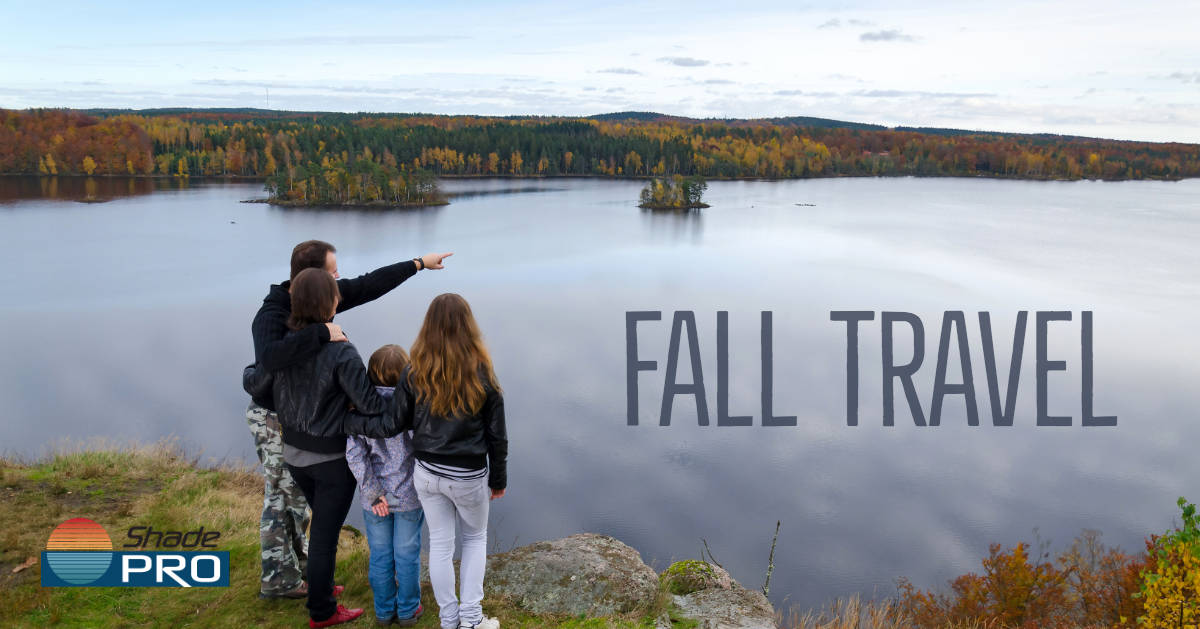 October 17th, 2018
Here are our reasons for enjoying RVing in the fall, maybe even more than in the summer!
Are your Autumn months full of hot chocolate, smores, and camp-fires? Are Saturdays and Sundays reserved for family BBQs? Are you preparing for one more, last minute fly-fishing trip before the season ends? Or, does Fall mean tailgating Saturdays to support your alma mater on the gridiron?
Whether you're chasing the last sliver of summer, settling in for a season of football, or exploring the fall colors across the beautiful American landscapes, RVing gives you the freedom to be spontaneous and adventurous as bald eagles over beautiful Montana sky.
Here are our Top 3 Reasons to keep your wheels turning this fall.
Here is the good news about fall. Young minds are back to school, the days are getting cooler, and all of our favorite national parks are still open. Let's face it, crowds during the summer are more massive than ever (thanks to social media), but fall brings less-crowded scenic drives and more privacy in camping grounds. So take that last trip (or two), and don't forget your firewood!
If you're like us, the Fall colors are as beautiful as the blossoming season of Spring. As the leaves change from green to yellow to orange to red, watching them sway with the wind is a majestic sight. What's better? Hiking amid the colors means fewer bugs than the summer and spring
months. So leave your bug spray at home, grab your hot-beverage thermos, and
get out there!
Finally, football season is in full swing in October and November. Regardless of how you like to support your alma mater, an RV can make all the difference in comfort before and after the game. Whether it's a hot day that feels like summer or a frigid fall night that feels like the middle of January, your RV is the perfect home base for the best burgers and cocktails.
And here are our Top 3 RV Accessories to make each trip as enjoyable as possible:
The sun sets much earlier in the fall. We love the brilliant sunsets competing with the changing colors of the trees. An awning shade is an ideal accessory to help shield the setting sun so that you can keep enjoying the breathtaking views while shielding you from nearly 85% of the wind. We recommend the Vista Shade Awning for your electric power awnings.
We know, window coverings don't get us as excited as catching the season's last trout, but they can make all the difference in keeping you comfortable inside after a blustery day of exploration. With the changing seasons, window coverings also protect your windows from unnecessary damages, like falling tree limbs caused by high winds.
These are perfect for enjoying your favorite fall dinner at sunset (There's nothing better than a freshly grilled Trip-Tip with some baked beans and foil-steamed sweet corn). In a full room enclosure with your RV awning as the roof, every dinner can be the perfect sunset meal and provide some privacy from fellow RV neighbors.
About ShadePro
After 35 years in the recreational vehicle sun and shade control business, ShadePro has become a trusted leader in helping RV enthusiasts optimize their rigs for travel and adventures. ShadePro manufactures only the highest quality RV awnings, RV awning replacement fabrics, RV dash covers, RV windshield Covers, screen rooms, Vista Shades for RV's and much more. All products are built to last for long-term enjoyment backed by a warranty.