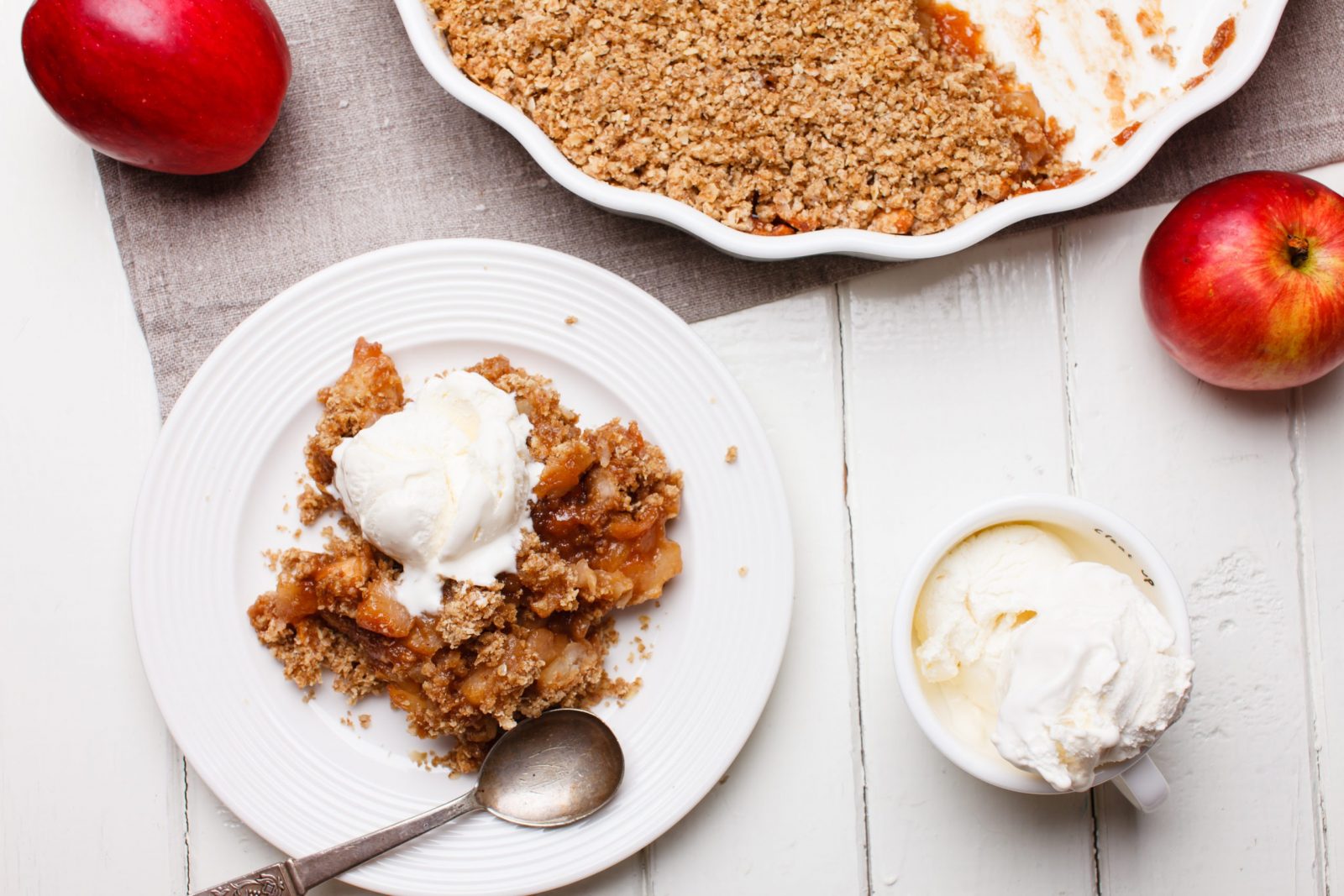 September 20th, 2021
Cooler temps and gorgeous foliage make autumn one of the most appealing times of year to hit the open road. If you're going camping this fall, you'll need warm and hearty meals to stay fueled. Kitchen space can be limited in an RV, but with the help of a few handy gadgets and some pre-planning, you can easily whip up these 4 delicious fall recipes. 
The last thing anyone wants to deal with while camping is cooking a complicated meal. Save yourself hours in the kitchen by utilizing a Crockpot. Simply throw ingredients in and let the slow cooker do the work while you're out exploring.
Pro tip: Use a crockpot liner to make post-dinner cleanup a breeze.
Another tip? Keep potatoes on hand when possible: they're inexpensive, non-perishable, and super versatile for breakfast, lunch, and dinner.
This yummy soup will keep you full and satisfied after a long day.
Ingredients:
8 medium Yukon Gold potatoes, peeled and cubed

1 large red onion, chopped

1 celery rib, chopped

2 cans (14-1/2 ounces each) reduced-sodium chicken broth

1 can (10-3/4 ounces) condensed cream of celery soup, undiluted

1 teaspoon garlic powder

1/2 teaspoon white pepper

1-1/2 cups shredded sharp cheddar cheese

1 cup half-and-half cream

Optional toppings: Salad croutons, crumbled cooked bacon, chives and additional shredded sharp cheddar cheese
Directions:
Combine the first 7 ingredients in a 4- or 5-qt. slow cooker. Cover and cook on low for 7-9 hours or until potatoes are tender. Stir in cheese and cream. Cover and cook for 30 minutes longer or until the cheese is melted. Garnish servings with toppings of your choice.
 Electric skillets are a convenient option for RV-ers and are easy to utilize both inside and outside. So many dishes can be made on a skillet, from pancakes and eggs in the morning to this delicious lunch or dinner option. Broccoli is in season during the fall, so grab a few florets the next time you stop at a farmer's market.
 Ingredients:
Directions:
In a large skillet, heat about 1-1/2 tablespoons sesame oil over medium-high heat.
Add in chopped garlic and dried chili flakes; sauté for about 1 minute.
Add in broccoli florets and 4 tablespoons chicken broth; cover skillet and cook until the broccoli is just crisp-tender (about 2 minutes) transfer to a bowl. Add 1 tablespoon more sesame oil to the skillet. Season the chicken strips with salt and pepper, then add to the hot skillet with green onions; sauté until the chicken is cooked through (about 3 minutes). Add in remaining 2 tablespoons chicken broth, hoisin sauce and oyster sauce. Add in the broccoli florets back to the skillet; toss to combine until heated through (about 1-2 minutes). Transfer to a platter or large bowl and sprinkle with sesame seeds. Serve with cooked rice.
One pot dinners are huge space savers and will keep you from having to scrub multiple pots and pans (a huge plus when water is limited). Here's an easy and hearty one dish dinner fall recipe that utilizes pantry staples.
 Ingredients:
 

2 pounds ground beef

 

1 large yellow onion

 

1 green bell pepper

 

3 cloves garlic

 

3 cups water

 

2  (15 oz) cans tomato sauce

 

2 (14.5 oz) cans diced tomatoes

 

2 tbsp dried Italian herb seasoning

 

1 tbsp seasoned salt

 

2 cups uncooked macaroni
 Directions:
Cook 2 pounds of ground beef in a Dutch oven or large, heavy saucepan until meat is no longer pink. Usually it takes about 10 minutes. Afterwards, drain the grease from the pan. Add the onion, garlic, and green bell pepper. Cook until onions are translucent. Add the water, tomato sauce, diced tomatoes, Italian seasoning, and salt. Mix well. Reduce heat to low, cover, and simmer for about 20 minutes, stirring occasionally. Add the uncooked elbow macaroni. Stir well. Cover once again and allow everything to simmer for about 30 minutes. Enjoy! Top with shredded cheese right before serving.
What's dinner without dessert? This scrumptious fall recipe features the star produce item of the season: apples. And if you don't own an Instant Pot yet, it's time to invest in one. The handy dandy kitchen tool is a big space saver and super versatile, especially for RV-evers who don't have an oven in their kitchen.
1/2  cup  all-purpose flour
1/2  cup  old-fashioned rolled oats
1/2  cup  light brown sugar
1/2  teaspoon  ground cinnamon
dash of salt
6 Tbsp unsalted butter, cut into small pieces
For the Apple filling:
4 small Granny Smith apples, chopped into 1 inch chunks
2 Tablespoons butter, melted
1  Tablespoon lemon juice
1/2  teaspoon vanilla extract
1/4  cup  light brown sugar
1/2  teaspoon  ground cinnamon
dash of salt
1 cup water
Directions:
In a medium size bowl combine the crumb topping ingredients with a fork or pastry blender until it resembles small crumbs. Refrigerate while you prepare the apple filling. Spray IP with non-stick cooking spray. Add melted butter, lemon juice, vanilla, brown sugar, cinnamon and salt and stir to combine. Add apples and toss to coat. Pour in water. Sprinkle crumb topping evenly over the apples. Cook on high pressure (manual for 1 minute). When the timer beeps, turn the valve to quick release the pressure/steam. Start slowly to be sure only steam comes out, and then fully release it. Optional: Spoon servings into oven-proof dish and broil for 1-2 minutes, to crisp the topping, if desired
Fall temperatures may be quickly approaching, but you still can enjoy the cooler fall weather by having dinner al fresco underneath a ShadePro awning. These hearty fall recipes will keep you warm and satisfied wherever you are watching the foliage change.