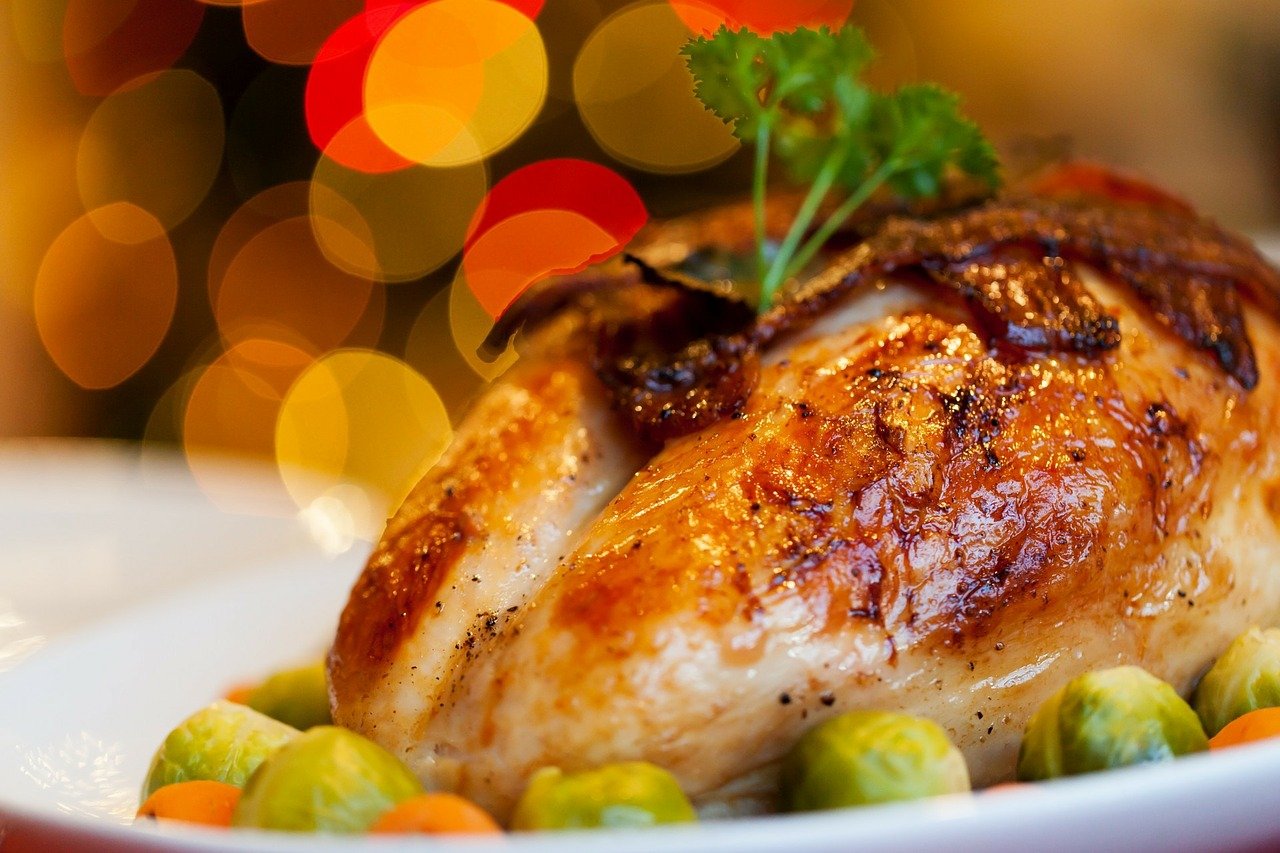 November 16th, 2021
Plan on spending the holiday season in your RV? Not to worry; your family can still enjoy all of your favorite traditional dishes in the comfort of your vehicle. Just keep in mind that an elaborate meal in a tiny kitchen will require extra prep work. Here's our how-to guide for cooking a stress-free and delicious holiday feast on the road.
Before you cook
Having a game plan is essential to prepping your holiday meals. Standard kitchen conveniences like a dishwasher, full-sized appliances, and endless electricity and gas aren't available in an RV. Make sure to bring along a Crockpot, Instant Pot, Dutch oven, outdoor grill, or other equipment if you don't want to rely on your oven.
Plan groceries accordingly
It's a good idea to stock up on food before heading to your campsite, especially if the campground is in a remote area. Be thorough with your grocery list and include items like spices and extra non-perishables in case you don't have access to a store later on. You can also prepare some items before hitting the road, like cooking and freezing dishes that can later be reheated. Full-timers should utilize hacks like buying pre-cut veggies and fruits. 
Use paper/plastic cutlery
Using disposable utensils and plates will save you time and energy (not to mention water!). Buy a brand that's made with recyclable materials to keep the meal relatively earth-friendly.
Consider guests and seating
Plan on hosting extra company for the holidays? You'll need to take space into consideration. If you're camping in an area where the weather stays temperate, enjoy meals outside. The ShadePro Villa Enclosure is the perfect spot to enjoy dinner with your family al fresco, and will keep you (and the meal!) protected in the event of wind or rain.
RECIPES:
Cooking a smaller cut of turkey will save space in your fridge or cooler, plus an oven or electricity isn't necessary for cooking the meat. If you have access to an outdoor grill or campfire with a grate, this easy and tasty main course is a cinch to make.
Ingredients:
Directions:
For the brine – mix 1/2 cup of each salt and sugar with water in a gallon-size zip-top bag. Shake bag to mix well. Add turkey breast to the bag with the brine. Close and refrigerate for 2 hours. Remove from brine, rinse well, pat dry. Turn on the grill to high heat. Generously salt and pepper on both sides of the turkey breast (don't be shy with the salt and pepper!) Place turkey skin side down on the hot side of the grill. Sear for approximately 5 minutes. Turn heat to medium-high on the hot side of the grill. Turn heat off the other half of the grill and move the turkey (skin side up now) to the side with the heat off (this will give you indirect heat). Close the lid and cook the turkey until the internal temperature reaches 165 degrees. It is very helpful to have a digital instant meat thermometer for this. Check temperature after 20 minutes, then check regularly. You should check in several places of the breast (not against the bone though) to make sure you're getting an accurate reading. When the turkey breast is 165 degrees, remove and tent with foil for 10 minutes. Serve with your favorite side dishes.
Thank goodness for the Instant Pot. This handy device has made cooking much easier for people with limited time and space. Here's a great recipe for creamy mashed potatoes you can whip up in the Instant Pot in just 20 minutes.
Ingredients:
3 Pounds Potatoes 6 medium, Peeled and Sliced

Water to Cover Potatoes About 4-5 cups

2 Teaspoons Salt Divided

¼ Cup Butter

¼ Cup Sour Cream

¼ Cup Milk

½ Teaspoon Garlic Powder

½ Teaspoon Pepper
Directions:
Place the peeled and sliced potatoes into the bottom of the instant pot. Cover with water and add 1 teaspoon of salt. Place the lid on the instant pot and set the valve to seal. Cook on manual pressure for 8 minutes. When the timer goes off, turn the instant pot off. Quick-release the pressure from the pot. Drain the potatoes and return to the instant pot. Add the remaining salt, pepper, garlic powder, butter, milk, and sour cream to the potatoes. Mash until smooth.
Serve topped with parsley if desired.
Nothing says warm and cozy like a pot of mac and cheese. This side dish is ultra-easy to make on a campfire, plus it will feed a decent amount of people if you double the recipe. Skip the chips if you're not wanting the extra flavor.
Ingredients:
2 cups elbow macaroni
2 cups water
2 tablespoons butter
¼ teaspoon salt
4 cups cheddar cheese, shredded
1-2 tablespoons mustard
¼ teaspoon garlic powder
5 oz bag Kettle Brand Jalapeño chips
Directions:
Prepare your coals or campfire. Add the elbow macaroni, water, butter, and salt to a 4-qt Dutch oven. Cover and place on top of a small bed of coals or embers. Place 10-15 coals on top of the Dutch oven. Cook for about 10 minutes, until the pasta is tender and most (but not all) of the liquid has been absorbed. Carefully remove the Dutch oven from the campfire and set aside the lid. Stir in the shredded cheese, mustard, and garlic powder, and add more salt if needed. Serve in bowls or on a plate, and top with crushed jalapeño Kettle Brand chips. Enjoy!
Notes
MAKE IT FOR A GROUP
This recipe can easily be scaled up to feed a crowd! Simply double (or triple!) the ingredients – the method will remain the same. If tripling or beyond, you may want to upgrade to a 12″ Dutch oven. Likewise, this recipe can be halved to serve two.
The best kind of dessert is one that requires just a few ingredients and zero time in the oven. Despite being crazy simple to make, these Oreo Cookie Balls are delicious and will undoubtedly be crowd-pleasers this holiday season.
Ingredients:
1 (14-oz.) package Oreos
1 (8-oz.) package cream cheese, softened
Pinch kosher salt
1 (12-oz.) package chocolate chips, melted
Directions:
Use a food processor to crush cookies into fine crumbs. Add all but 2 tablespoons of crushed cookies to a medium bowl. Add cream cheese and salt and stir until evenly combined.
Line a baking sheet with parchment paper. Using a small cookie scoop, form the mixture into small balls and transfer it to the prepared baking sheet. Freeze until slightly hardened, about 30 minutes. Dip frozen balls in melted chocolate until coated and return to the baking sheet. Sprinkle with remaining cookie crumbs. Freeze until chocolate hardens, about 15 minutes.