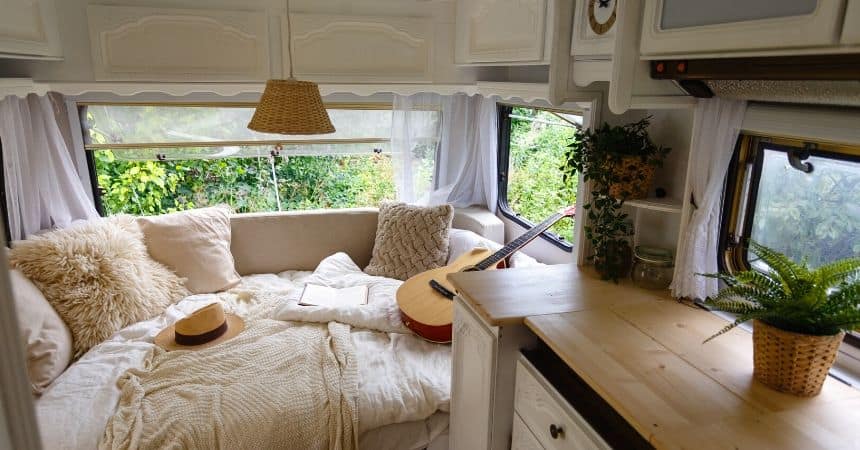 January 29th, 2020
The life of an RV owner is an adventurous one. With gorgeous campgrounds, fascinating people, and an endless bucket list of destinations to visit, it's easy to forget all the downsides that come with life on the road. One of the biggest downsides, of course, is the lack of space. Anyone who has ever spent time in an RV knows how cramped it can get. Fortunately, there are ways to make your small space more comfortable. From clever storage hacks to tricking the eye into thinking there's more room, here's our guide for how to make your RV feel bigger.
Pay Attention to Lighting
Lighting plays a huge role in the appearance of your RV's interior. Consider your RV's lighting and figure out how you can improve it to make the space seem bigger. Pay attention to the nooks and crannies of your RV. Overhead lighting often doesn't reach corners, and a dark, shadowy space feels more cramped than a well-lit one. Lamps help light up the corners of your RV and make the entire space feel more accessible. You can also replace existing light with softer, brighter options, such as LED lightbulbs. By getting rid of fluorescent lighting, you can help make your RV feel less like a mode of transportation and more like a comfortable place to live.
Hang Some Mirrors
Reflective surfaces help trick the eye into thinking a space is bigger. Polished wood or stone cabinets and countertops help reflect light, making a room feel brighter and bigger. You can also add mirrors to your RV's décor. While traditional or intricate mirrors are often too heavy to hang safely on an RV wall, you can find cute plastic mirrors to hang on doors or as wall decorations. These will also reflect the light—both natural and artificial—in your RV to light up the space and make it feel more open.
Keep it Clean
When it comes to how to make your RV feel bigger, housecleaning is the way to go. No matter how big your RV is, if the interior is messy or cramped, it's going to feel small. Make a point of keeping your RV clean at all times. Invest in a handheld vacuum, broom and dustpan, and other portable cleaning tools. Always have a stock of disinfectant wipes, microfiber clothes, multipurpose cleaner, and other essentials on hand. Try to keep clutter off the floor and couches. Staying on top of dishes and garbage is also helpful. Small messes tend to build up quickly, but if you maintain it, you can keep the space feeling open and comfortable.
Utilize Clever and Hidden Storage
As stated above, part of keeping your RV clean is keeping it free of clutter. One of the best ways to manage clutter is with hidden storage. Use bins and baskets that you can tuck into corners, beneath beds, or inside closets. Ottomans and storage benches are great solutions for storing extra bedding. You can also find couches, coffee tables, and other furniture built with shelves or compartments to use for storage. Multi-purpose items are one of the best tricks for any RV owner. There are also plenty of clever storage hacks you can implement throughout your RV. Place organizers in drawers to increase storage—and make it neater. Make use of hanging cubbies, wall hooks, and other storage solutions that help keep your belongings off the floor. It's also a good idea to make good use of your RV's built-in storage compartment. Labeled bins, hooks on doors, and shelves or cubbies make getting in and out of the undercarriage compartments much easier.
Pack Less
Everyone has overpacked at least once in their life. Most of the time, an overstuffed suitcase or too many toiletry bottles are little more than a minor inconvenience. In an RV, however, overpacking can be a huge source of stress. Before every trip, ask yourself if you need every single one of your laptop accessories, or that massive suitcase, or those three extra pairs of shoes. Don't worry—knowing what to pack gets easier over time. Learn from your experiences and try to keep in mind what you do and don't need on your trips. The less you bring along, the less stuff gets in your way every time you spend time inside your RV.
Perfect the Awning
One of the biggest reasons to take an RV trip is the chance to unplug and spend time breathing in the fresh air. There's no lack of elbow room in the great outdoors, so take advantage of the space. Make your RV awning the perfect place to spend some quality time. Move your cooking outdoors with an open fire or a portable grill. Invest in a comfortable chair for every member of the family and design your setup so everyone has enough space. You can also install an RV sunshade to provide shade and shelter, making the space all the more comfortable. Customize your RV's exterior with folding tables, lanterns, and rugs. If your RV feels like home, so should the space around it.
Make More Wall Space
While it's always good to personalize your RV, don't forget to leave some parts of the walls blank. If your RV is overflowing with decorations, it starts to feel cramped or overwhelming. As a rule of thumb, the more wall space you have, the better. Look for low furniture—this will also help the ceiling seem higher, which makes the space feel more open. As you decorate, keep the vertical space in mind. Vertical stripes, either on wallpaper or with decorations, draw the eye upward and trick the mind into thinking the room is taller. Working vertically also allows you to decorate without overcrowding a wall.
Choose a Lighter Color Palette
Just like reflective surfaces, lighter colors reflect more light. Try to decorate with cool or pale shades like white, cream, or light blues and greens. Keep these colors in mind if you ever choose to repaint your walls or cabinets. You can also incorporate them into bedding, furniture, and decorations. Pay special attention to your windows as well. Lightly colored curtains made of thin or sheer materials allow more natural light to shine through the window, lighting up the room and making the space seem larger.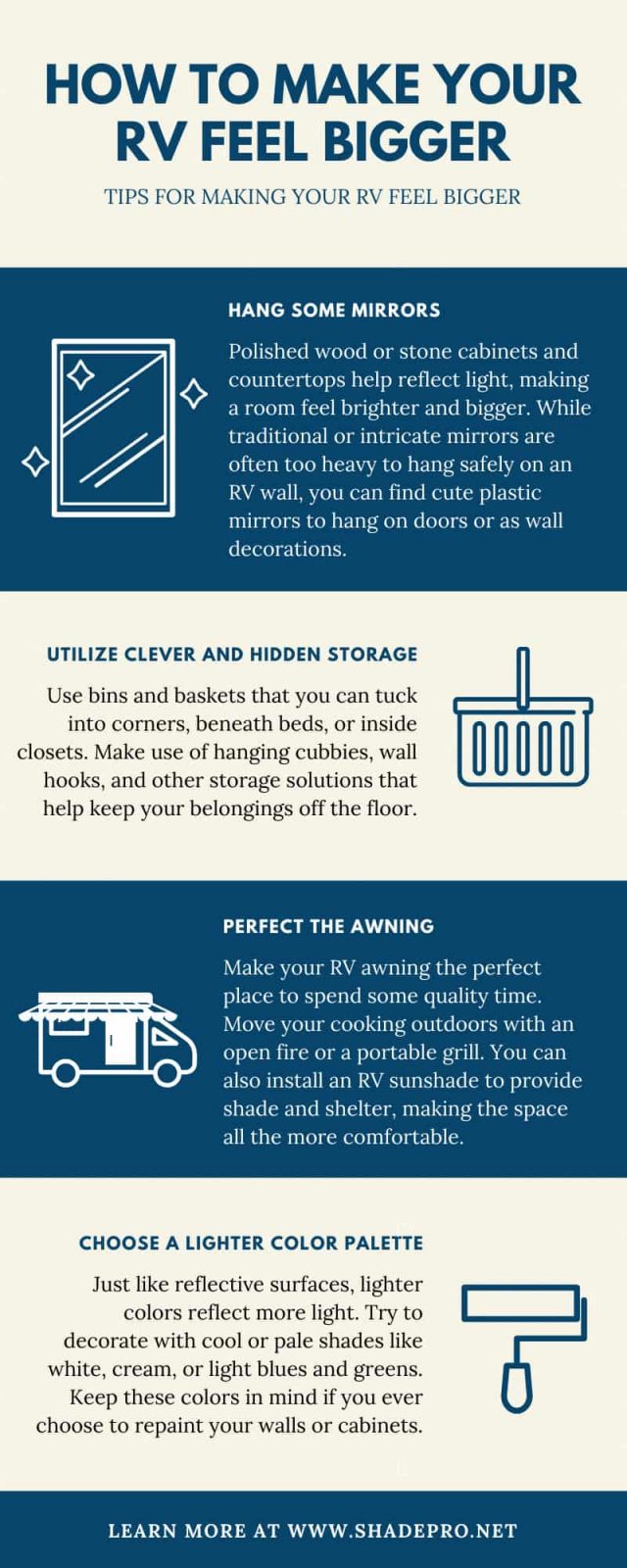 About ShadePro
After 35 years in the recreational vehicle sun and shade control business, ShadePro has become a trusted leader in helping RV enthusiasts optimize their rigs for travel and adventures. ShadePro manufactures only the highest quality RV awnings, RV awning replacement fabrics, RV dash covers, RV windshield Covers, screen rooms, Vista Shades for RV's and much more. All products are built to last for long-term enjoyment backed by a warranty.