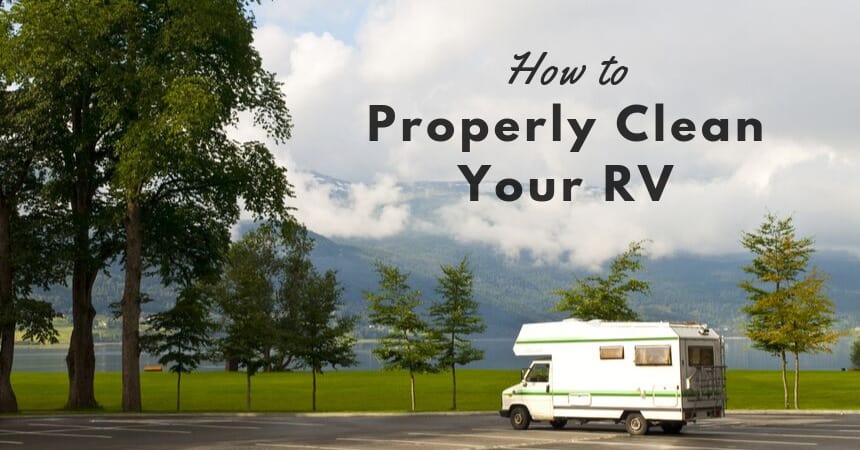 October 7th, 2019
Whether you're coming back from a trip, preparing for one, or it's just time for an annual cleaning, making your RV sparkle again is no small task. From the RV's large size to all its nooks and crannies, it's easy to get overwhelmed by the job ahead of you. Make the scrub down simple with this advice on how to properly clean your RV.
Roofs
The most efficient way to clean your RV is to start at the top and work your way down, which means your first step is to clean the roof. Use the proper cleaning products for the roof's material, and keep an eye out for cracks, rips, or other damages while you're up there. Cleaning your RV's roof is one of the best ways to maintain it and prevent leaks.
Exterior
When it's time to wash your RV's exterior, first hose it down to remove loose dirt and get a head start on any tough stains that may trip you up later. Pay special attention to the black streaks that are the result of grime on your exterior. Getting rid of these will go a long way toward making your RV look new.
Awning
The awning on your RV shouldn't be too difficult to clean, and it will probably only need a hose down. If you need to perform deeper cleaning, however, be careful when wiping down the awning, and avoid any harsh scrubbers—these can damage the fabric. If your awning shows some wear and tear, it might be time for a camper awning replacement.
Interior Surfaces
If you're wondering how to properly clean your RV's interior, the ceiling is a good place to start. A simple wipe down to remove cobwebs or stains is all you need. This is also a good opportunity to look for any discoloration that could signal water damage. Do the same with the walls, cabinets, and counters. If you really want to make your RV feel new, you can use wood cleaner or polish to maintain the cabinets and make them shine.
Storage Areas
Going through all the storage areas in your RV takes care of any dust or dirt and helps you keep an eye out for mold or mildew. This is also a good opportunity to take stock of any supplies your RV is low on, such as paper towels or utensils.
Bathroom
You'll first dump and flush your black and gray water tanks to eliminate odors and keep your RV's interior fresh. When that's done, go over the rest of your bathroom and wipe down counters, sinks, and the shower. Avoid bleach and other harsh cleaners, so you don't damage the your bathroom surfaces.