December 28th, 2020
So, you've decided to hit the open road, but where to begin? How do you find that first RV? What kinds of RVs are available? How about the costs of owning and running an RV? And what is the culture? Are you a retiree? A nomad? A young family eager to hit state and national parks?
Read on for practical tips to help get you started. Don't know the lingo? No worries–we've included a basic list of terms, and another list of the various kinds of RVs, campers, and vans available to you. Think of your rig as an apartment on wheels. You're a turtle; how much shell you choose to carry is completely up to you.
Decide What Kind of Traveler You Are
Grab a pen, a stylus, whatever you need to get your thoughts together: ask yourself–am I traveling solo? As a couple? With my family? Think about how much space you'll need for food and belongings, and how many beds you'll need. This will determine your starting point. There's no point in pulling a non-motorized pop-up that sleeps two if you're a family of five with a dog–and surfboards–and bikes. Likewise, if your budget is on the smaller side, you can probably do without a gas-guzzling luxury bus conversion. (We know, they are really cool.)
And it's not just size that matters. Will you work on the road? RV Awnings will take care of outdoor comfort, day/night window shades will keep you cool indoors so that you can focus, and it's not difficult to install RV Wi-Fi these days.
Pro tip: Think about your drivers before you buy big. Can you and your co-drivers maneuver into tight spaces? Are you willing to buy an RV that requires non-traditional parking? Or would you prefer to zip in and out of any parking space anywhere, and even jam it into 4-wheel drive and leave the road altogether?

From Class A to Pop-Up: Know Your Rig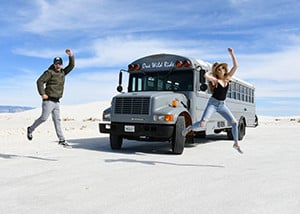 Bus Conversions are super heavy-duty rigs, constructed to last many years, and able to carry a lot of weight. Conversions are trickier to drive, and sometimes too big to park easily, so consider your RV requirements and consider your the driver. Keep in mind that DIY bus conversions sometimes have difficulty finding insurers. Nonetheless, bus conversions are popular.
Class A motorhomes are built on a chassis specifically designed to carry a motorhome. The engine is upfront, under the cockpit. A Class A rig can be among the most expensive–and luxurious–options. Keep in mind that Class A motorhomes vary in size, so make sure that the chassis on your motorhome is scaled to its size to efficiently pull its load.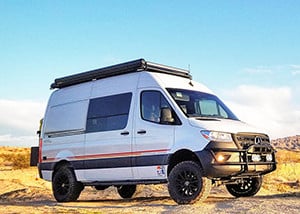 Class B motorhomes start as a van shell, and RV manufacturers build out the interior as a live/workspace. Many manufacturers like Mercedes create luxury coaches in this category. These small, stylish RVs are easier to drive and maneuver. Because of the added convenience, you will likely find yourself taking more trips. Most people can store them in your driveway eliminating extra storage fees you would encounter with a larger coach. This is a great option for a couple or small family.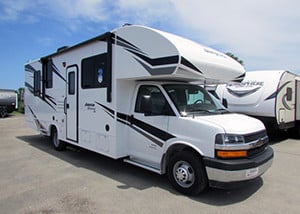 Class C RVs are recognizable as van or truck cabs (with driver and front passenger doors), designed with a less heavy-duty van chassis. A Class C rig is often a great option for first-time RV buyers in terms of drivability and interior space. The living quarters are built over the chassis, and generally include a cozy bunk that extends over the cab. This choice has a cargo weight limit but fits more easily into a lower budget category–and a campsite parking space.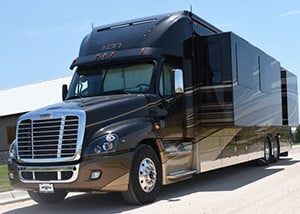 Super C rigs are designed with a large, heavy-duty diesel truck as the base rather than a passenger van base, allowing them to tow up to 40,000 tons. This is the rig chosen to tow racing cars and horse trailers, for example. A Super C is often a very luxurious choice, which is why you'll see them in use as location rigs for film industry productions.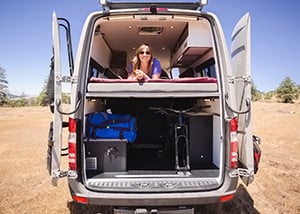 Van Conversions are best described as Class B motorhomes that are purchased as cargo or passenger vans and converted into living spaces by owners rather than by RV manufacturers. This choice offers the least amount of storage space, in general, but if the van has 4-wheel drive, it's possible to camp well off the beaten path. A plus! This choice may not have an on-board bathroom, but it has the advantage of fitting into a regular parking space anywhere, anytime.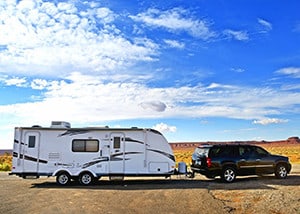 Non-motorized trailers include dozens of variations of 5th wheels, pop-ups, and towable trailers. The pricing is as variable as the options available. Tow them with cars or even tow them behind a motorized RV–or a bicycle!
Know the Lingo: Helpful RV Terms To Know
Don't worry; everybody's a beginner at some point, so feel free to scan this shortlist for terms you're sure to see over and over
What does "5th Wheel" mean?
The 5th wheel –aka Bumper –aka Fiver, is the large travel trailer hitched to the back of a truck.
Chassis refers to the frame, wheels, and machinery on which a car, truck, or van body is supported. You might say that a strong chassis is the most basic requirement for any rig.
What's a Diesel Dually?
Diesel Dually or Dually Diesel-it's all semantics. A "dually" truck is a pickup designed with a pair of rear wheels on each side. This kind of truck is sure to be fitted with heavy-duty brakes, shocks, and springs. It runs the largest, most powerful engine that manufacturers offer. A diesel dually is essential for RVers interested in pulling an extra heavy non-motorized trailer, especially on long drives over challenging terrain.
Diesel pusher
As the name suggests, this Class A motorhome has a diesel engine mounted on the rear of the rig–like a commercial bus, for example. It runs on diesel fuel rather than gasoline. A pusher offers more torque, or force, for climbing hills or pulling cargo.
 Boondocking is the term for camping off the grid, well away from hook-ups and any amenities. If boondocking is important to you, consider what kind of rig will or will not take you into remote areas.
Build Your Budget By Factoring In All Costs
By comparison, buying an RV rates somewhere between making a car and a home purchase. Like a car, financing is an option if the camper is less than 10 years old. And like a house, the cost of the mortgage is only one number to consider.  Before making a purchase, factor in all the monthly costs of your camper:
Maintenance: plumbing, electricity, structural wear and tear, your camper's engine, storage tanks, your generator–all of these are systems that require regular attention.
Fuel: your choice of camper is not the only factor that determines fuel costs. Fuel itself varies in cost. For example, diesel is more expensive than gasoline, towing a heavy load burns fuel faster, and fuel costs vary depending on where, when, and how you travel.
Parking: RV parking fees can be expensive–or free! Knowing how and where you want to travel helps. Are you interested in RV parks with all the hook-ups and amenities? Then plan to spend $30 per night or even double or triple that figure. State and National Parks charge significant fees to park but offer yearly passes at a discount. Rest stops, on the other hand, offer free parking, and many can handle water dumping. Costs change from year to year and place to place. Do not let this scare you off. The best advice we can offer is to research ahead and budget accordingly.
State and local regulations: Be aware that regulations exist everywhere, including, in some cases, on your own property, where zoning ordinances are designed with public safety in mind. In colder climates, RV parking is extra limited during the winter months. And in many towns and cities, parking overnight on the street can get you a hefty ticket year-round.
RV parking regulations are available online. Sadly, there is not an easily accessible single site that lists every state's laws, research by state and then by the municipality.
Pro Tip: Some RV owners create income by using their RVs as Air B&B rentals. Awesome idea but be aware that state and local regulations regarding short-term rentals do exist, and they differ from state to state, even county to county.
How Handy Am I (for real)?
RV living offers fantastic freedom, but it does not come without chores. Being handy helps. A lot. Keep in mind that your rig potentially has as many "systems" as any home, from plumbing to carpentry to wiring, and more. Leaky roofs come to mind, and the shock of frozen pipes.
When choosing your camper, really take your abilities into account. Do you love the idea of a custom build? Then an empty shell or a fixer-upper is for you. And keep in mind that brand names matter and quality varies wildly. Do your homework and think about enlisting the help of a knowledgeable friend as you shop around.
Pro Tip: maybe you have had years of fun with your first rig and now it's time to sell, maybe even trade up. Sell by owner–or let the pros take over. You may pay a hefty percentage, but for many people, selling on consignment is well worth the trade-off when a dealer does all the work. And by the way, spring is always the best season to put your RV on the market, especially in warmer climates.

Enjoy the Ride, You've Earned It
For many of us, 2020 has made the marriage of work + wanderlust a practical possibility for the first time. And for others, 2020 has been a call to action, bringing us closer to a tight circle of family and friends and fun that we rarely seemed to find time for before. Taking off in a camper, no matter what the size, is a great way to shift your perspective and explore new horizons–and best of all, you can take your "besties" along for the ride.