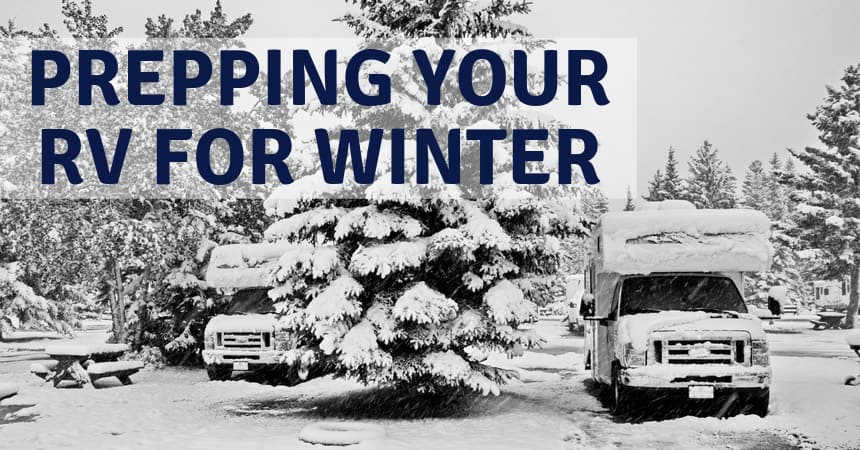 October 11th, 2019
Summer and fall are prime camping season, but your adventures don't have to end just because the weather gets cold. In fact, winter brings a whole roster of new places to visit and explore, and your RV can be the perfect way to get there. If you're looking to skip the storage and take a trip in the camper this season, make it the best vacation possible by prepping your RV for winter with these handy tips.
Insulate Windows and Doors
Insulating your RV will do wonders for keeping it warm throughout the winter months. Examine the seals around the windows and doors to make sure there's no damage. You can hang a heavy towel or blanket over the door to help keep out the cold whenever you go in or out. It's also a good idea to invest in RV roller shades, which are great for added insulation and temperature control on the windows. Roller shades can be lifted during the day to let the sun help warm the interior, and at night or on cloudy days, they cover the windows and help keep in the warmth.
Cover Vents and Floors
While the glass panes of windows and doors are notorious for letting out heat, it's also important to insulate the vents and flooring of your RV. Cold air from the ground rises through your floor and lowers the temperature of your interior, as well as making it uncomfortable for bare feet. Lay down a rug to keep the space warm and make it that much cozier for those long winter hangouts. Be sure to check any vents or skylights as well, since these are also great places for heat to escape. Covering these spots or blocking them with vent cushions is a quick solution that can easily be undone when the weather gets warm again.
Take Care of Your Tanks
Make sure you know the layout of your RV's plumbing as well as whether or not these areas are insulated. The interior heater won't protect your water tanks, so be sure to pay special attention to these. A full tank is less likely to freeze, so only dump your water tanks when they're full. While they're empty, you can pour a little bit of antifreeze into the tanks to keep them from freezing. Don't forget to insulate your water heater as well so you're not trying to do dishes or shower in painfully cold water. If you have a skirt around your RV when it's parked, you can also put a space heater beneath it. The skirt will contain the warmth and help keep your water tanks from freezing.
Beware Frozen Pipes
Even if the tanks are well insulated, they won't do you any good if your pipes freeze. Protect your pipes with foam insulation or heat tape; a frozen pipe has a much greater risk of splitting when you try to disconnect it. If you have a fresh water tank, you can also consider getting a heated water hose to prevent freezing. You can also leave your cabinets open to let heat from the interior better reach the pipes. Again, protecting the pipes from the cold will save you from an unpleasant experience when you go to use the water in your kitchen or bathroom. If there is any part of your plumbing that is in danger of freezing and can't be insulated, be sure to drain and disconnect it so there's no damage from the freezing water.
Get a Skirt
One of the most common steps to prepping your RV for winter is to install a skirt around the bottom to prevent wind and snow from getting underneath your vehicle. This will help keep the interior warm while also protecting the plumbing and battery bays from freezing temperatures. You can buy a skirt and have it installed, or for less extreme temperatures you can make one out of foam board, vinyl, or other insulating materials.
Go for a Tune-Up
It's always a good idea to ensure everything is in working order before hitting the road, especially if you're anticipating any extreme conditions. Your vehicle's battery won't hold charge as long in cold weather, especially if you're running an electric heater. Getting this and the rest of your vehicle checked out will save you a lot of hassle out on the road. This is also a good chance to install a skirt, insulated windows, or any other winter preparations you're looking to make.
Have Heaters Handy
If you don't want to constantly run a furnace or burn through your propane, make a plan for other heating options. Infrared heaters, electric fireplaces, and other space heaters are a good alternative, although they can use a lot of electricity. Placing a heater in the bathroom will also help keep the RV's plumbing from freezing—and make a much more pleasant experience for anyone stepping out of the shower. Another easy trick is to leave the oven door open when you're done cooking. The heat will make its way through the room, keeping your RV nice and toasty. Just be sure to keep an eye on the condensation when you're heating your RV, because humidity can lead to mold and other damage in your walls. Crack a window for ventilation or keep a dehumidifier on hand just in case.
Other Tips and Tricks
Even after your vehicle is prepped and ready to go, it's still important to make sure you've packed everything you need for a winter climate. Consider having these tools and supplies on hand whenever you take your RV on the road:
Tarps are perfect for covering firewood or making last minute insulation.
Large water jugs can be life-saving if your pipes do end up freezing. Having multiple on hand will save you trips to the nearest water supply. Just be sure to store them inside or near a heater, so they don't freeze as well.
A cordless hair dryer can work wonders on frozen pipes and hoses.
Electric blankets are a cozy addition to your living space. Using them in bed—along with heating pads or hot water bottles—will also let you turn the furnace down, saving your furnace from working too hard.
Winter offers some of the most spectacular vacation sights, and a little bit of rough weather shouldn't keep you from experiencing them. Be prepared, stock up on supplies, and you and your RV can make the most of every winter wonderland you explore.