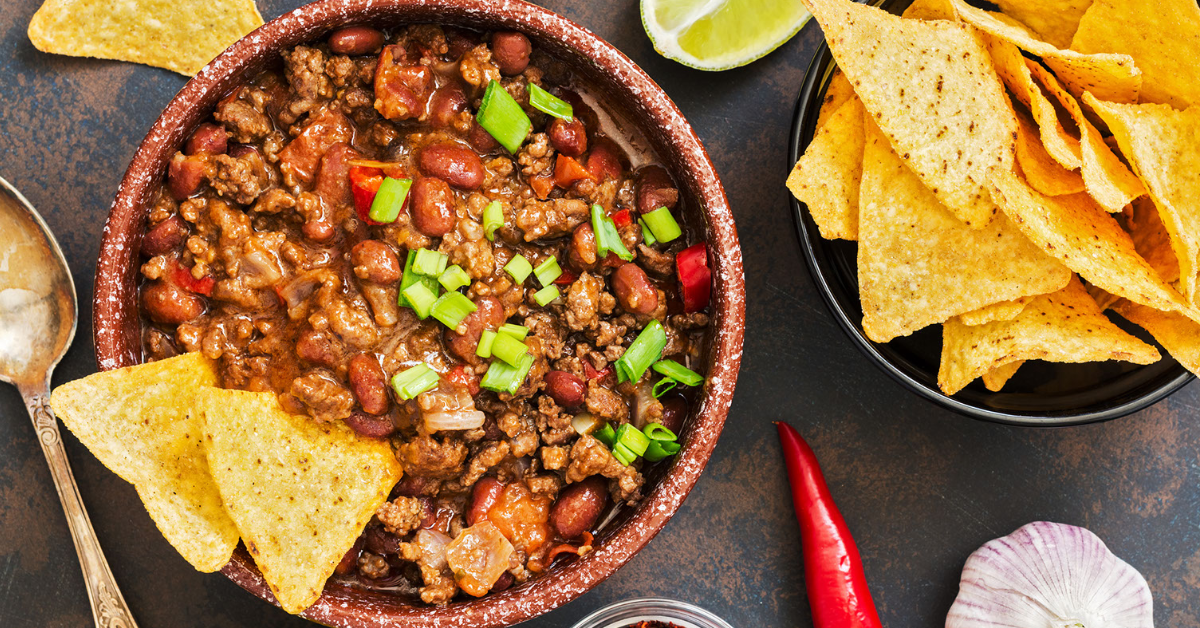 January 3rd, 2023
Cooking in an RV comes with certain challenges; from lacking standard kitchen equipment to finding enough space to even store groceries. But those hindrances don't have to prevent you from reaching your health goals in 2023. RV-ers can stay on track in the new year with these nutritious, easy, and tasty recipes. 
A one pan dish is ideal for tiny rig kitchens. This dinner is simple to make, and you can add any extra produce that you may have on hand that needs to be used, like zucchini or broccoli.
Ingredients:
Two fresh Italian sausage links
1 tablespoon canola oil
1 small onion, sliced
¼ cup each sliced green and red sweet pepper 
2 small potatoes, sliced
Salt and pepper to taste
Directions: 
In a large skillet, brown sausage in oil until a thermometer reads 160°. Add onion and peppers; saute until vegetables are tender. Add potatoes and 2 cups of water; bring to a boil. Reduce heat; cover and simmer for 15 minutes or until potatoes are tender. Drain; add salt and pepper.
Want a crowd-pleasing dinner on the table in less than 30 minutes? Look no further. This ultra tasty pasta dish is vegetarian, and can be customized to be dairy-free and gluten-free. 
Ingredients:
1 (13.5 oz.) box of whole wheat rotini or any pasta you like
2 cups frozen corn kernels
1 medium green bell pepper, cut into thin strips
1/2 medium red onion, sliced
1 (15 oz.) can Rotel canned tomatoes and chilies, I used the Mexican blend with lime and cilantro
1/4 cup taco seasoning, I used Old El Paso, medium
1 tsp. salt*
2 tsp. extra virgin olive oil
4 cups fat-free chicken or vegetable broth
1 (15 oz.) can black beans, drained and rinsed
1/4 cup Mexican cheese blend, plus more for topping (Optional)
Directions:
Add all but the last 2 ingredients (beans and cheese) to a large pot. Stir, cover, and bring to a rolling boil. Reduce heat to medium-low and cook, covered, for 12-15 minutes, stirring occasionally. There should be ¼ to ½ inch of liquid in the bottom of the pot when it is done. Remove from heat. Stir in the black beans and cheese (optional). Let it rest for 5 minutes to warm the beans, melt the cheese, and absorb the excess liquid.
This no-cook meal could not be easier to throw together. Grab a rotisserie chicken the next time you're stocking up on supplies. Combine the chicken with protein-packed greek yogurt, veggies, and flavorful seasonings, and you've got a seriously savory lunch or dinner option. 
Ingredients:
7 cups shredded rotisserie chicken
1 cup whole plain yogurt, Greek is great
½ cup real mayo
1 small onion, finely chopped
1 small red bell pepper, finely chopped
½ cup celery, finely chopped
¼ cup green onion, sliced
1 TB freshly squeezed lemon juice
2 tsp kosher salt
1 ½ tsp garlic powder
1 tsp granulated sugar
1 tsp ground mustard
½ tsp dried dill weed
¼ tsp freshly ground black pepper
Optional: chopped parsley for garnish
Directions:
Combine all ingredients together in a large bowl. Gently fold with rubber spatula until all ingredients are well incorporated. Cover and chill in the fridge until ready to serve.Serve with crusty bread, crackers, or in a sandwich. It's also delicious over a green salad, if you're looking to cut down on carbs. Keeps well when covered and chilled for several days.
Ingredients:
6 salmon filets 4-6 ounces each
    5 tablespoons olive oil
    1 1/2 tablespoons brown sugar
    1 1/2 tablespoons soy sauce
    1 teaspoon lemon zest
    1 teaspoon Dijon mustard
    1 tablespoon parsley leaves chopped
    2 teaspoons thyme leaves chopped
    3/4 teaspoon salt
    1/2 teaspoon pepper
    1 teaspoon minced garlic
Directions:
Place the olive oil, brown sugar, soy sauce, lemon zest, Dijon mustard, parsley, thyme, salt and pepper in a bowl. Whisk to combine. Reserve 1 tablespoon of the marinade in the refrigerator for later use. Add the garlic to the bowl. Add the salmon to the bowl of marinade. Spoon the marinade over the salmon and cover the bowl. Marinate in the refrigerator for at least 1 hour, or up to 8 hours. Remove the salmon from the marinade and scrape off any excess bits of herbs or garlic (otherwise they could burn on the grill!).
Preheat an outdoor grill or indoor grill pan over medium high heat.  If you're using an outdoor grill, be sure to thoroughly coat your grill grates with vegetable oil.
Add the salmon filets and cook for 5-6 minutes on each side or until the salmon is opaque throughout. Brush the reserved marinade over the salmon filets, then serve.
A wholesome, filling, and delicious breakfast doesn't have to be complicated to assemble. This cereal can be prepped ahead of time (aka before you're on the road) or easily thrown together at your campsite on a propane stove. 
Ingredients:
2 tablespoons olive oil
1 cup rolled oats Use gluten-free certified if needed
¼ cup chopped nuts or seeds
2 tablespoons maple syrup or sub agave or honey
¼ cup dried fruit (like raisins or dried cranberries)
To Serve: milk or non-dairy milk substitute
Directions:
Add oil to a large heavy pan over medium-high heat. When the oil is hot, add the oats and nuts. Stir constantly for about 5-7 minutes, or until the oats begin to turn golden. Take care to stir often to avoid burning the nuts. As soon as the color turns golden, turn off the heat and add the maple syrup. Stir until incorporated. Stir in the dried fruit. Serve the cereal with either cold or warmed milk. Serve right away, or store in an airtight container for about a week.
 Slow cookers are a godsend for RV-evers, and this healthy dinner recipe is a cinch to throw together. Enjoy while watching football (as the name suggests) or after a long day of adventuring. 
Ingredients: 
1 can (28 ounces) diced tomatoes, undrained
1 can (15 ounces) black beans, rinsed and drained
1 can (15 ounces) kidney beans, rinsed and drained
1 pound boneless beef chuck steak, cut into 1-inch cubes
1 pound bulk spicy pork sausage, cooked and drained
2 medium onions, chopped
1 medium sweet red pepper, chopped
1 medium green pepper, chopped
1 cup hot chunky salsa
1/3 cup medium pearl barley
2 tablespoons chili powder
2 teaspoons jarred roasted minced garlic
1 teaspoon salt
1 teaspoon ground cumin
4 cups beef stock
2 cups shredded Mexican cheese blend
Directions:
Place all ingredients except cheese and chips in a 6-qt. slow cooker. Cook, covered, on low 6-8 hours or until beef is tender. Stir in cheese until melted. Serve with chips.