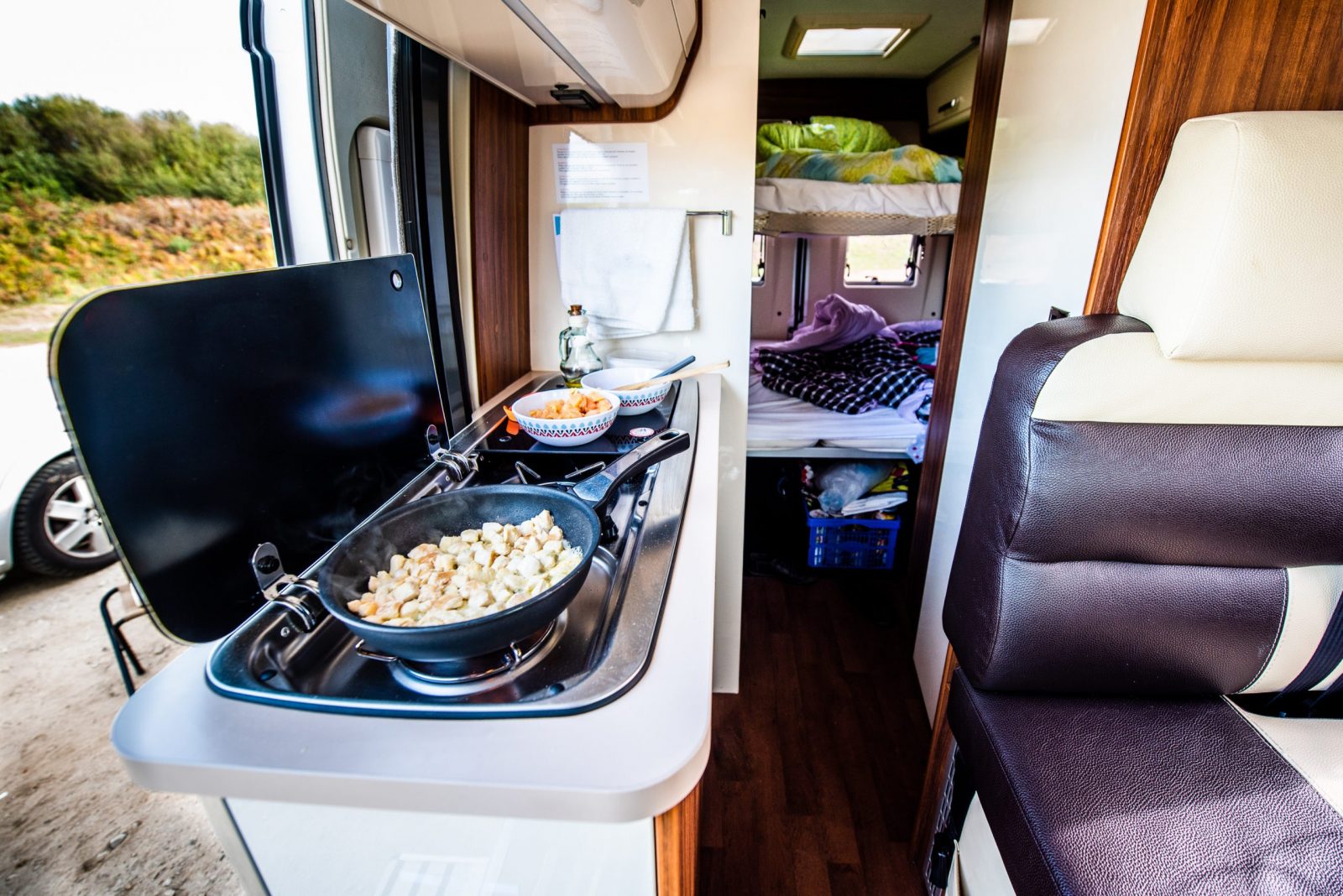 July 22nd, 2021
Summer travelling is back in style, and RVers and campers are on the move. Water filters have been checked and flushed, awnings have been scrubbed, tires have been cleared, and all systems are go! As if that isn't reason enough to get your engines purring, travelers are finding plenty of company on the road. Private, state, and National Parks are welcoming tourism; restaurants are open; businesses have stocked shelves, and people everywhere have the tools and reassurance to feel safer. Summer cooking in your RV can not only be easier than you think, it can be a very fun experience as well.
Get Fresh with Summer Cooking!
As you reacquaint yourselves with highways and byways this summer – maybe revisiting old favorites, hopefully discovering a few new RV destinations – consider scheduling regular farm stops to keep yourself healthy and local economies strong. Let's keep that immunity up! Farmers markets are more popular than ever, and this year we're all fortunate to have them back in business across the nation.
In general, markets offer farm fresh berries and stone fruits, just-picked vegetables, some of the best cheese you'll find anywhere (no matter where you are), and tasty, hormone-free local meats and poultry (and even mushrooms!) for the grill.
Lots of farmers markets go above and beyond the usual summer produce, offering incomparable bread and pastry, coffee brewed and by the pound, fresh chicken, duck, and quail eggs, local honey, specialty hot peppers, jams & pickles, teas & herbs, and interesting niche products like kombucha, a hugely popular digestive aid.
Plan Your Shopping Trip Ahead of Time
Searching the USDA National Directory of Farmers Markets can help as you start planning your trip. Search on the site by state and you'll find directions and contact information, weekly market dates, specific market offerings, whether markets accept Federal Nutrition Benefits such as SNAP, and whether products are certified organic.
The trickiest part of your journey is likely to be parking, so call ahead if you can. If parking is out of the question for your rig, treat market day as the tourist attraction it is and make a morning of it. Grab your shopping bags, book an Uber, take your appetite–and don't forget your sunscreen.
With some planning, you may be able to live primarily on market fare this season and well into the next. Produce like broccoli, bok choy, collards, kale, spinach, and other "bitter" greens, garlic, golden raspberries, apples, pears, and pumpkins are all fall vegetables. Local honey, thought by many to be a good antidote to seasonal allergies, is harvested in late summer–just in time to lay in a winter supply.
Summer Cooking in Your RV Can be Healthy!
Tomatoes, melons, cucumbers, and sweet corn…mmm. These are some of the sun-ripened crops we watch grow as we traverse countless colorful miles of farmland. These are the foods that make American summers memorable, wherever we make camp.
Science suggests that plants offer so many micronutrients per delicious mouthful that every penny you spend on fresh, whole, locally grown food is money in the bank when it comes to savings in healthcare down the line, so summer cooking isn't just fun, it can be good for you as well. In that spirit, we thought we'd share a few of our favorite road-friendly summer recipes, all of them packed with ingredients that farmers markets offer by the bushel.
Crisp Napa Slaw
Cabbage is inexpensive and keeps well. We can't stop eating this very simple salad that pairs well with grilled chicken or salmon. Honestly, a big bowl all on its own will hit the spot, too.
½ Small head Napa cabbage
1 Peeled and seeded slicing cucumber
½ Cup sliced scallions with greens included
½ Cup chopped or shredded fresh mint leaves
2 tbsp seasoned rice wine vinegar* or distilled white vinegar
*seasoned rice wine vinegar introduces a welcome sweetness to the salad
Cut the cabbage lengthwise, core it, then slice crosswise into 1/2-inch-thick strips. Transfer to a large bowl and add thinly sliced cucumber, scallions, and mint leaves. Toss well with vinegar. Salt and pepper to taste. Keeps well overnight, but we rarely seem to have any leftover.
*recipe adapted from Yewande Komolafe for nytcooking.com
Potluck Squash Casserole
Say hello to the summer casserole of your childhood. This one requires an oven, but not for too long. And before you ask, the answer is no cheese and crumbs sprinkled on top; instead, mix all the ingredients together "like the country folk do." Save on dishes by mixing directly in the casserole dish. Preheat an oven or toaster oven to 350°. Pairs well with spicy pulled pork.
1 Qt. Summer squash (about 6 squash)
½ C. Sliced onion
4 tbsp. Margarine or butter, softened
½ C. Grated cheddar cheese
½ C. Chopped green bell pepper
1 Egg, beaten
½ C. Mayonnaise
1 tbsp. Sugar
1 C. Breadcrumbs
Salt & pepper to taste
Thinly slice squash and onion and sauté in a little olive oil until tender. This step is worth the resulting caramel flavor. Mix the still-hot sauteed vegetables with softened margarine to melt. Add the rest of the ingredients into the squash mixture, combine well, pour into an 8" sq. oven-proof dish and bake for 35 minutes.
*recipe from Marilynn Gale of Charlottesville, VA, handed down for countless generations.
Mediterranean Tomato Cucumber Salad
Put lots of tomatoes and cucumbers to use in this refreshing salad that only gets better when given time to marinate. Chopped tomato and cucumber with a simple vinaigrette is your base, but feel free to add crumbled feta, additional herbs in the Mediterranean flavor profile such as basil, oregano, and sumac. Also, fresh and crunchy vegetables like bell pepper and radish are good additions.
Adding chickpeas creates a filling vegetarian meal; adding small hunks of day-old sourdough bread or ripped (sometimes fried) stale pita bread to soak up the vinegary tomato dressing turns this salad into Fattoush, an unforgettable bread salad.
3 Large ripe tomatoes or 6-8 Roma tomatoes
3 Peeled slicing cucumbers
3 tbsp. Olive oil
2 tbsp. Freshly squeezed lemon juice (or red wine vinegar)
2 Garlic cloves pressed or grated
½ tsp Dried mint or chopped fresh mint, to taste (optional)
½ tsp Kosher salt or other table salt, to taste
Freshly cracked black pepper, to taste
Scrub vegetables clean. Peel cucumbers, core peppers, if using, and feel free to leave tomato skins intact. Chop all vegetables into bite-sized pieces and combine in a large shallow bowl. Whisk together or otherwise combine the rest of the ingredients and pour over the salad. Allow the flavors to blend for several hours, stirring occasionally, before serving chilled or at room temperature. This filling salad pairs well with lamb, beef, or chicken kabobs.
Lime-grilled Corn on the Cob
Try this next-level corn on the cob the next time you want to impress with your mastery of simple summer cooking. For this recipe you'll need a grill. Adjust the ingredients for the size of your crowd.
6 Ears of fresh corn on the cob, shucked
3-4 Limes, juiced
¼ C. Olive oil
Kosher salt to taste
Aluminum foil
In a small bowl, whisk together the lime juice and olive oil until emulsified. Then, lay the ears of corn on a platter and brush each one generously with lime oil and sprinkle with salt. Lay the ears on a hot grill to cook, turning occasionally with tongs and brushing with additional oil as the ears char. If the ears cook too quickly, lay them on foil on the grill, or wrap them in foil packets to steam.
RV cooking can be a real treat no matter what time of year it is. But, during the summer months, not much is better than sitting down in the shade with a fresh summer meal. Bon appétit!