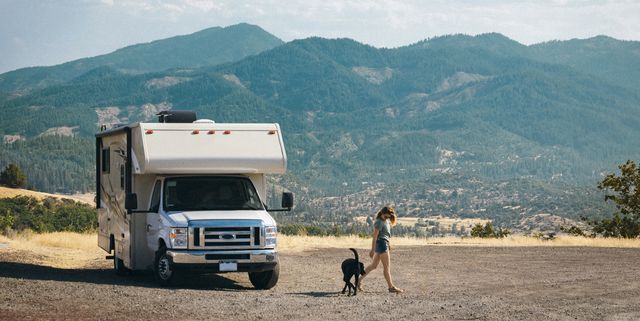 January 25th, 2021
Snowbirds ready their rigs for winter flight, while warm weather travelers tuck their rigs in for the long winter's sleep. What that means is that when you're in the market to buy an RV, there is almost always a good deal to be had–somewhere.
The general rule of thumb, however, is that the autumn months, and well into January and February, are when you'll find the best bargains on new and used RVs. What's the trick? Patience.
4 Essential Steps Determine When to Buy an RV
Decide what you're shopping for; a used or new vehicle?
Work up a realistic budget
Shop fall through winter to find the best deals

Private sellers offer lower prices on cash deals
Dealerships are often local to you, and offer financing
RV shows offer deep discounts on floor models

Have patience

First Things First: Do Your Homework
Much like food shopping on an empty stomach, it's a very bad idea to jump into the RV market without a firm idea of what you want and what you can afford. As a starting point, read our post on purchasing your first RV for a list of different RV and trailer designs. Take into account the number of beds you'll need, what kind of traveling you intend to do and be realistic about your level of DIY capability. When you decide what appeals to you, take time to do a cost analysis. This RV cost calculator can help you do the math.
Before you hit the pavement (or the keyboard) make sure that you understand the commitment of RV ownership. If you weren't excited about buying an RV, you probably wouldn't be reading this post, but while you daydream about cruising the highways and byways with that special someone, save a little brain space to consider the inevitable monthly payments (if you finance), park fees and permits (depending on how and where you travel), and repairs & upgrades (every homeowner goes down this path eventually).
Okay, it had to be said! Now let's help find you a rig.
Dealerships Versus Private Sellers
First of all, don't hurry. You'll find it's worth your time to shop both dealerships and private sellers. Dealerships offer financing, but private dealers are motivated to sell and tend to offer the best cash prices. A third option hopscotches over dealerships and resellers and heads straight for the annual RV shows. Let's take these apart one at a time.
Dealerships Offer Inventory and Financing
An easy starting point is a visit to a local dealership. Sensible, too. Viewing inventory at an RV dealership provide visuals to help make your dream rig a reality. You'll also see plenty of options that you may not want or need. Both experiences help you create the picture of an RV you'll really enjoy.
In the United States, October and November, as well as January and February are good months to find the best deals at RV dealerships. Canadian dealerships do a brisk business in October and November, as well, as the Canadian snowbirds ready themselves to head south of the border for the winters. However, like the traditional home-buying market, the RV market is essentially seasonal, and that season really begins in the spring. This is true North, South, East, and West.
In season, an RV dealership is generally so busy that it may be difficult to get a salesperson's undivided attention. And like so many shopping experiences, this is especially the case on weekends. Buying an RV, large or small, used or new, is a big decision. Give yourself all the advantage you can by researching ahead of time, buying off-season, and visiting dealerships on weekdays.
Last but certainly not least, dealerships offer financing*. Private sellers can rarely extend this kind of financial help (though of course buying in cash has its own rewards). Once again, buying a dealership RV off-season means better prices, not least because dealerships want to move last year's inventory out to make room for next year's models.
 *Financing is worthy of a separate post–it's that important. Before making an RV or motorhome purchase, compare dealer financing with the various loans available from traditional lending institutions.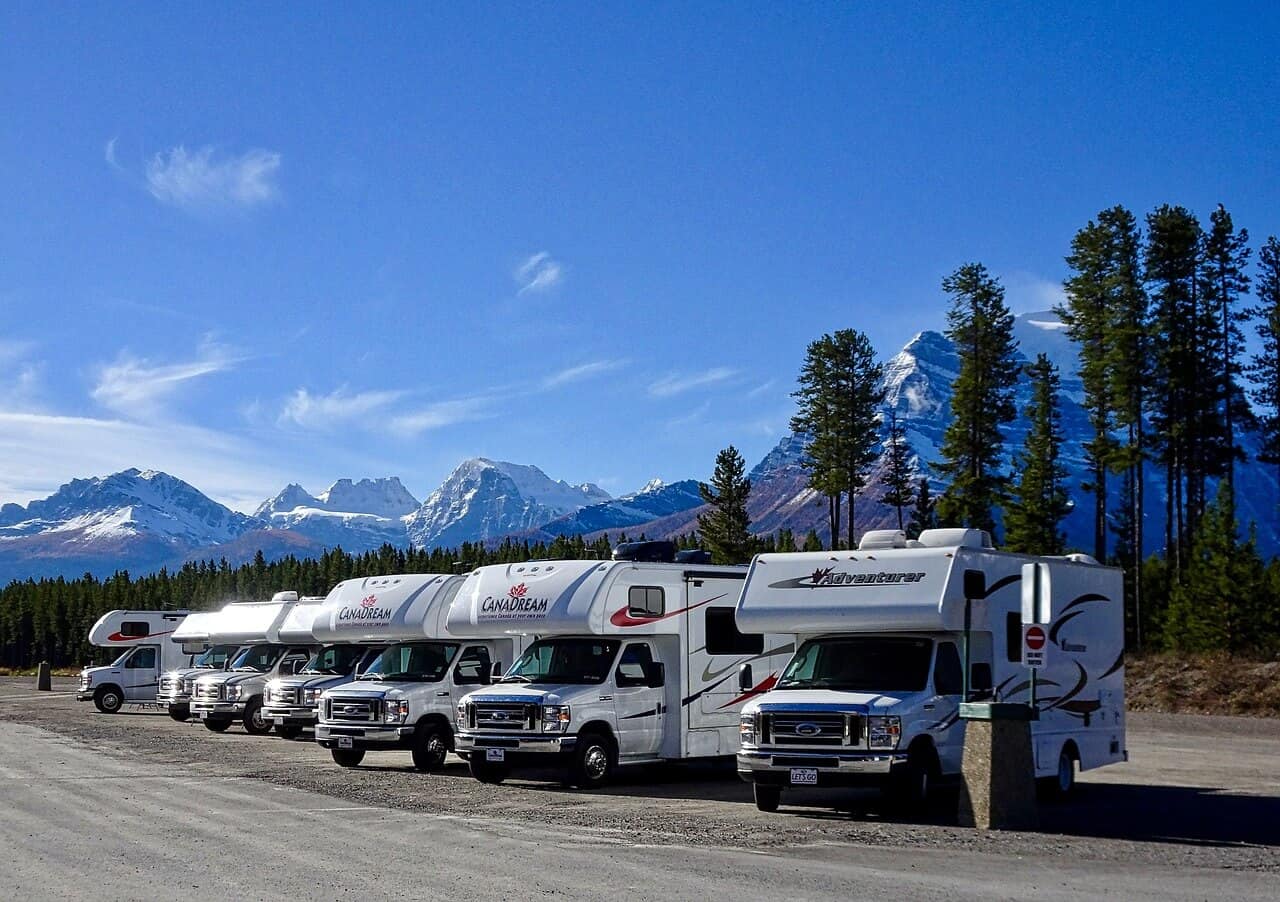 Private Sellers Bypass the Middleman
Arguably, private sellers have the most skin in the game, so they're likely to be willing to negotiate for a solid cash deal. It's a good idea to expand your search to include more cold winter climates, too.
Plenty of RV enthusiasts live year-round in the north and are strictly warm-weather travelers. As a result, these RVs may sit unused through the winter. This owner is likely to put a rig on the market in late fall, after the summer traveling season is over. Selling off-season also alleviates a seller's need to house (and worry about) their RV all winter–another strong negotiating point for a potential buyer.
Experience tells us that the majority of sellers are looking to buy up to a bigger, better model, or have decided that they can do with less space for less cost, possibly for less frequent travel. For that reason, you may also find a great buy in what is the beginning of the season (October, November, December) in warmer climates like Arizona or Florida.
Whatever the reason, try to find a seller willing to supply you with comprehensive paperwork documenting the history of the rig they're trying to sell. How much mileage has it logged? Too little could indicate a design flaw or tricky maneuverability. Too much and you're sure to have potentially large repairs not far ahead. This is just one of the questions you'll need to answer.
Don't be shy. Take the time to pour over every detail of a potential purchase. RVTipster.com offers a great RV buyer's checklist to remind you of what to look for and ask about. There is no Kelly Blue Book for RVs, but NADA (the National Automobile Dealer's Association) offers a similar motorhome valuation guide. Sellers ( and resellers) may disagree with your valuation, but having a realistic number is an essential starting point for any negotiation.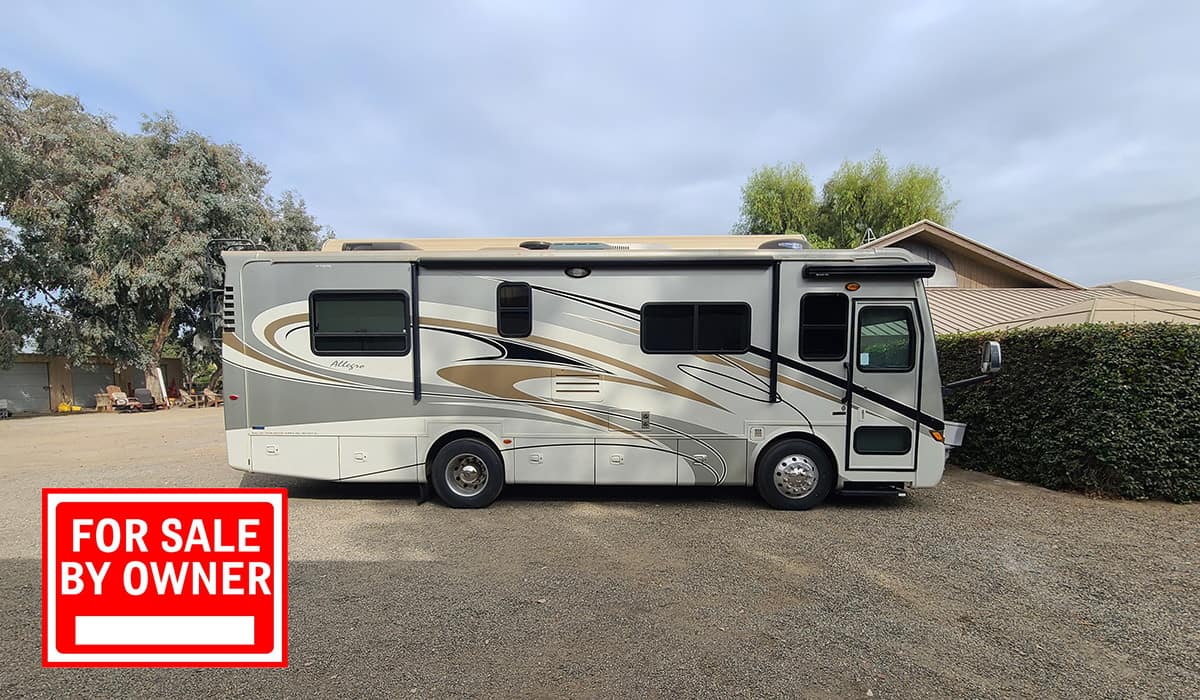 RV Shows Offer a Front Row Seat to the Latest and Greatest
If you're in the market for a new RV or trailer and you have time to shop, there is often no better deal than on a floor model RV at one of the national RV shows scattered annually around the country.
The Family Motor Coach Association International Convention and Expo (FMCA)* is scheduled to be held in Perry, Georgia in 2021, from March 10-13. If you're in the area, make a plan to stop by the Shade Pro booth and say hello. There is no better outfitter for RV awnings and accessories–and Shade Pro offers on-site RV installations from Western Arizona to Southern California.
*For the health and safety of everyone, annual RV trade show dates are tentative in 2021. Check online continually for updates.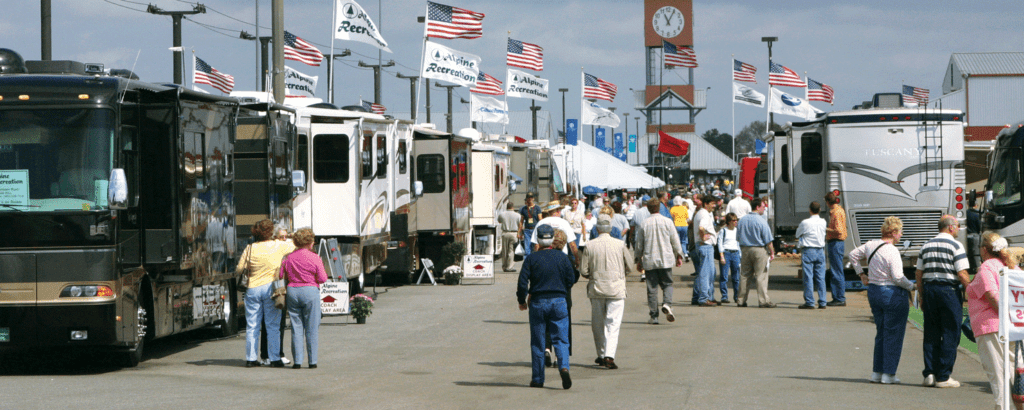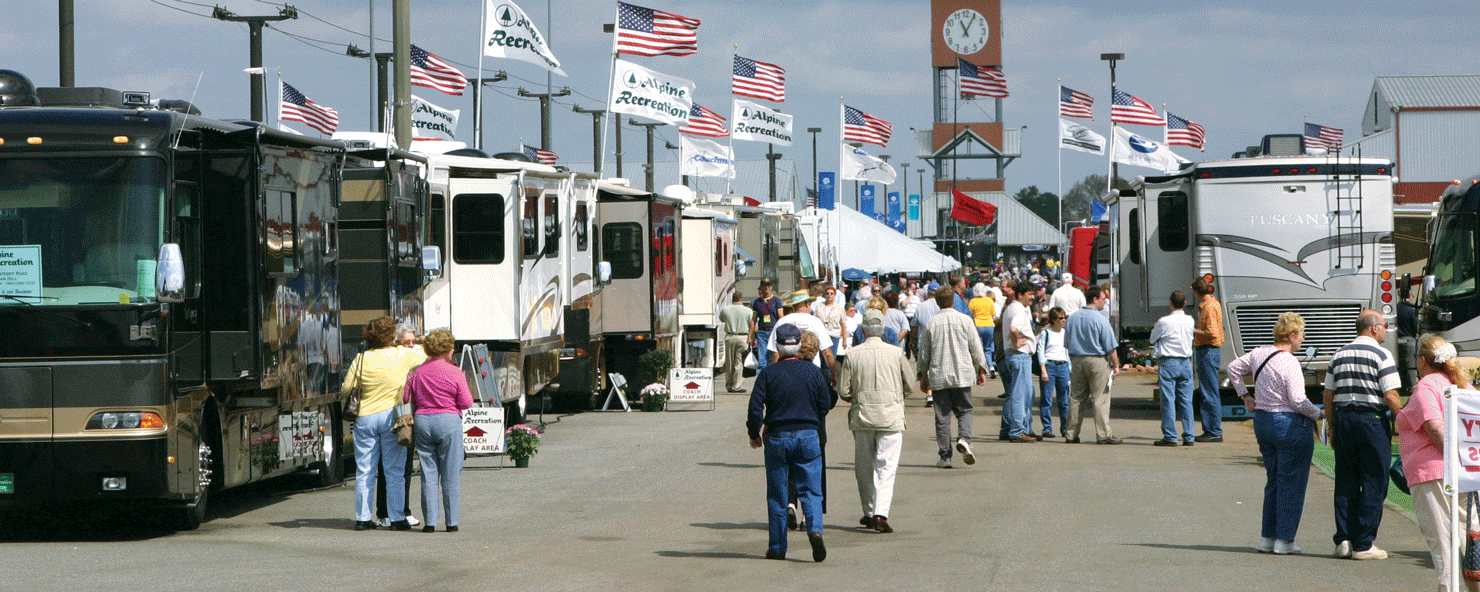 RV trade expos offer an unmatched opportunity to take a long look at the best and newest the industry has to offer, and those in the know suggest waiting until the final day of the show to make an offer. Selling inventory on-site is always preferable to hauling it back to a dealership. And like stepping into a dealership, RV financing is often available at trade shows*.
*Again, look at financing opportunities ahead of time. Depending on the type of loan you're interested in, you may have the opportunity to arrive at an RV expo prequalified for financing.
Patience, My Friends
To recap, if you're not in a hurry, wait until the fall and winter months to buy an RV, no matter where you are. Consider expanding your search around the country for comparisons. There are great deals to be found, but there are some lemons out there, too. The more you shop, the more educated you become as a consumer. Take time to check out the guides we've linked to this post and you're off to a great start.
Happy Trails!