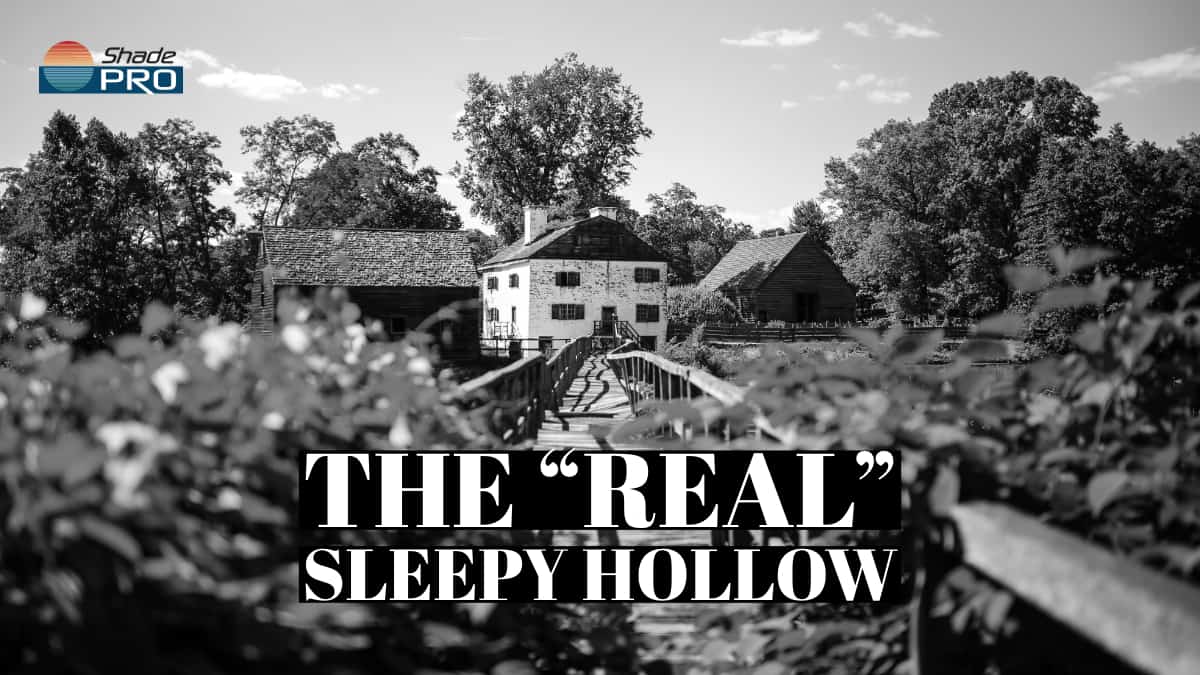 October 29th, 2018
Tarrytown, New York (The "Real" Sleepy Hollow)
We all know the notorious Washington Irving classic story, "The Legend of Sleepy Hollow." A headless horseman, a timeless love story, and a creepy mist that has spooked visitors and readers for decades.
Many people don't realize that Sleepy Hollow is based on the real-life Tarrytown, a quaint village in the New York countryside. Every fall, residents and visitors celebrate the myth with a  Halloween twist. Complete with 46 evenings of the Great Jack-O-Lantern Blaze at the creepy and mysterious Van Cortlandt Manor, you too can join in the festivities throughout most of October and parts of November.
Set along the Hudson River, there are three RV and camping parks just miles outside the village. Need a reprieve from the fright fest and headless horsemen's bridge? The area has more than 200 miles of hiking trails and scenic river walks. The other best part of a spooky east coast town? The changing fall colors set the perfect scene for your best campfire ghost stories.
Savannah, Georgia
Named the #3 Best Small City in The US, Savannah boasts coastal comfort food, cocktails on historical patios, and a haunting green moss that makes for a spectacularly ghoulish Halloween destination. Besides the hauntings, Savannah is renowned for its RV parks and camping sites in the area.
The Bonaventure Cemetery might be one of the country's most beautiful, and eerie, sites. It's weeping willows and mossy gravestones frame the numerous ghost stories in this picturesque Southern city. Local legend claims that a cherub of a six-year-old girl, who died in 1889, cries real tears. The 17Hundred90 Inn and Restaurant, Savannah's oldest hotel, contains Room 204. As legend has it, Anna Powers jumped from the window after her marriage to an English sailor. Anna still haunts happy couples from her room eternal. After facing your fears, you can calm down with one of the hotels not-so-scary Georgia peach martinis.
Experience the hauntings of some of Savannah's oldest establishments.
Estes Park, Colorado – The Stanley Hotel
The home of the wicked Stanley Hotel of The Shining fame, Estes Park packs a 1-2 punch of Halloween fright and a beautiful landing spot for Rocky Mountain National Park. Whether you want to spend part of your fall scaring each other with the numerous Halloween activities at Stanley Hotel, or you prefer to take in the wilderness and wildlife before winter descends, Estes Park is one for the bucket-list of fall destinations.
On Saturday, October 27, The Stanley Hotel hosts a ghoulish Halloween ball with a Michael Jackson-themed performance to welcome in the next few days of spirits and trickery.
If that isn't your thing, Estes Park boasts some of the best star-gazing in Colorado, not to mention the spectacular views from its endless hiking trails. It's the perfect setting to cook some smores and tell your best scary stories. During the day, enjoy some excellent sandwiches and BBQ under your new awning while taking in the crisp colors of Colorado's changing Aspen trees.
Whatever you do, make sure you get out before winter or risk meeting the evil twins from The Shining.
Salem, Massachusetts
Yes, that Salem. Known for its 17th-century witch trials, when almost 20 men, women, and children were convicted of witchcraft, Salem has a witchy museum and fearsome Halloween events galore. For centuries, Salem battled with its violent past, but now, Salem uses its history to educate and entertain. No time of the year is more perfect for educational entertainment than celebrating spooky spirits on All Hallow's Eve.
You can visit nearly all of Salem's taverns and restaurants for weeks leading up to Halloween for some enchanting, witch-crafty themed nights or go to any of the numerous seances and psychic shops around town.
Ghost Towns in California
Apologies to St. Louis, Seattle, New Orleans, and these other appealing, and appalling, Halloween destinations. But California boasts a seemingly endless supply of ghost towns with legends of that make the headless horseman seem cuddly. Here's a list of ghost towns in California, but Bodie is our favorite.
Perfect for road trips up and down Highway 395, Bodie is a deserted mining town full of cemeteries, saloons, courthouses, and brothels. Time has stood still in Bodie, with barstools still tipped over and countless legends of haunting ghosts and an enduring urban legend: a lifetime of bad luck follows anyone who moves anything from the grounds, including rocks. While many came for gold during California's gold rush, few lived to tell about the mayhem. Visit at your own risk.
Many reasons RVing in the fall is better than any other time of year . The weather is as unpredictable as the ghosts you'll encounter during Halloween. Be prepared with the best RV accessories and no-hassle expert installations.
About ShadePro
After 35 years in the recreational vehicle sun and shade control business, ShadePro has become a trusted leader in helping RV enthusiasts optimize their rigs for travel and adventures. ShadePro manufactures only the highest quality RV awnings, RV awning replacement fabrics, RV dash covers, RV windshield Covers, screen rooms, Vista Shades for RV's and much more. All products are built to last for long-term enjoyment backed by a warranty.