Description
Replace Your Old, Worn-Out Patio Awning Fabric
Replace your Dometic Acrylic or Vinyl awning fabric with a genuine ShadePro replacement fabric. Fits Dometic Awnings with Alumiguard only. Count the amount of slats that make up your existing cover to ensure the correct fabric is sent. Our 1-piece replacement fabric slides into both slots in the roller tube, both sides of the aluminum cover, and the awning rail. Enjoy cooler temperatures under your awning because acrylic fabrics breathe and will never mildew like vinyl awnings. Choose from 9 Standard or over 140 Custom Colors. Contact us if you are unable to locate the pattern or color you're looking for. Available in sizes 10-feet to 21-feet.




How to Measure your Awning for Ordering Replacement Fabric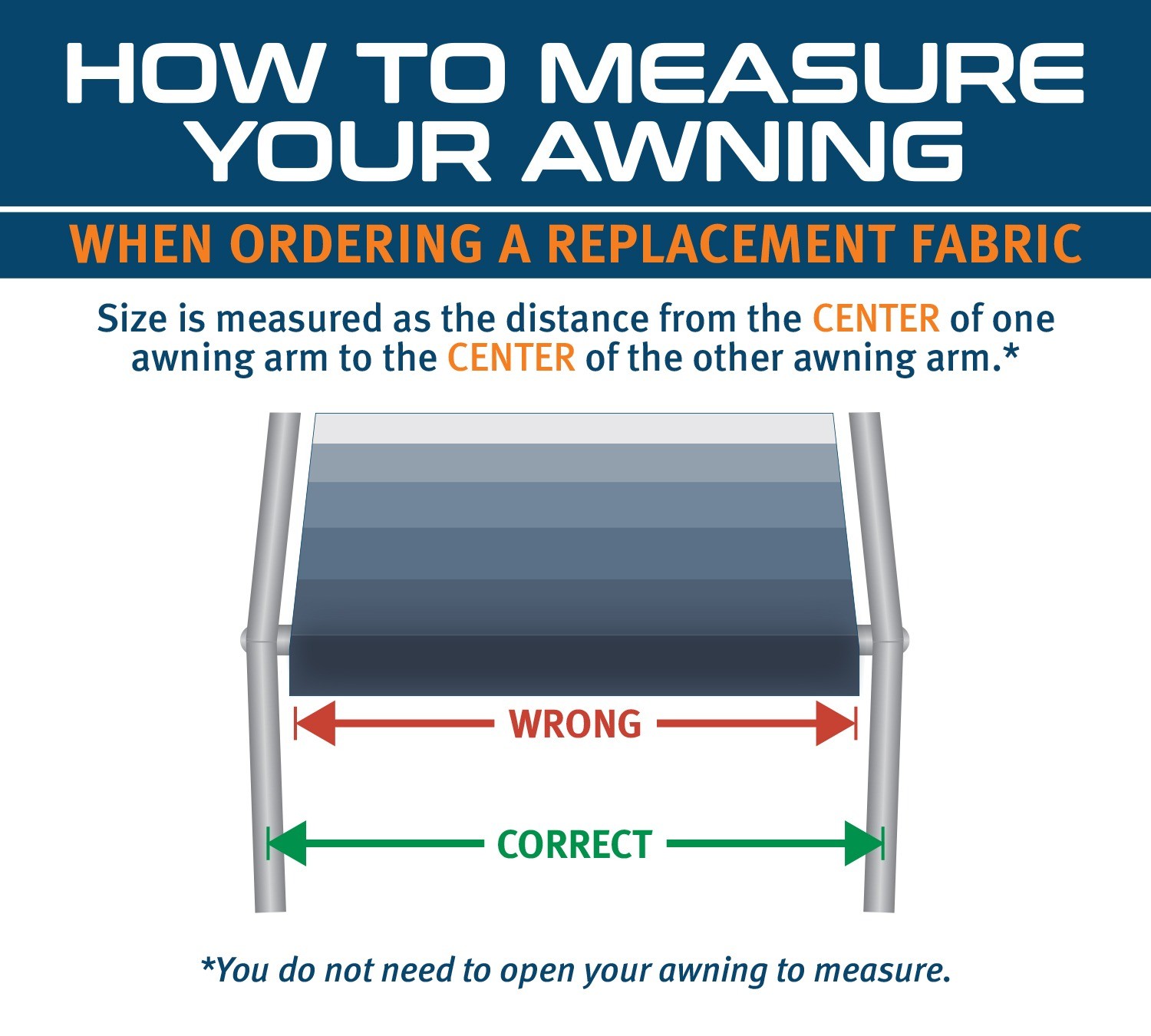 Five years limited warranty on parts and freight.
Don't see an Acrylic Color or Size you like?
Call 800-328-5100 to set up a custom color/size with your order!
Note that the handling time on orders with custom Acrylic colors will take up to three days longer
as they are not regularly stocked in our manufacturing facility.

Custom Acrylic Colors For All Awnings
More than 150 custom acrylic colors
Custom solid, striped, and tweed patterns available in 72 hours (upcharges apply)
* Not currently compatible with pre-existing LED light systems. Compatible fabrics are coming soon.
Thank you for your interest in our awning fabrics. Please note that due to the nature of this product, we do not offer returns or refunds.
Each awning is uniquely made to your specifications, and we cannot resell or reuse it once it has been produced. As a result, we are unable to accept returns or offer refunds for any reason.
We take great care to ensure that each awning meets our high standards of quality and craftsmanship. If you have any concerns or issues with your order, please contact our customer service team, and we will work with you to resolve the issue and make every effort to provide a satisfactory solution.
We appreciate your understanding of our return policy for custom products. We are committed to providing you with a high-quality product that meets your expectations. We appreciate your business and look forward to serving you. If you have any questions or concerns, please do not hesitate to contact us.