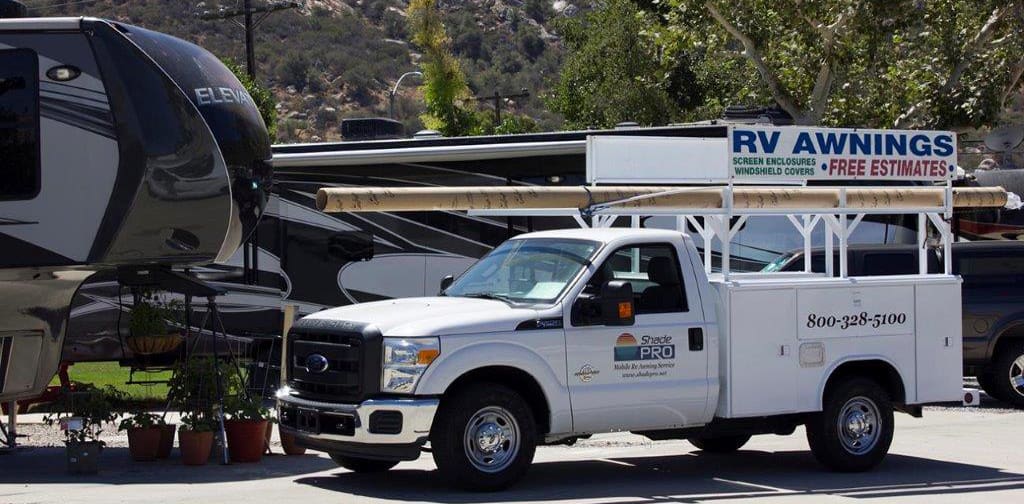 RV Awning Installation Services in Southern CA & AZ

Our Service Area: Southern California and Western Arizona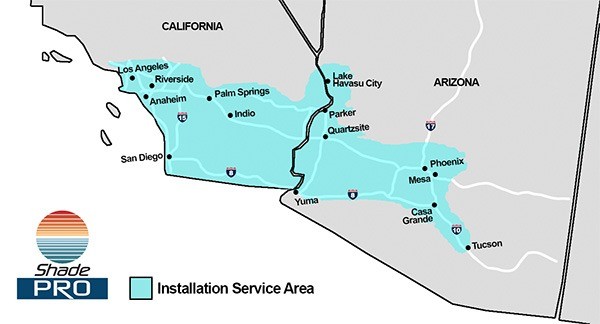 See What Our Customers Are Saying About Our Installation Work
At ShadePro, we carry a variety of camper, motorhome, and RV products that are designed to enhance your experience. Our collection includes awnings, screen porches, window blinds, and replacement parts. Many of our products are simple to install; however, you may feel better if you have a professional install everything. If this is the case, we can install it for you! For a fraction of the cost from your dealer, we will come right to you.
If you notice you need to replace something on your RV awning mid journey, we can meet you at your location. Our RV awning installation services in Southern California and Western Arizona can reach you from Los Angeles to Tucson.
If you live or are camping in one of our service areas, we provide on-site RV and camper awning installation for your convenience. Our experienced team carries out all of our RV awning installation services in Southern CA and Western AZ. ShadePro's technicians have the highest level of training in installation and repair of the products sold on our site. You can rest assured that the job will be done right the first time.
For installed pricing and scheduling please call our customer care department at 800-328-5100.
We are in most Southern California and Western Arizona RV parks on a weekly basis. Not only can you have a product installed while you are camping, we also provide service after the sale eliminating needless time spent in service departments. This gives you more time to enjoy your favorite camping activities—whether you love fishing, hiking, or making smores.
Contact us today for more information about our RV awning installation services in Southern CA and Western AZ! We are always happy to help!

I asked about going to Quartzite and getting the upgrade for my Carefree awning. Someone commented about using a non local vendor. It made sense and I called Shade Pro in San Diego. They'd done my slide topper upgrade last year and sure enough, they had the awning arms upgrade to auto. I opted for the upgrade to the pitch adjustable arms. This allows you to raise or lower both or one side to allow for rain run off. The best part is the way this is done with a push button that also allows you to retract and extend the awning with pitch added. I'm in love with it and highly recommend the adjustable pitch arms. Ken from Shade Pro was the same tech that did my topper and I really appreciated having him.

We were at Perry in March I had Shade Pro install window shades on both our bedroom windows and the living/dining room windows. We are currently camped on the shores of the Colorado river at Needles, CA. Shade Pro is in San Diego but they attend all the FMCA events. I would call them and ask if they are going to be at Quartzsite in January, I would be really surprised if they are not there.

We have a 36 foot motorhome, with 2 slideouts. Both our slide toppers had torn, just sun damage on a 7 year old motorhome that is well enjoyed. We didn't want to do the large topper replacement, so we followed the suggestions on IRV2.com and contacted Shade Pro. They came to our site, in the Palm Springs area, and measured and gave us an estimate. Six days later one very talented installer, Steve arrived promptly (early in fact) and  replaced both toppers easily, with heavier vinyl than we had originally. The installer was very professional, polite and efficient

Can't say enough about your service! We ordered our replacement last Monday and you really came through. It had to clear Customs and was still here Friday afternoon. Installed it Saturday and it looks awesome. Many Thanks.
- Elaine & Jack, Canada