Description
ShurGrips are the finest RV Motorhome Dash Covers available. Our exclusive non-slip sponge rubber backing holds the cover securely in place. Pets won't slide. Don't let the sun destroy your dash. Available in luxurious velour fabric that's easy to clean and pet hair vacuums right up.
No Glues, No Hooks, No Modifications and No Slip!
Unique non-slip backing . . . no fasteners or adhesives!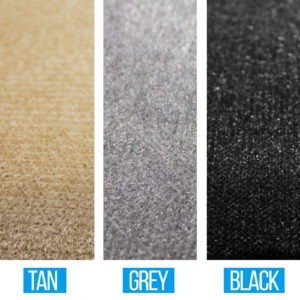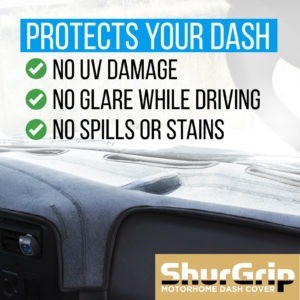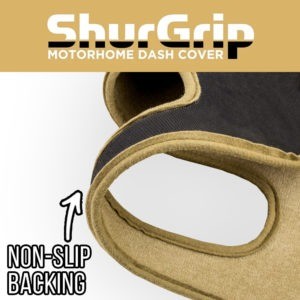 For coaches that do not have a molded dash and defroster vents are attaches with screws, we provide a separate cover for the defroster. When the vents are attached with screws, the vents will never be the same on identical coaches. The separate defroster cover allows for that variance. Please note, because the featured product photo is a molded dash, the defroster vents on that coach never change.
We recommend clicking this link to view a list of motorhomes that we have RV Motorhome Dash Covers available for.  If your motorhome is not listed, please call us at 1-800-328-5100.
Note: Some plastic molded dashes may discolor temporarily. Remove the cover for several weeks and color will come back.
Thank you for your interest in our Shurgrip dash covers. Please note that due to the nature of this product, we do not offer returns or refunds.
Each cover is uniquely made to your specifications, and we cannot resell or reuse it once it has been produced. As a result, we are unable to accept returns or offer refunds for any reason.
We take great care to ensure that each dash cover meets our high standards of quality and craftsmanship. If you have any concerns or issues with your order, please contact our customer service team, and we will work with you to resolve the issue and make every effort to provide a satisfactory solution.
We appreciate your understanding of our return policy for custom products. We are committed to providing you with a high-quality product that meets your expectations. We appreciate your business and look forward to serving you. If you have any questions or concerns, please do not hesitate to contact us.