Description
The Finest Materials Combined with Quality Craftsmanship
Shademaster Windshield Cover is in a class of its own!
Made from the finest materials combined with quality craftsmanship, it has been proven to eliminate heat and glare from inside the RV while providing an excellent view during the day. You can see out, but no one can see in. At night, simply close your drapes for total privacy.

Our Windshield Covers are constructed from the densest vinyl-coated polyester mesh fabric available (approximately 94%) while still allowing you to see out. The unique fabric also provides privacy during the day.

Shademaster Windshield Covers come in a complete package that also includes Driver's and Passenger's Side Window Covers, Wiper Blade Covers, and a Storage Bag.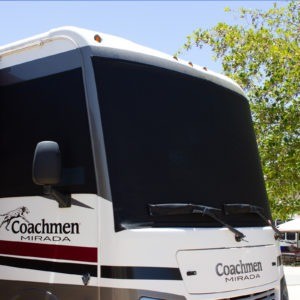 ---
Exclusive Features:
Approximately 94% Woven Polyester Solar Mesh – This means approximately 94% of light will be blocked out during the day!
Double Stitched Seams for Strength
Simple Do-It-Yourself Instructions
Choice of Four Colors: Brown, Grey, Black, and Tan
Thank you for your interest in our Shademaster Windshield covers. Please note that due to the nature of this product, we do not offer returns or refunds.
Each cover is uniquely made to your specifications, and we cannot resell or reuse it once it has been produced. As a result, we are unable to accept returns or offer refunds for any reason.
We take great care to ensure that each cover meets our high standards of quality and craftsmanship. If you have any concerns or issues with your order, please contact our customer service team, and we will work with you to resolve the issue and make every effort to provide a satisfactory solution.
We appreciate your understanding of our return policy for custom products. We are committed to providing you with a high-quality product that meets your expectations. We appreciate your business and look forward to serving you. If you have any questions or concerns, please do not hesitate to contact us.