Description
Elevate the style and comfort of your RV with Legacy Day/Night window blackout roller shades from Shade Pro. With their sleek, low-profile design, these window shades provide both a high-quality screen shade for maximum daytime comfort and a blackout shade for complete privacy at night. Choose from several color options to match your personal style and keep your RV cooler, lighter, and more private.
LEGACY Roller Shades by ShadePro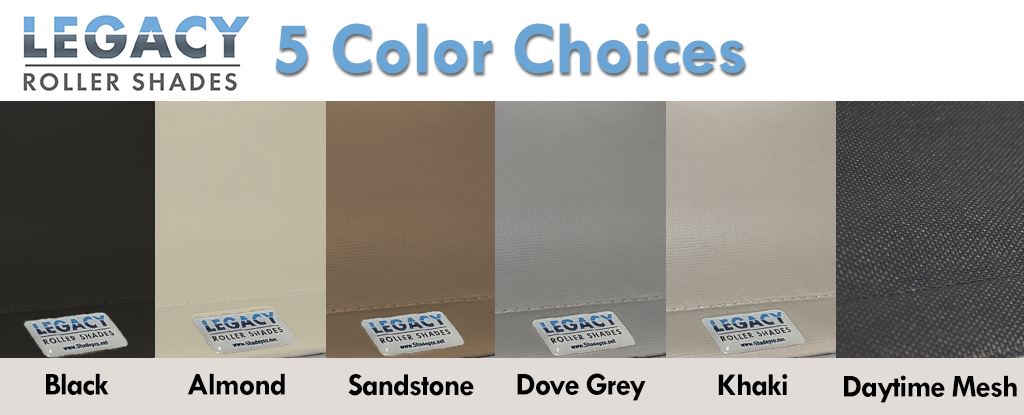 Replace Your Worn-Out Day/Night Shades while
Adding a New, Elegant Look & Improved Privacy to Your RV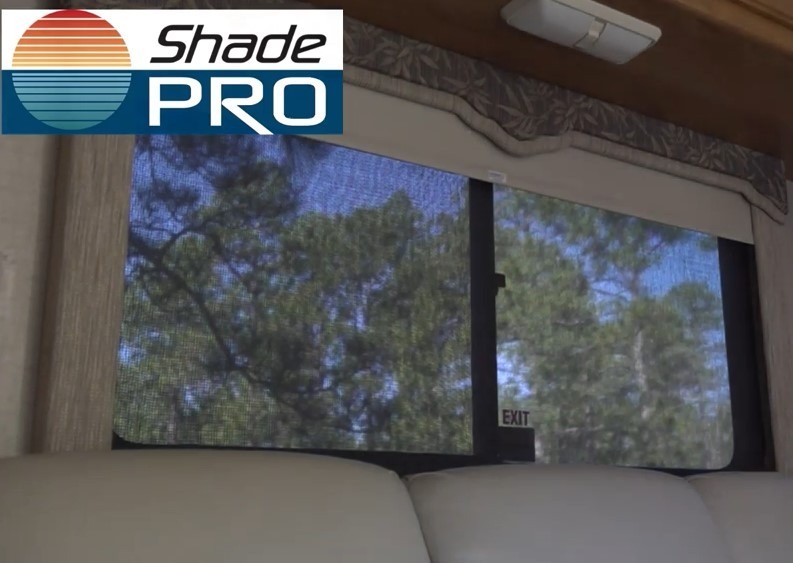 Why Roller Shades?
No more broken strings! Unlike pleated shades that require frequent servicing, roller shades operate with a durable spring mechanism.
Easy to use. Legacy shades pull down independently to your preferred position, and easily adjust or retract by hand using the spring roller.
Quiet operation. Our window blackout roller shades operate smoothly and silently, and our wrapped bottom grip bar eliminates rattling during travel or on windy days.
Ideal Privacy Combination
During the day: 95% solar sunscreen to keep your RV interior private and cool, while providing maximum outward visibility.
At night: Durable full blackout fabric to provide complete privacy. Even a brightly lit interior will not cast shadows that can be seen from the outside.
Additional Product Details
Available as a combo roller, sunscreen, and solid blackout
Our single roller has your choice of either sunscreen or solid blackout
Sunscreen appears black from the outside
Nighttime blackout is available in attractive Khaki, Dove Grey, Sandstone, Almond or Black
Available in 15-inch to 80-inch widths (in one-inch increments)
Legacy Shades are available with a 33-inch, 45-inch, or 60-inch drop height.
Requires 2.5 inches overall depth in valance box
Includes all brackets
Have Us Install Your Roller Shades
Save time and money with ShadePro's onsite Installations.
With our large inventory, we can schedule most installations in days rather than weeks. In addition, we stand behind our installations for two full years.*
The ShadePro Advantage
Fully trained installation staff
Competitive prices
Installations available at your home, office or local campground
Thank you for your interest in our Legacy shades. Please note that due to the nature of this product, we do not offer returns or refunds.

Each shade is uniquely made to your specifications, and we cannot resell or reuse it once it has been produced. As a result, we are unable to accept returns or offer refunds for any reason.

We take great care to ensure that each Legacy shade meets our high standards of quality and craftsmanship. If you have any concerns or issues with your order, please contact our customer service team, and we will work with you to resolve the issue and make every effort to provide a satisfactory solution.

We appreciate your understanding of our return policy for custom products. We are committed to providing you with a high-quality product that meets your expectations. We appreciate your business and look forward to serving you. If you have any questions or concerns, please do not hesitate to contact us.