Expertly Trained Technicians
Free Shipping
Orders over $99
COVID-19 Update (Click to Read)
Dear Shade Pro Customers,
As always, the health and safety of our employees, customers, and the communities that we serve remain our top priority. To ensure you are safe and comfortable we continue to follow CDC recommendations as we monitor the situation and actions required by State government officials.
All of our employees, including installers who are interacting with customers directly, follow the safety protocols we have in place that include: social distancing, wearing protective gear (face masks, gloves, booties), sanitizing hands after every installation, and checking our temperatures daily.
With over 35 years in the RV sun and shade control business, we stand by our high-quality products and excellent customer service so you can rest assured that you will be taken care of with a smile.
Wishing you safe travels and good health!
Sincerely
The Shade Pro Team
RV Awning Shades
Shop ShadePro's extensive inventory of top brand camper and RV awning shades. If it is time to replace your RV awning fabric, ShadePro stocks all sizes of RV shades and can even make any dimensions to order.  Find the best deals on a wide selection of RV awning shade kits and signature accessories. FREE Shipping on UPS Ground orders over $99.
With more than 35 years of RV awning sales and service experience, ShadePro has become a sun and shade control industry leader in price, quality and customer service. Our warehouse has over 1000 awnings in stock, and one of the widest selections of RV awning fabrics. Our manufacturer relationships enable us to attain the highest-quality awnings and RV awning accessories at low prices, allowing us to pass the value along to you!
Browse our selection of RV awning shades and accessories today!
WE SELL & SERVICE ALL BRANDS AND MODELS
Why ShadePro 
Over 35 years of RV sun and shade control experience
Highest quality materials and products
15 Highly trained and knowledgeable technicians
Mobile installations - We come to you!
Low price guarantee (see details)

My SOK III awning toppers arrived yesterday. I installed them today. They arrived in excellent shape and were exactly what I wanted. Great product. Great service. Excellent packaging. Great price. Really fast delivery. Its been a pleasure doing business with ShadePro. Thanks.
- Ed, Tenessee


My wife and I just finished installing our new Shade Pro awning fabric today. I write to thank you for great service, fast shipping, a superb product, perfect fit, great instructions and the best price in the country!! It is very gratifying in these troubled times to deal with such a fine American company !! You folks are the best!!
- Bill & Theresa, Ohio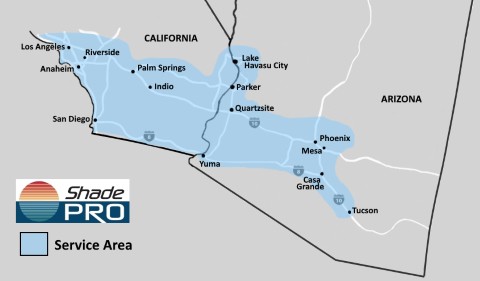 We are in most RV parks on a weekly basis in Southern California, and Western Arizona to assist you with your installation needs.
Eliminate needless time spent in service departments
We'll do the job right the first time
We also provide services after the sale
Join Us At An Upcoming Rally
Exclusive savings on popular products
On-site estimates
On-site repairs
On-site installations
---
March 26-29, 2020
Tucson, AZ 101st FMCA International Convention
---
April 30-May 2, 2020
Hollister, CA NorCal Good Sam RV Rally
---
June 21-26, 2020
Rock Springs, WY Escapees RV 60th Escapade
---