Description

Replace Your Old,
Worn-Out Patio Awning Fabric
Canopy Color
Options
ShadePro has the perfect vinyl canopy
replacement fabric for your patio awning. Our universal 1-piece fabrics are designed
to fit Carefree, A&E, and Lippert awnings. For Carter and Faulkner awnings, a
2-piece design must be used. Unlike other brands, ShadePro's 6-bar stripe
15 oz. 3-ply Fabric is one of the heaviest on the market today.
Our double-sided printing provides a better-looking replacement fabric.
FABRIC FOR RV
AWNINGS: Replace your old, worn-out RV awning fabric! ShadePro's heavy duty
vinyl canopy replacement fabric will
renew your canopy. The attractive dual-sided striped print offers a seamless styling,
while the heavyweight, weatherproof material provides reliable outdoor coverage
from the sun, rain, and cold wherever you roam. Set includes awning fabric and
install instructions.
DURABLE VINYL CANOPY: Built for the great
outdoors! ShadePro's 15 Oz, 3 ply heavy duty vinyl fabric resists UV and water and
is cold-crack tested to -20°F. This ultra-durable, weatherproof material is reinforced
with webbing at the stress points to prevent tattering and tearing in the
elements.
MADE FOR YOUR AWNING: Designed to fit
most RV awnings without metal covers! ShadePro's universal fabric replacement will
perfectly fit your RV's existing awning, such as Carefree, Dometic, Lippert, Carter,
and Faulkner. Carefully measure the distance from the centerline of one awning arm
to the centerline of the other to ensure the correct fabric size for your RV, camper,
or motorhome.
SIMPLE TO INSTALL: Easy, breezy setup! No
need for special tools. ShadePro's heavy duty vinyl fabric for RV awnings features
two sewn-in polyrods and straightforward step-by-step instructions to ensure the
easiest do-it-yourself awning fabric installation experiences.
SHADEPRO: Helping RV enthusiasts optimize
their rigs and travel adventures for over 35 years! ShadePro carries only the highest
quality recreational vehicle sun screens and shade control accessories
professionally crafted and built to last for long-term enjoyment you can count
on.
How to Measure your Awning for Ordering
Replacement Fabric
Measure from Center of Arm to Center of Arm.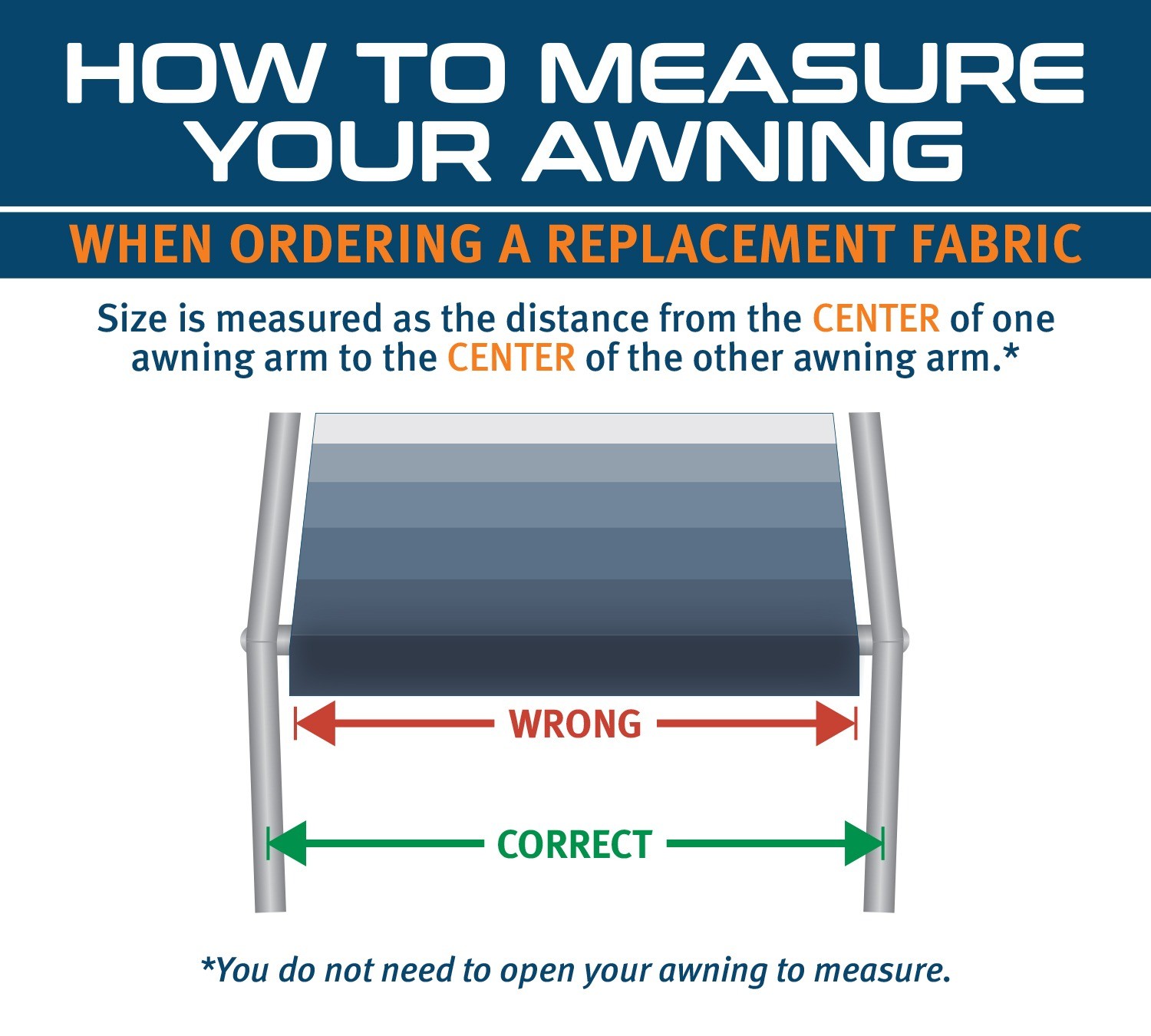 Looks better! Lasts longer!
Sizes 8-feet to 25-feet, every
fabric includes easy do-it-yourself instructions.
Custom sizes are available for an additional $39!
Give us a call at 1-800-328-5100
Heavy-Duty Fabric with White or
Black Vinyl Weatherguard for long life and great looks!
Five (5) Year ShadePro Limited
Warranty on parts and freight.

* Not currently compatible with pre-existing LED light systems. Compatible fabrics
are coming soon.
More Information:
Patio Awning Offline Order Form - Vinyl