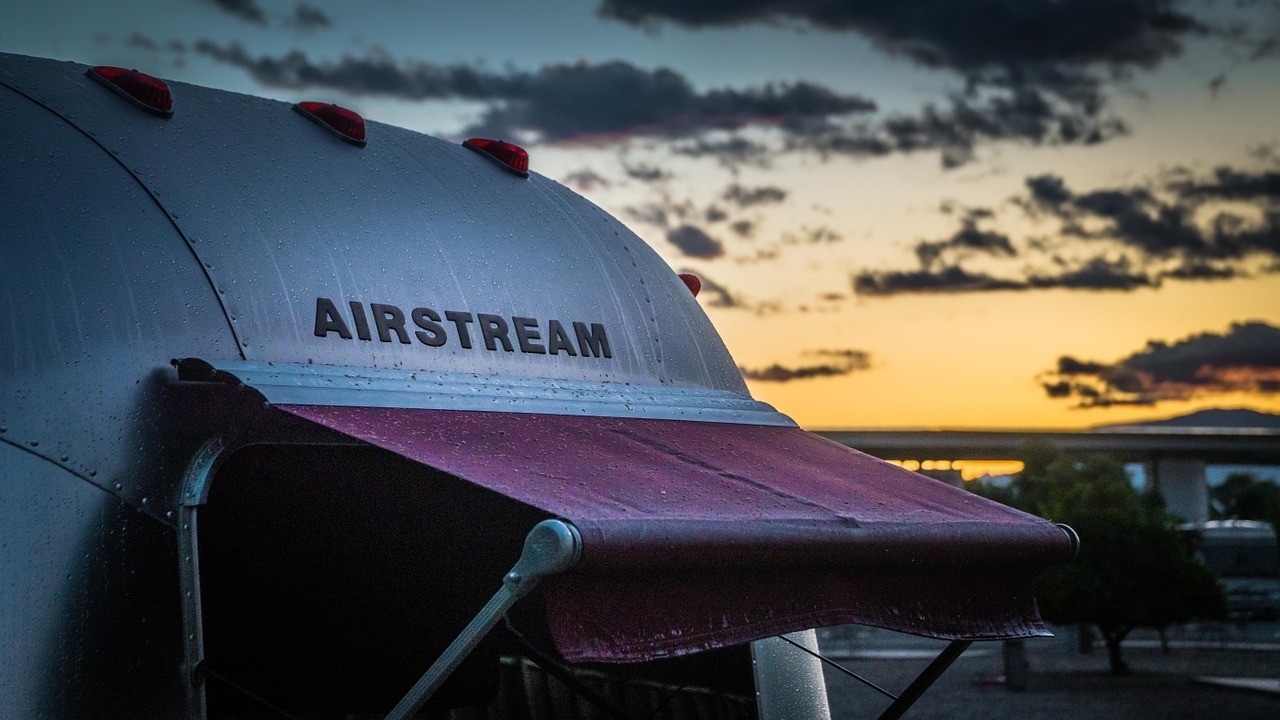 March 3rd, 2021
A crisp, clean RV awning can complete your camping experience in terms of looks and comfort, but an awning isn't just a pretty detail that sets your rig apart; RV awnings perform important work.
An awning offers extra outdoor comfort for you and your fellow travelers. It functions as a significant extension of your usable living space, and most importantly, an awning offers protection from the elements. Sometimes, an awning offers the only outdoor shade available. Not only that, an RV slide-out awning will quickly pay for itself; by shading the passenger-side length of your camper, an awning reduces heating and air-conditioning costs overall as it helps to keep your rig cool and dry on the inside. Window awnings help, too.
Simply said, an RV awning will elevate your life on the road. Just picture yourself, if you will, enjoying an ice-cold lemonade or beer in the shade of a hot afternoon. Likewise, shelter from the rain as you take in the morning news with your coffee, or work on a household repair.
Which awning technology is the best match for your lifestyle?
Is a manual awning the obvious choice? No power required! Or how about the ease of a push-button electric awning? Maybe even by remote control…picture here the sudden drenching storm–while you're safe and dry inside, pointing a remote control at your awning. In this post we'll ask the questions for you–and maybe even answer them! So grab a mug of coffee, get comfortable, and read on.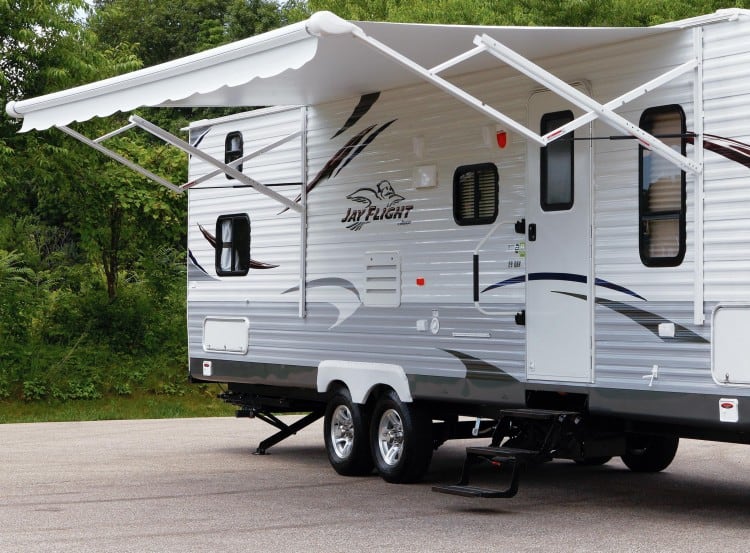 Let's start with the basics
 RV awnings are available in manual, hand-cranked versions, or push-button electric versions. Both awnings are made of outdoor, often marine-grade mildew and water-resistant fabrics that install along the passenger-side of an RV or camper. Awnings are available as self-install kits, or kits that may be professionally installed.
Manual awnings are designed to smoothly extend and retract with the help of a hand crank, which stores neatly away inside your rig when not in use
Electric awnings function by way of a worm-gear electrical motor (think variable rotational torque), with rafter arms that glide back and forth on a track. Most new electric awnings offer push-button ease, often by remote control
Rest assured that both manual and electric RV awnings are available through ShadePro, and we specialize in professional, on-site RV awning installation across Southern California and Arizona.
Manual awnings require that you drain any accumulated water after a downpour. Generally, you can tilt the angle of the awning so that water drains away naturally. Electric awnings are likely to include a sensor that may be programmed to retract the awning when it senses rain (helpful when you're offsite), or alternately, dump any pooled water as it accumulates.
One of these versions may or may not be included in the purchase of your RV or camper, though online

forums

suggest that factory-installed equipment tends to be less long-lasting
Both versions require care and maintenance and must periodically be replaced
Better, higher quality, and state-of-the-art versions of both manual and electric RV awnings are available for purchase. Do your homework!
It's a Matter of Lifestyle
We've established that terrific RV and camper awnings are available in both manual (hand crank) and electric (remote control pushbutton and Bluetooth) versions. It's easy to jump to the conclusion that manual is somehow "old-fashioned" and that electric is simply better, but that's not necessarily the most useful way to look at the choices. Devotees of manual awnings, for example, often comment that they "seem to feel" sturdier.
In fact, taking a look at your lifestyle on the road is a better starting point. For example, habitual boondockers may have limited access to power and battery recharging, or no power at all, so in this case, a manual system is absolutely the way to go. Alternately, for RVers with physical limitations, an electric awning may mean the difference between shaded outdoor comfort–or no awning at all.
It's also worth mentioning that both manual and electric awnings are available as full-size slide-out awnings, sunshades, and window shades. One size with one purpose certainly doesn't fit all needs, so have fun shopping. You may be surprised at what's actually on the market.
Jot down a list of your preferences as you read. We'll help with pro/con lists for each type of awning that we've assembled by asking campers across the United States. In some cases, a pro for one person may be a definite con for another. For many, it's simply a matter of preference, and asking the pros at RV dealerships is not a bad idea, either.
Manual Awning: PRO
No electric or battery power required
Traditionally high reliability
Simpler assembly and installation; extensions slide in
Install and stake safely for the duration of a location stay
Offers an extra "room"
Manual set up / extension / retraction may be preferable
Less costly than electric awnings
Convertible to electric
Multiple angle settings for maximum shade
Awning tubes available
Manual Awning: CON
Manual set up / extension / retraction
May require storage space when not in use
Extended armature may be a head-bumper
A tendency to rust and crack when left extended for long periods of time
More work; forums suggest installation is easier with two people
Electric Awning: PRO
One-time installation; no need to stake; extensions zip in easily
Instant, push-button ease is perfect for solo travelers
Possible remote control or Bluetooth for extension and retraction
Minimal physical effort
Offers an extra "room"
Partial extension (useful for thickly forested campsites)
The awning angle is adjustable
Adjustable and on/off wind sensors
Power cylinder automatically dumps pooled rainwater
Instantly retracts into a protective tube
Electric Awning: CON
Expensive purchase
Requires access to power (12-volt)
Lower reliability; costly replacement parts
The motor may be harmed by sudden winds
Sensors may activate incorrectly
Power cylinder automatically dumps water–without warning
Must remove fuses in order to stake
Pro Tip whenever you can, open and close an electric awning while the engine is running in order to keep the battery charged and prevent it from draining.
So What Do You Think?
Not entirely simple, of course, but we hope this narrows the scope of your search.
Either way, an awning is a sizable expenditure, so doing your homework beforehand is essential–for your wallet and your comfort.
Additional Considerations
RV awning fabrics (generally acrylic and vinyl) are always advertised as water and fade resistant and they should be mildew resistant, too, but like any "roof" materials, you'll get exactly what you pay for. Every fabric will need your occasional attention.
Make sure a vinyl awning is 100% dry before retracting and storing; note that acrylic awning upgrades can be rolled wet.
Even a dry awning can attract mildew, so make sure to air awnings regularly
Every awning will need to be cleaned and scrubbed occasionally

Replace

stretched or cracked awnings
Sun, rain, wind, snow, and hail–all kinds of wild weather will have their way with your well-loved awning. Know that even top-of-the-line marine-grade awning fabrics become compromised over time. Awning fabrics are as close to 100% waterproof as possible, and most fabrics are factory-sprayed with excellent treatments. ShadePro vinyl is water, mold, and mildew resistant, for example, and we use 1000 denier scrim, making our awning fabrics unflappable in inclement weather, and virtually rip-proof.
Here at ShadePro we like to suggest choosing the right tools (and accessories) for the job. Choose the best awning and fabric for your traveling lifestyle, and choose the highest-grade mechanisms that you can afford, manual and electric alike.
You know, and we know, just how much you love your home on the road.
Send us pictures and comments, please. Tag us on Instagram or Facebook @shadeproinc! Once you buy, we'd love to hear how and why you chose your awning.
Happy travels from ShadePro!