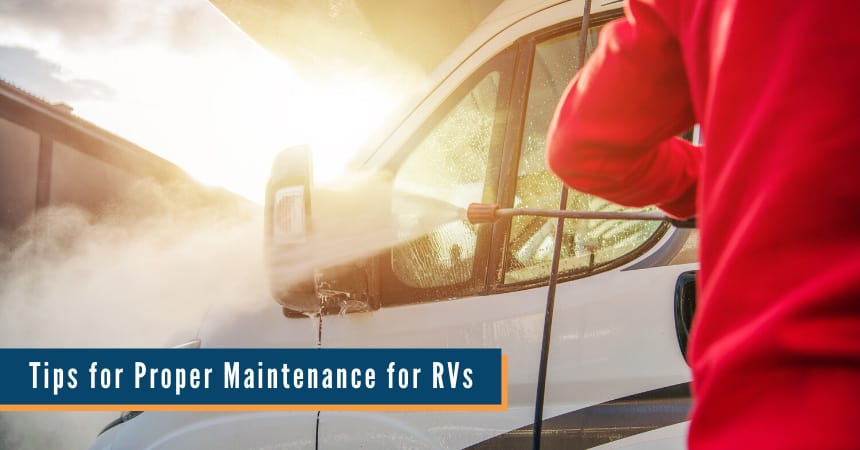 November 4th, 2019
All vehicles occasionally need repairs or replacements—for an RV owner, that's just a part of life. However, these issues can cause a lot of hassle and cost a lot of money. You can save your wallet and your stress levels by taking care of your RV and preventing many major issues. Check out these tips for proper maintenance for RVs and look after your ride for years to come.
Inspect for Leaks
Leaks can cause serious water damage to your RV, so it's important to stay vigilant and inspect your vehicle's seals often. Make sure your roof is in good shape every few months. Also keep an eye on the edges, vents, and other seams or openings on your RV. There are various sealants you can use to patch up or prevent leaks. It's also a good idea to check your AC unit and water systems for any cracks or other damage and to repair or replace parts when needed. Regularly checking for leaks is an easy way to prevent major water damage down the road and keep your RV in great working shape.
Check Tires
Proper tire care is important for any vehicle, and since your RV is basically a small home on wheels, maintaining your tires is one of the best things you can do before any trip. Checking the air pressure in each tire helps to prevent any issues or danger on the road. Tires that aren't inflated enough can also affect your gas mileage. It's also important to tighten the lug nuts on each wheel before hitting the road.
Check the Battery
Getting a dead battery in the middle of a trip can create copious stress, and no one wants to deal with that while on vacation. Always pay attention to your vehicle's battery to make sure it's in good condition. Know the expected lifespan of your RV battery and notice when it starts to lose capacity. Invest in a monitor to check your battery's voltage so you can keep an eye on it more easily. Make sure your battery is kept clean and corrosion-free. If you're using a wet cell battery, be sure to refill it with distilled water when needed.
Keep Brakes in Good Shape
One of the most important things you can do to maintain your RV is to make sure your brakes are in good shape before every trip. Check that the brake pads haven't worn too thin and you have enough fluid to keep the wheel bearings lubricated. Because damage to your brakes is dangerous to both you and anyone you meet on the road, get your brakes inspected and repaired regularly.
Check the Oil
Because they do a lot of sitting, a big tip for proper maintenance for RVs is to perform regular oil changes. This helps ensure your RV runs to the best of its ability and keeps the engine from suffering unnecessary wear or damage. You should also change the oil filters regularly. Every RV is different and it's a good idea to refer to the specific manufacturer's guidelines, but generally, an oil change every 3000-4000 miles is recommended.
Take Care of Your Awnings
Awnings and shades are a great addition to your RV, so keep them clean and in good shape. Awnings can easily collect dirt and other debris, which can lead to bee or wasp nests. Because your RV awning is exposed to the elements, it also runs the risk of mildew or mold if it isn't given the chance to dry properly. Fortunately, a hose down and time to dry is often all your awning needs to stay clean. If left unmaintained, though, your awning fabric can tear or wear down. If this happens, you can replace the awning fabric or upgrade the entire thing with a trailer awning kit.
Check Water Systems
Take good care of the water tanks, pumps, and pipes in your RV. Before any trip, check the pipes and fittings for any cracks or corrosion. Flush your gray and black water tanks regularly, and be sure to use the right chemicals for the different systems. Maintaining your RV's water systems helps keep it clean and fresh, and it also helps prevent major damage to the rest of the vehicle.
Service the Generator
You don't want to find yourself without power halfway through your trip. If you're relying on a generator, remember to change the oil and filter regularly and have it inspected as needed. When you're not using your RV for a while, take the time to run the generator so the gasoline doesn't break down and damage it as it sits unused. While you're doing this, test any other electrical systems to make sure they stay in working order.
Store it Properly
If you're storing your RV for the winter, or any time of the year, doing it properly can save you a lot of hassle—and money—when it comes time to take it out again. Parking it indoors is best, of course, but if that's not a possibility, at least try to park it beneath a roof. This protects it from precipitation or sun damage. Consider getting tire covers to protect them from the weather as well. If your RV isn't going to be stored somewhere warm, remove the battery and keep it someplace that is so it doesn't freeze. Throughout the RV's storage period, go out every few weeks and run the water and electricity systems so they don't sit dormant for too long. Finally, when it's time to take it out of storage, give your RV a thorough look over to make sure the tire pressure, roof, seals, utilities, and everything else is working fine.
Spring Cleaning
Cleaning your RV is key to maintaining it. Regularly washing the exterior can prevent dirt and debris buildup, protecting the seals. Taking the time to clean the interior gives you a chance to inspect inside your RV, from latches to lightbulbs and everything in between. While you're eliminating dust and stains, check for any loose screws, water damage, or other signs of current or future issues. Making this casual inspection a part of your routine cleaning will help you keep an eye on potential problems—meaning you'll be more likely to prevent them before they become expensive repairs.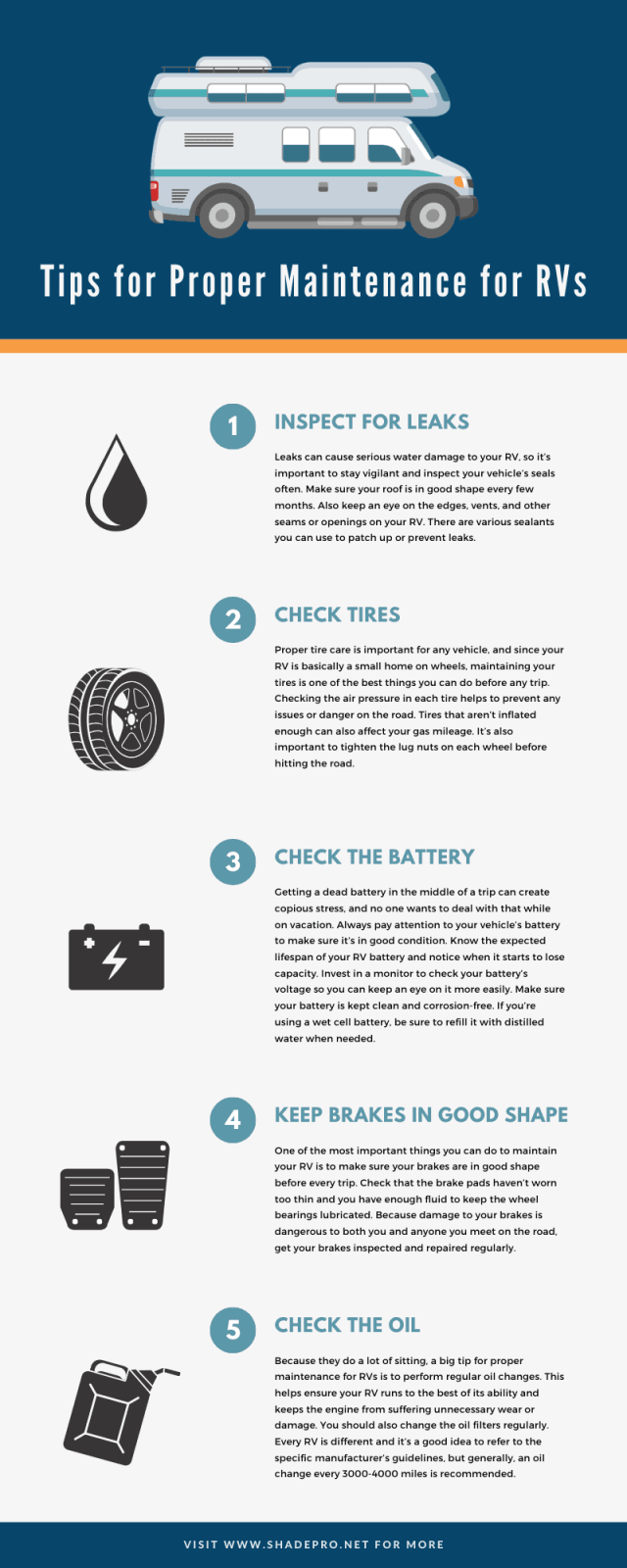 About ShadePro
After 35 years in the recreational vehicle sun and shade control business, ShadePro has become a trusted leader in helping RV enthusiasts optimize their rigs for travel and adventures. ShadePro manufactures only the highest quality RV awnings, RV awning replacement fabrics, RV dash covers, RV windshield Covers, screen rooms, Vista Shades for RV's and much more. All products are built to last for long-term enjoyment backed by a warranty.