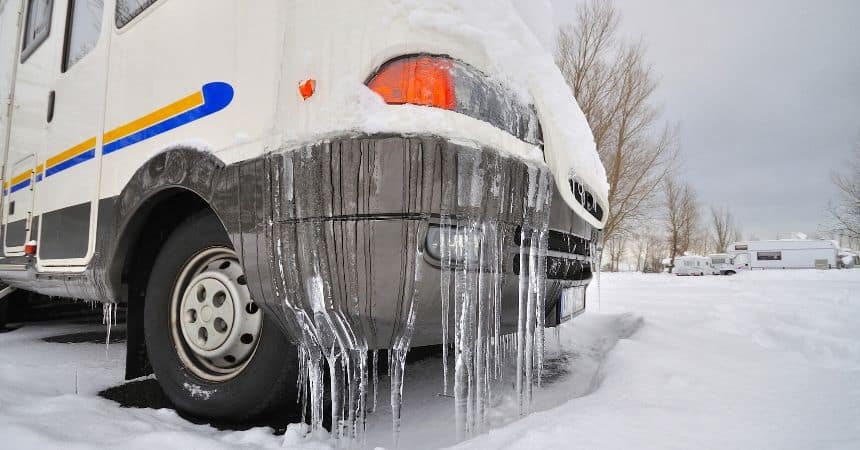 October 22nd, 2021
Who says you can't RV in the winter? RV fulltimers know that the colder months can be just as enjoyable for camping, as long as you put some prep work in. In fact, winter is a wonderful time to explore national parks, spot wildlife, and enjoy outdoor activities like skiing and snowshoeing, while also benefiting from less crowded camping areas.
Here's our guide for staying warm, cozy, and safe while RV camping this winter.
Note: This is not an all-inclusive list for preparing your RV for winter. Consult your RV manufacturer's owner's manual for more information.
Insulate, Insulate, Insulate
Everyone knows that pipes can burst inside a home in freezing weather. The same is true for RV plumbing. Insulation is absolutely key to keeping your RV running well, especially if you're staying somewhere with sub-zero temps.
Skirting is essential. Even if your vehicle comes with a thermal package, you still need to skirt the bottom of your RV or travel trailer. Pipes, sewer lines, holding tanks, and more live underneath and cold moving air has the potential to cause serious damage. Luckily, owners have options when it comes to skirting. Many people like to use foam insulation, while others prefer vinyl, canvass, plastic sheeting, or even hay bales. In a situation where you can't find decent skirting? Packed snow will do in a pinch.
Line your cabinets. Lining Reflectix or another foil insulation on the inside of your outer wall cabinets will help keep the cold out as well. Just be sure to watch for condensation and consider running a dehumidifier to avoid mold growth. You can also place a product like DampRid if you notice moisture forming.
If you notice any cold air drafts coming from underneath a cabinet or appliance, use painter's tape as a temporary fix.
Protect your windows. Bubble wrap is a cheap and popular choice for insulating RV windows. Use a spray bottle or rag with water and a little dish soap and wet the window prior to sticking the bubble wrap on to secure it in place.
Make sure to check caulking, weather stripping, and window seals and fix any problem areas before the weather gets too chilly. Using a thick blackout curtain will also help keep the cold out. The ShadePro Legacy Shade is a great option for covering your windows and keeping warm air inside.
Create a Warm & Cozy Space
Of course your RV needs to stay warm over the winter, but so do you! Spend some time collecting these items before temps drop and you'll thank yourself over the coming months.
Have an extra heat source. Don't want to keep your furnace running all the time? Space heaters are helpful for keeping your RV toasty warm. Both electric and propane heaters can effectively heat your RV, depending on preferences and needs. Propane heaters work well for those who don't have electricity or want to conserve power. If you're able to use electricity, an electric heater "fireplace" will add ambiance to your space.
Use your oven. While you may want to conserve propane by not utilizing your oven, the benefit is that the oven will naturally give off heat. Plus, who doesn't want to end a chilly day with a hot meal or a warm cookie?
Stay cozy. It may go without saying, but extra blankets are a huge must if you're spending the winter in your RV. Something you may not have thought of? Laying heavy throw rugs on the floor will keep your feet warm while you're walking around, and provide insulation at the same time. Carpet tiles from a flooring store also do the trick.
A heated mattress pad or heated blanket will go a long way to ensuring everyone sleeps comfortably. And make sure to keep a couple of sleeping bags rated for zero-degree temps on hand in case of emergency.
Outfit yourself. If you're from a place where the temperature never drops below 32 degrees, you may not be prepared when it comes to winter clothing and gear. Insulate your body with base layers that are made with moisture-wicking material and be sure to choose a waterproof winter coat. Keep your feet warm with thick, moisture control socks and snow boots. Pick up a package of hand and feet warmers and consider wearing them inside of gloves and socks.
If you plan on heading out for a hike, remember that the sun goes down early in the wintertime. A headlamp and battery-powered lantern will keep you safe on the trail, plus the lantern can be used back at your campsite.
Prepare a Safety Kit
Here are a few more items that will help you stay safe during the harsh winter months. Once again, this list is not all-encompassing but may include gear you hadn't thought to bring along.
Headlamp and lantern:
If you plan on heading out for a hike, remember that the sun goes down early in the wintertime. A headlamp and battery-powered lantern will keep you safe on the trail, plus the lantern can be used back at your campsite.
Blow dryer:
The hot air from a hairdryer will certainly feel welcome when you're soaking wet from the shower, but it could also come in handy if your pipes or hoses freeze.
Shovel:
Winter storms can blow in from out of nowhere. Don't find yourself unprepared; bring along a heavy-duty snow shovel.
Goggles:
Goggles will protect your eyes from harsh winds while snowboarding, skiing, snowshoeing, or if you happen to get caught outside in a snowstorm.
Batteries:
You never know when your device may need batteries. They come in handy for headlamps, lanterns, fire and carbon monoxide detectors, and more.
Bottled water:
If you choose to drain your fresh water tank completely over the window, bottled water is a must for brushing your teeth and cooking.
Ice scraper:
Self-explanatory!
Heated water hose:
Save yourself the pain of applying heat tape to your regular hose and swap it for a freeze-proof hose.