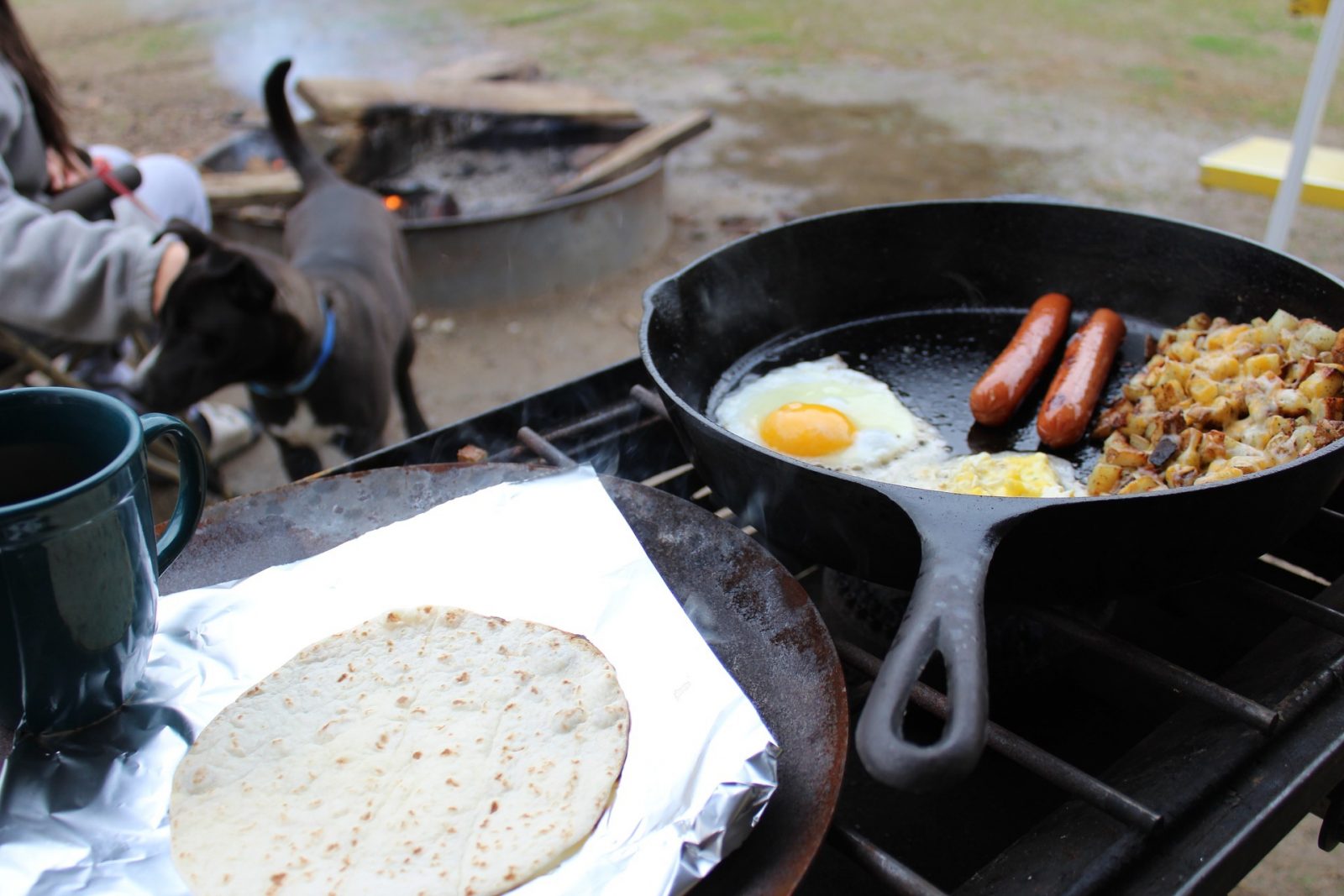 February 25th, 2022
The person who coined the phrase "breakfast is the most important meal of the day" was probably an RV-er. Camping and adventuring requires a nutrient-rich meal that will help you tackle the day's activities. Skip the protein bar and try out one of these easy, flavorful breakfast recipes the next time you hit the road.
 Planning on enjoying your breakfast outside? Keep cool underneath a ShadePro awning.
These sandwiches are packed full of protein and can be prepped and frozen ahead of time, then quickly reheated at your campsite. Serve on foil to minimize clean-up.
Ingredients:
4 large eggs
4 slices cheese, flavor of your choice
8 slices Canadian bacon or meat of choice, like bacon, ham, or sausage cooked
4 croissants, or bread of choice
4 tablespoons butter
portable grill or over the fire grill
Directions:
To make at the campsite:
Slice your croissants in half and spread with butter. Set aside. Crack the eggs onto a preheated cooking surface. Season to taste with salt and pepper. Cook for 1-2 minutes and flip. Place one slice of cheese on each egg and allow it to melt while it finishes cooking on the second side. Place your chosen meat onto the grill to heat. Place the sliced croissants cut side down to toast. Build your sandwich and serve.
To make ahead:
Follow the instructions above, cooking on a stovetop. Place assembled sandwiches onto a square of foil. Wrap tightly and freeze. At the campsite: Heat the sandwiches until warm throughout on hot coals or a grill. Serve immediately.
Oatmeal is packed with fiber and tons of nutrients to help power your busy day. This oatmeal mixture is non-perishable, making it perfect for boondocking. 
Ingredients:
 4 c. oatmeal
1/4 c. brown sugar
1/4 c. slivered almonds or other nuts
1/2 c. golden raisins or other dried fruit
1/2 tsp. cinnamon
Banana (optional)
Directions:
Mix all ingredients in a large plastic bag. To Eat – place mixture in a heatproof plastic bowl and cover with boiling water. Top with Banana.
This breakfast recipe is a little more involved, but well worth the extra time and effort. If you don't have access to an open flame, the dish can also be prepared on a stove.  Use a 10 inch cast iron skillet if you're cooking for 1-2 people and a 13 inch for 3-6.
Ingredients:
1/4 pound bulk hot pork sausage
1/2 red bell pepper chopped
1/4 small onion chopped
1 medium-sized red potato cubed into 1/4 – 1/2 inch pieces
1/4 cup shredded cheddar cheese
2 eggs- Use 1 egg per person for sunny side up and 2 eggs per person if scrambling eggs
2 tablespoons butter
2 green onions chopped
Salt and pepper to taste
Optional: tortillas
Directions:
Get a campfire going to create campfire coals for cooking over medium heat. If you are using a propane camp stove, set it up for cooking on a level surface. Heat the cast-iron skillet over the heat. Camp Cooking Tip: Use a 10-inch cast-iron skillet if cooking for one or two people and a 12-inch skillet if you are feeding 3-6 campers.
Once the skillet is preheated, add the sausage to brown it, breaking it up into crumbles as it cooks. Add the butter, bell pepper, onion, potatoes, salt, and pepper, stirring occasionally, and cook covered until the potatoes are softened about 8 minutes. If your cast iron skillet does not have a lid, you can use a lid from a cast-iron Dutch oven or aluminum foil.
Flatten the ingredients across the bottom of the skillet, then use a spoon to create "wells" for cooking the eggs. Be sure to leave a layer of the sausage and potato mixture at the bottom of the wells so the eggs are sitting on the food rather than directly on the bottom of the skillet pan when they cook.
Crack the eggs and add them into the skillet by dropping them into the wells. You can drop whole eggs for sunny side up style eggs or beaten eggs if you prefer scrambled eggs. Cover and cook until the eggs are done to your desired likeness, about 3-5 minutes. Sprinkle with cheese, replace the cover on the pan and let the cheese melt slightly for a few more seconds. Remove the skillet from the heat and top with green onions, serve hot.
For a quick breakfast burrito, scoop the potato mixture and eggs into warmed tortillas.
Here's a no-cook breakfast recipe that could not be easier. Yogurt is full of protein and granola has plenty of fiber to keep you satiated. Make the parfaits ahead of time and add granola once you're ready to eat.
Ingredients:
1 32 oz container of whole milk plain yogurt, organic recommended
3 Tbs. honey
1 lb. of fresh or frozen berries
1 1/2 – 2 cups of granola
Directions:
Add honey to the container of yogurt and stir well. In a mason jar, layer yogurt, and berries. Top with granola.
Sure, you could make the dough for cinnamon rolls from scratch, but sometimes pushing the easy button is necessary. These quick pastries are guaranteed crowd-pleasers.
Ingredients:
1 can refrigerated cinnamon rolls
Directions:
Skewer cinnamon rolls. Toast over a campfire (low flame is ideal) until golden and cooked through in the center, rotating, 15 to 20 minutes. Drizzle with icing and serve immediately. 
 We hope that these breakfast recipes will get your day off to a great start the next time you are out on the road.