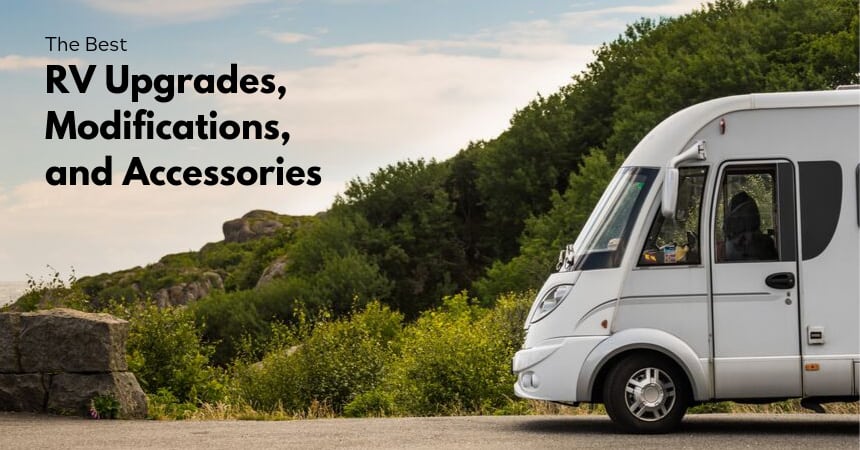 October 4th, 2019
Your RV is great the way it is, however, there is nothing wrong with adding a few changes to make your mobile home a little more enjoyable. There are small details and changes that you can make that will have large impacts on your RV's comfort level. Here is a list of some of the best RV upgrades, modifications, and accessories.
Improve Your RV's Power
Install Solar Panels
Before your next RV trip, add solar paneling to your vehicle. Installing solar panels is ideal for every type of traveler—whether you're looking to spend some time off the grid or are settling on a campground. This is because using clean solar energy can help cut down costs and free you from the necessity of always having to dock at an RV park. However, if you're going to install solar panels, consider investing in a new inverter to help make that energy more usable and storable.
Invest in a Power Inverter
A power inverter plays a pivotal role when it comes to large electronic devices. It allows your electronic equipment, such as a TV, toaster, or laptop, run at a single time. As such, setting up a better power inverter will allow you to increase your power storage capabilities and maintain it for longer periods. While many RVs come with an inverter, if you choose to use solar panels, you may want to upgrade. Further, just as inverters help to make your energy easy to use, you'll need a better battery that allows you to store more energy.
Increase Your Energy Storage Capacity
As independent camping becomes increasingly appealing to RVers, the need for more power increases. Even if your RV has two hefty batteries, having an extra battery or two is always a good idea. When on the road, it is always better to have extra power and not need it than to need it and not have it. If you decide to use solar panels, make sure you have solar batteries, specifically. It's unlikely the batteries that came with your RV are solar compatible, so take time to research the best options for your new set up.
Stay Connected While on the Road
Wi-Fi
For those who spend an extended amount of time in their RV, it's essential that you have Wi-Fi to stay connected while on the road. Although it's free to use public Wi-Fi at coffee shops or fast-food restaurants, this isn't a sustainable option. You should always be cautious when using public networks, as others may be able to gain access to the personal files on your devices. The security issues and the accessibility that come with public Wi-Fi are great reasons to invest in accessories that can provide you with internet access. If you would like to have more control over your set up, then adding a Wi-Fi solution to your RV is the best option.
Hotspot
A personal Wi-Fi hotspot device casts a signal that only other digital devices that you grant access to can access. A personal hotspot gives you the freedom to go practically anywhere and maintain internet connectivity. Hotspots are a great option for independent campers or for remote workers who are always on the road.
Boosters and Rangers
Wi-Fi rangers can boost a weak signal with the added benefit of allowing users to create a more secure personal network for their RV. Rangers are exceptionally useful when you park your RV in an area that has a weaker Wi-Fi signal. It will boost the weak signal, giving your RV a better Wi-Fi reception. Plus, the ranger's router aspect will enable you to create a secure network so others can't access your data. A booster performs a similar function as a ranger in that it amplifies weak signals; however, boosters lack the router functionality to provide that extra layer of personal security.
Kitchen Additions
Multi-Functional Cookers
Multi-functional cookers increase the types of meals you can prepare without taking up a lot of precious space in your RV. Multi-cookers can deep fry, slow cook, sauté, and, depending on the model, offer many other functions. The right multi-cooker can make you feel like you are in a full-size kitchen. Multi-cookers also emit less heat than your RV's oven keeping your mobile home cooler while cooking.
Get Creative with Your Shelving Solutions
With a little bit of elbow grease and imagination, you can better utilize spaces within your RV that you may have not noticed before. For example, consider adding an under the counter spice rack or storage baskets. You should also explore different kinds of racks and shelving for cabinet and countertops.
Counter Extension
As with shelving solutions, counter additions can create a more usable working area without permanently taking up more space. Find areas where you can install a folding counter that you only pull out when you need it.
Exterior Accessories
Cool Shades
RV solar shades can keep your RV cool without having to constantly run the air conditioner. Solar shades block out sun rays that increase your RV's interior temperature. Solar shades are versatile, and Shade Prop can even tailor them to meet your desired length.
RV Windshield Covers
Along with covering your interior windows, you'll want to have a cover for your windshield. While on the road, an RV windshield cover can block the UV rays that increase the temperature inside your vehicle. Additionally, some manufacturers design these covers to block out sunlight but still allow you to comfortably see out of the RV.
Portable RV Grill
At some point during your trip, you're probably going to want to barbecue. And with a portable RV grill, you can do just that! You can easily attach this accessory to the mounting rail and will have no trouble connecting it to the RV's gas supply. The majority of portable grills on the market are durable and lightweight, making them a convenient addition. Plus, they have enough room to cook a few burgers and hot dogs—everyone will be able to partake in a delicious meal.
We hope our tips make your current or next RV road trip more comfortable. If you have any amazing accessories or modifications that are not on our list, please leave a comment in the section below.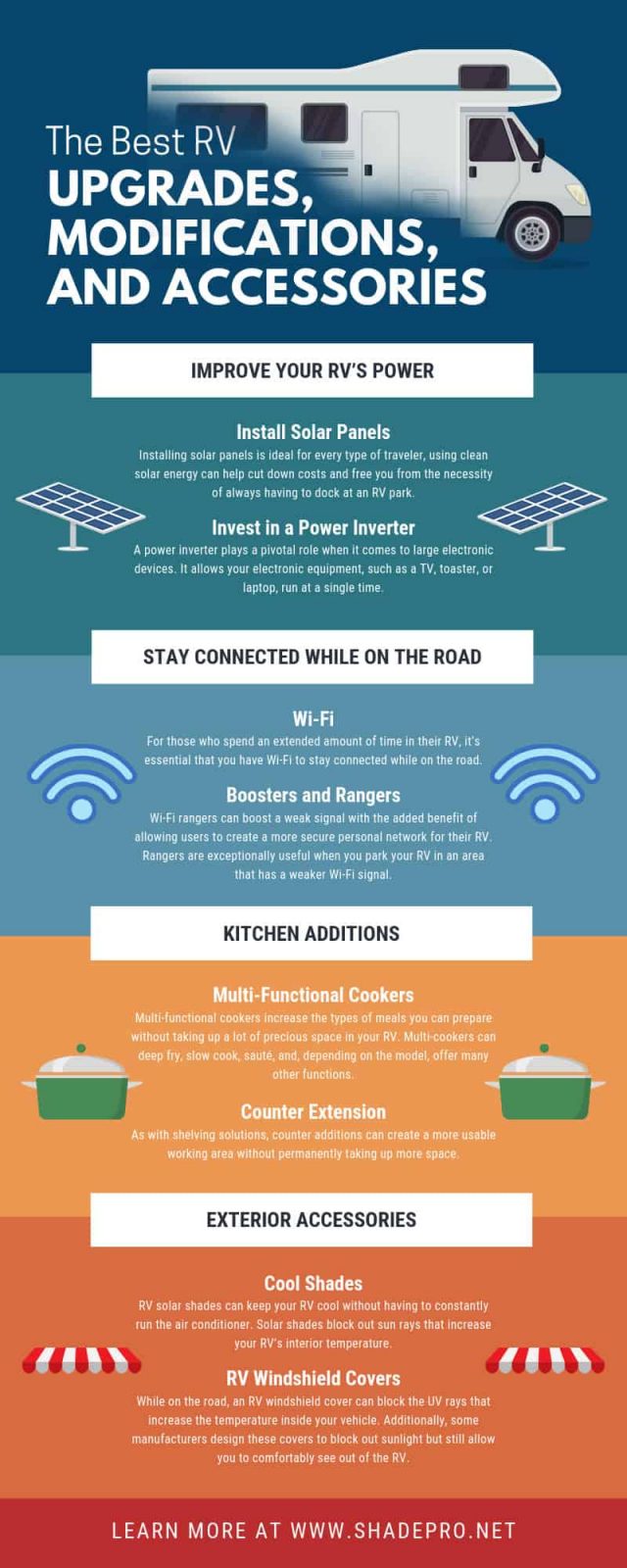 About ShadePro
After 35 years in the recreational vehicle sun and shade control business, ShadePro has become a trusted leader in helping RV enthusiasts optimize their rigs for travel and adventures. ShadePro manufactures only the highest quality RV awnings, RV awning replacement fabrics, RV dash covers, RV windshield Covers, screen rooms, Vista Shades for RV's and much more. All products are built to last for long-term enjoyment backed by a warranty.