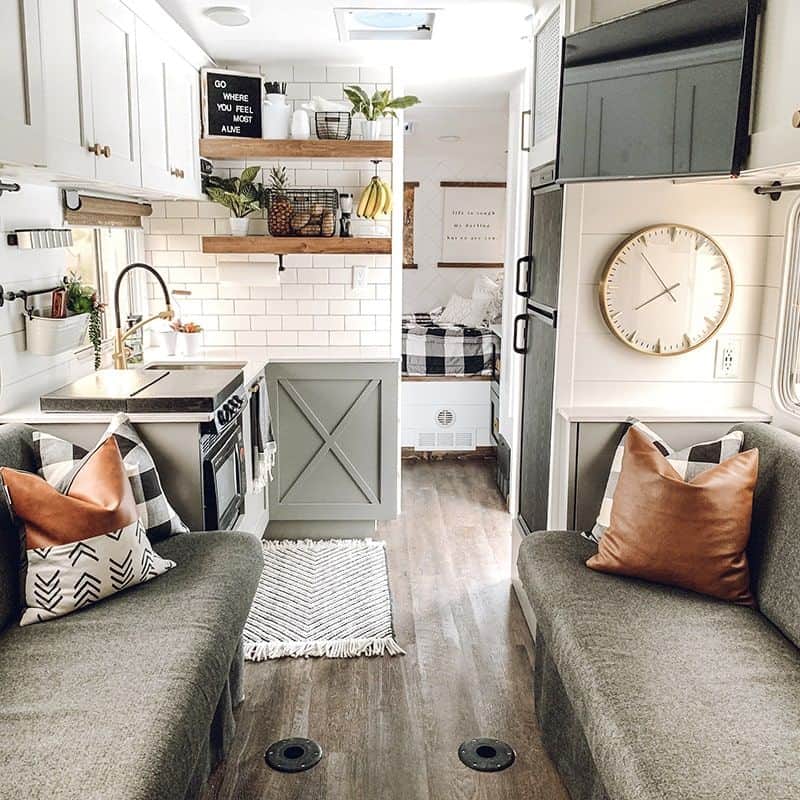 November 20th, 2020
Ready, Set, Stay!
Inside, that is. As this unprecedented winter sets in, we're all looking for meaningful ways to pass the time. In that can-do spirit, we invite you to step away from the sourdough starter and take on a kitchen RV remodel.
Go big or go small; it's all about DIY rehabbing these days, and thanks to online inspiration, tutorials, and shopping, it's possible to transform your RV kitchen with minimal time and expense. Read on for a few ideas to get you started.

Spotlight on Walls
We've all heard it said–when it comes to RV remodels, nothing offers more bang for your buck than a fresh coat of paint. This is especially true in an RV or camper, where cleanliness and light really can make up for the small square footage.
Take a hard look at your travel kitchen. You spend a lot of time here. Is the dated paneling or pastel floral wallpaper bringing you down? Without too much effort, paneling can be cleaned and painted, or pulled out and replaced with paintable (or pre-painted) laminate. Choose warm whites or cool grays. The effect is calming, and the neutral tones will frame your plants and decorations beautifully.
Pro Tip: Consider investing in a paint sprayer. It will save you time, and you'll be glad to have a sprayer on hand when you're ready to redo the rest of your rig.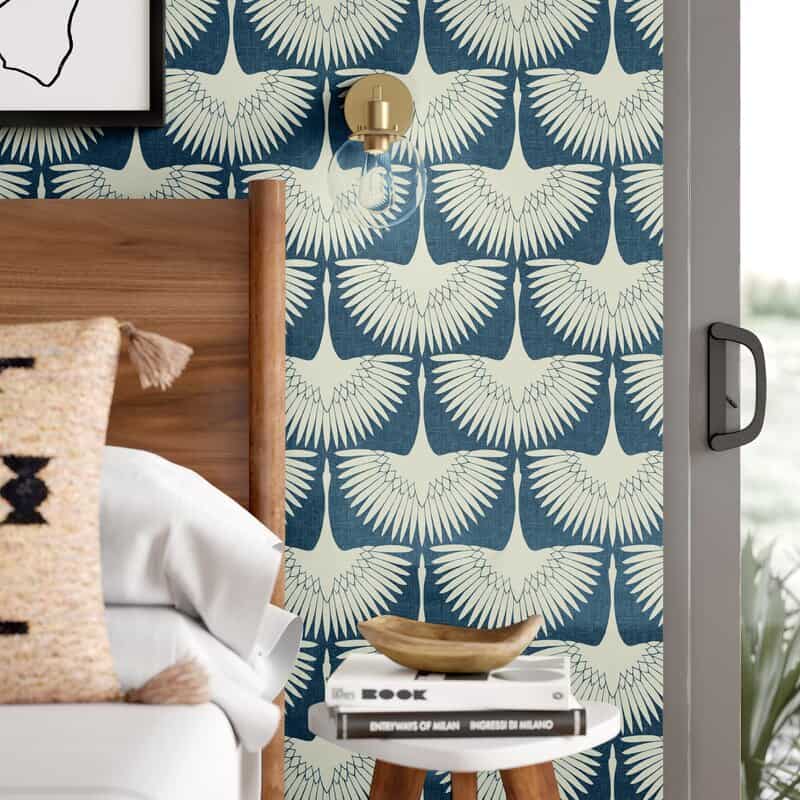 Mix It Up
Once you've prepared your wall surfaces, pick out one or two areas for a pop of color. Peel and stick wallpaper patterns are inexpensive and easy to hang. Pick a pattern that compliments your new paint and showcases your personal style. RV interior décor is as individual as any home décor, and goopy wallpaper paste is definitely a thing of the past. A quick online search will show you dozens of fantastic RV wallpaper options.
Pro tip: A little patterned wallpaper goes a long way in a small space. Adding one or two sections modernizes your interior without overwhelming the space.
Get Onboard with Stickers
Moveable peel-and-stick home décor elements extend to laminate flooring and backsplash tiling, too. With only a pencil, a ruler or square, a level, a pair of scissors, and a matt knife with a sharp blade, you can update your rig's kitchen surfaces over the course of a weekend. Clean and modern backsplash subway tiling is especially attractive and is packaged in easy-to-cut sheets. Floor laminate comes in a wide variety of waterproof textures and finishes and is guaranteed to last for years of hard use on the road.
Pro Tip: Remove outlet and vent covers before laying tiles and flooring. For a neat, professional finish, loosen window frames and tuck tile section edges underneath frames before retightening screws.
Sit Next to Me!
Memorable meals require comfortable seating, wherever we are, and rehabbing an RV dinette is one of the simplest of RV remodel tasks: it amounts to no more than replacing one rectangle of stapled upholstery with another.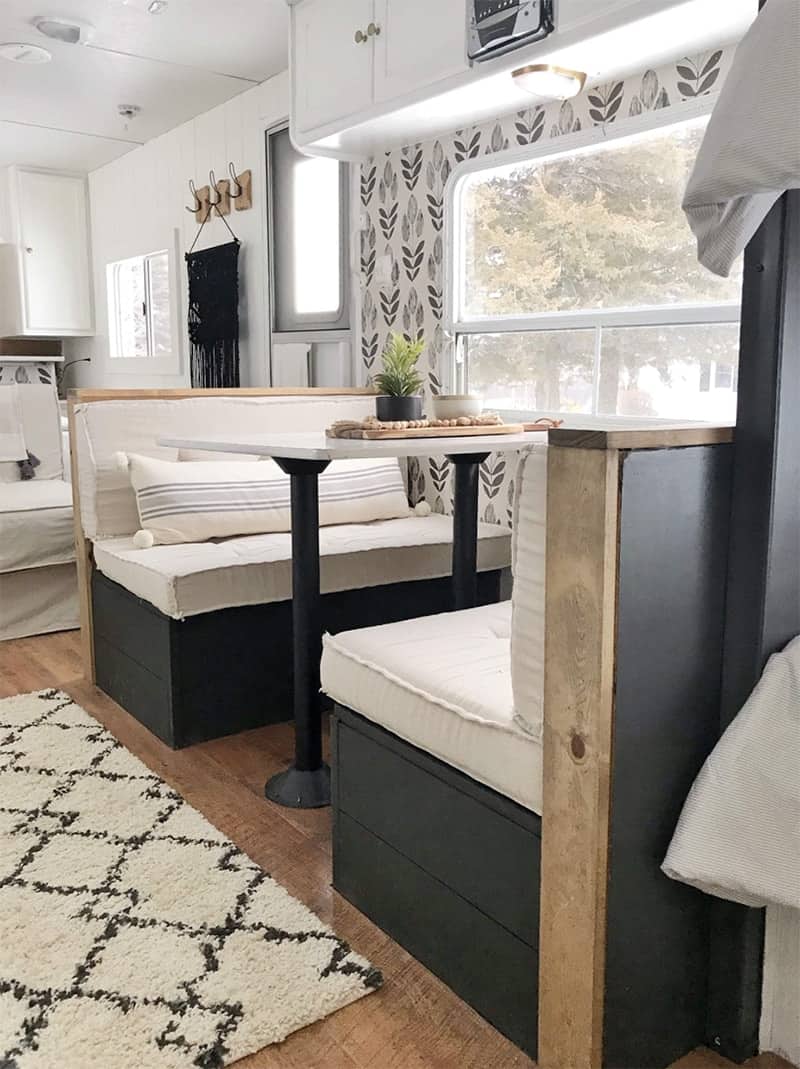 Remove the seats from your existing camper dinette. Use a flathead screwdriver to pull the cover's staples, and then recover with clean new upholstery foam and sturdy fabric that matches your paint and wallpaper. Consider indoor/outdoor fabric, which cleans up easily with a warm, soapy sponge, or inexpensive canvas drop cloth covers for the modern farmhouse look made popular on Pinterest.
Pro Tip: If you can, design the seat cushions to be removable and use the seat bases for storage. For design help, inexpensive woodwork patterns are available online. We especially like Cahills Creative Plans, a woman-owned business!

Pull it Together with Fabric
Anyone who embarks on a rehab project knows that the hardest part is the work that never shows–repairing and preparing walls for paint and wallpaper, the plumbing behind the fancy new sink and faucet, repairing and leveling rotted floors, just to name a few challenging jobs. So it's all the more rewarding when you're able to showcase–and show off–your efforts with finishing touches.
Begin by protecting your hard work with Legacy Roller Shades from ShadePro. Light-and heat-protecting screens offer 95% UV protection to keep your family healthy, your environment cool, and your interior protected. Nighttime roller shades block out light and provide 100% privacy.
ShadePro-installed blinds will offer a clean, spare look as window covers. Adding a simple curtain brings an informal, cozy look into a kitchen, and filters light in a different way. Often, a single store-bought curtain panel in either a solid or "overall" pattern can be cut and hung sideways to cover several camper windows.
Choose curtains and throw pillows that compliment your paint/wallpaper scheme and dinette seat covers. If you can secure them, bring plants inside. Hang artwork and framed photographs that improve your mood, even if you can't pinpoint why. Clean, uncluttered living and working space have been shown to improve our quality of life, even more so when we've designed exactly the kind of rooms we love best.
Pro Tip: If you have a pullout bed or home office furniture nearby, including them in your color scheme decisions will visually elongate the living space.
Living an A+ RV Lifestyle
We've focused on more or less "instant gratification," fixes, but when you have a little more money to spend on updating your RV or camper, three improvements are sure to elevate your cooking experience on the road: vertical, roll-out shelving makes use of narrow, tucked-away spaces; a combination microwave and convection oven takes up little space and will satisfy the chefs onboard, and double kitchen sinks with covers that double as cutting boards literally double your workspace.
Sage design advice applies to onshore and onboard: less is more. You're working with a fraction of the space of a typical home or apartment, so make every tool work twice as hard!
---
About ShadePro
After 35 years in the recreational vehicle sun and shade control business, ShadePro has become a trusted leader in helping RV enthusiasts optimize their rigs for travel and adventures. ShadePro manufactures only the highest quality RV awnings, RV awning replacement fabrics, RV dash covers, RV windshield Covers, screen rooms, Vista Shades for RV's and much more. All products are built to last for long-term enjoyment backed by a warranty.